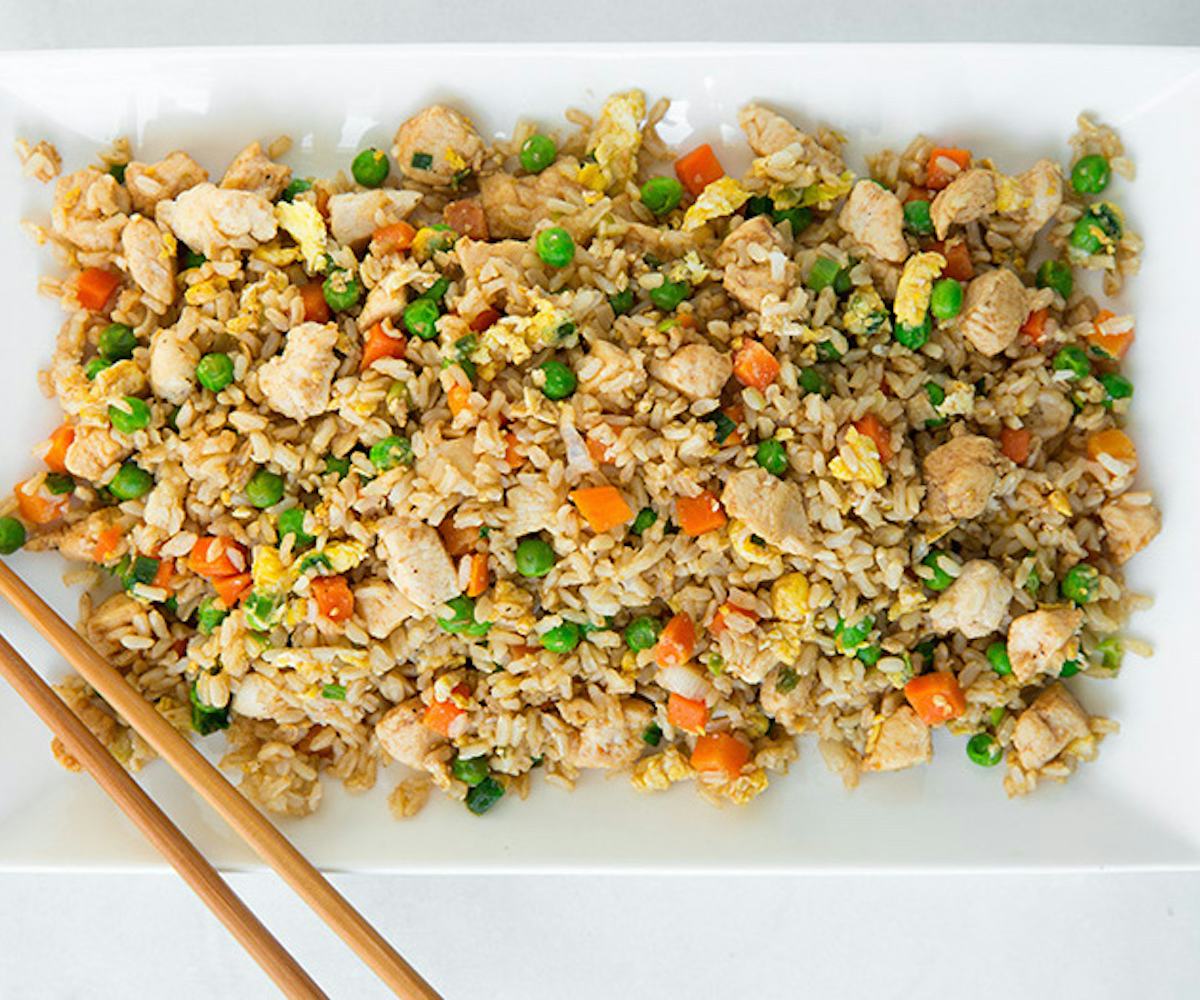 Photo via CookingClassy.com
9 ways to make your fav takeout meals at home
because we literally can't order pad see ew again
We have a minor addiction to ordering takeout. There's just something so inexplicably satisfying about simply clicking a button and receiving a call 45 minutes later that a piping-hot, restaurant-fresh meal has arrived—and we don't even need to change out of our pajamas to retrieve it.
But alas, one too many orders of pad see ew and we start to see our checking account dwindle, our one-of-a-kind thrift store skirt fit a little bit tighter, and our skin start to break out (no matter how many creams, serums, and cleansers we use).
Never fear, though. It's totally possible to make all of the best takeout meals from scratch, and you don't need to be an all-star chef to do it either. These nine recipes will help you to put your Seamless habit to rest—at least for the time being. Flip through the gallery to find out how to satisfy your every craving.
Savory Simple's BibimbapIt may add a nice touch (and give you the option of cracking in an uncooked egg), but you don't need a dolsot (a heatable stone bowl) to make your own bibimbap at home. The Korean dish is deceptively easy to make, topped with fresh mushrooms, vegetables, and an egg. Don't forget the chili paste, which you can buy at an Asian supermarket.
Baker by Nature's New York-Style PizzaEven if you live in New York (where you can find some of the best pizza in the world), sometimes nothing beats homemade. To strike the right balance between fresh-out-of-the-oven and fresh-from-the-delivery-guy, Baker by Nature makes a thin-crusted, NYC-style pizza that will get you cooking instead of calling up Dominos.
Cooking Classy's Chicken Fried RiceIf you know how to make rice and you know how to push things around in a skillet, you can make fried rice. Low-sodium soy sauce and brown rice make this takeout favorite way healthier than most versions you'd find on GrubHub. Buy yourself a box of fortune cookies and whip up a big batch for your next Netflix binge.
Cookin' Canuck's Grilled Vegetable EnchiladasStuffed with zucchini, portobello mushrooms, and bell peppers, these gluten-fee enchiladas satisfy your craving for Mexican food in the same amount of time it takes for your dinner order to be delivered. Bonus: You can put AS MUCH guacamole on top of them as you want and no one can say anything.
Minimalist Baker's No-Mat SushiSushi is hard to make, so you have to order it—right? Nope! All you need to create perfectly round sushi rolls is a towel, some plastic wrap, and determination. Try whipping up outside-in rolls to seriously impress your dinner guests and break out the soy sauce.
Cooking Classy's Chicken Pad ThaiWhen you realize that you have the power to make your own Pad Thai at any given moment of your life, you will become unstoppable. Literally: You could eat it every single day if you wanted to and no one could stop you. After all, this recipe makes five servings of the dish, so take that, measly takeout serving sizes.
Fork and Beans' BBQ Veggie BurgerSometimes you just need barbecue. But you don't need a grill to satisfy that desire—and you don't need your local burger joint's number on speed dial, either. This vegan version is filled with healthy beans, veggies, and tempeh so you're guaranteed to get your protein fix without a ton of bad-for-you fats and additives. Pile on some onion rings, BBQ sauce, and get munching.
A Beautiful Mess's Vegetarian Tikka MasalaAs long as your spice cabinet is stocked, you can teach yourself to make all your favorite Indian dishes—and make your kitchen small amazing while you're at it. This vegetarian tikka masala makes a healthy weeknight meal with tomato paste and brown rice. Serve with chapati or naan for some extra heartiness.
Minimalist Baker's FalafelWe've been there: It's 8pm and you're overwhelmed by your desire for falafel, so you head over to the nearest Halal cart, which douses your platter with hot sauce and white sauce. It's a convenient (and delicious) meal for sure, but it's not the most healthy—or kind on our digestive systems. Luckily its easy to make your own falafel at home with a food processor and skillet.