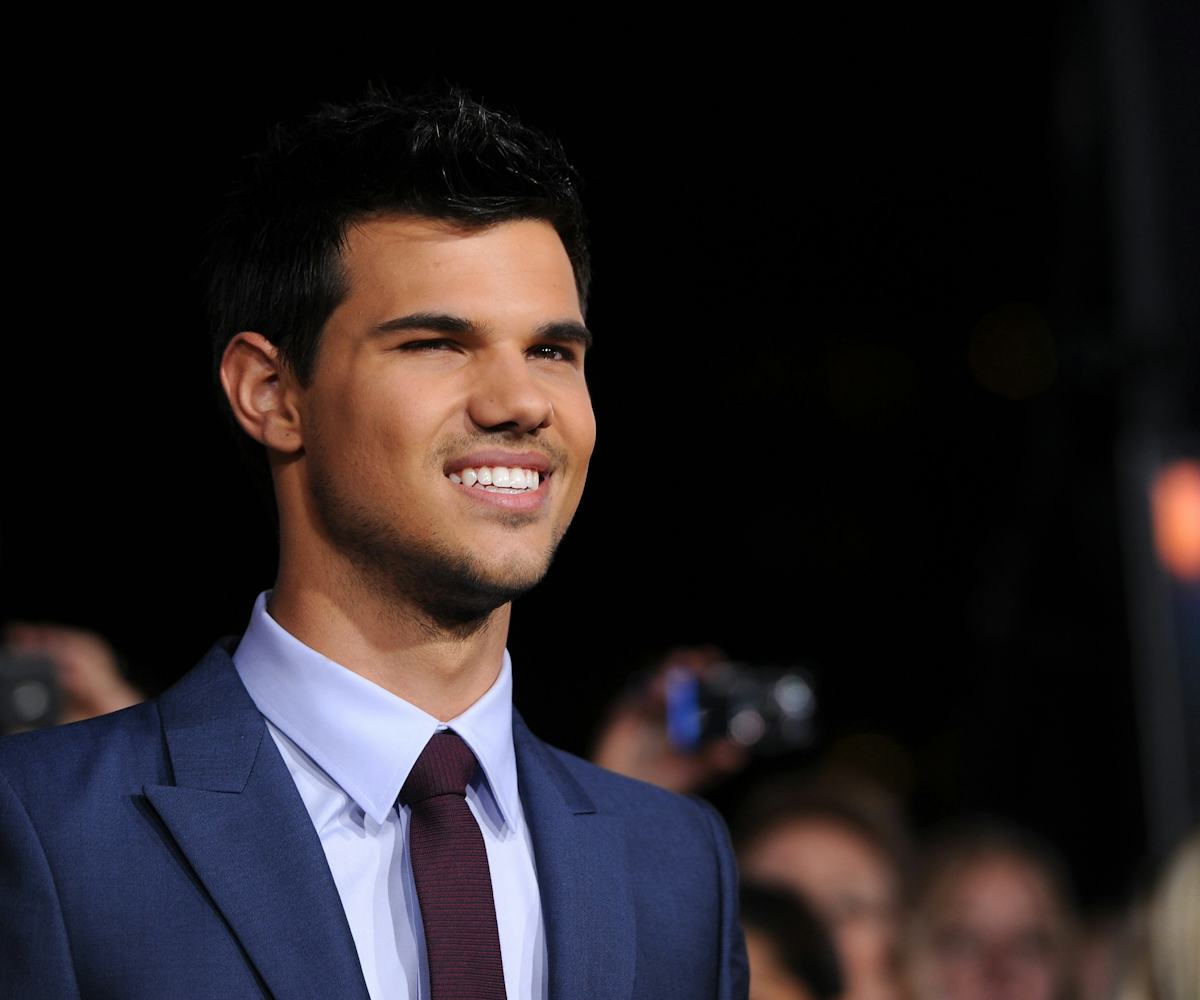 Kevin Winters / Getty Images
what ever happened to taylor lautner?
his new movie is going straight to vod
Taylor Lautner was supposed to be huge. By the time he was old enough to drive, Lautner's films had grossed over $1 billion worldwide, and studios were clamoring to cast the genetically gifted actor in every major tentpole that called for the not-so-subtle art of shirt removal. But ever since the Twilight franchise sold its last ticket three years ago, Lautner's career has stumbled dramatically, and Hollywood's former savior has become more of a cautionary tale.
After a long absence from multiplexes — apart from a supporting role as a douchey frat boy opposite Adam Sandler in Grown Ups 2 — Lautner is back with Tracers, a parkour-heavy heist film whose VOD-driven release signals just how far Lautner's star has fallen.
So what happened?
At the height of Twilight-mania, Lautner had arguably become bigger than both Robert Pattinson and Kristen Stewart, in part because of his lycanthropic character Jacob's endearing status as a third wheel, and in part because his oft-seen abs looked like they were engineered in a lab by a team of NASA's most gifted scientists.
Meanwhile, the world's most bankable leading men were no longer box office teflon, and studios were desperate for some new blood. Lautner, it seemed, was it. "William Morris has done a brilliant job of convincing Hollywood that he's the next big movie star," a senior production executive at a major studio told Vulture in 2010.
Lautner starred in two films during his various Twilight hiatuses. The first was Valentine's Day, a star-laden box office hit that didn't require the actor to do any of the heavy lifting. It also helped that his most frequent scene partner was then-girlfriend and big screen rookie Taylor Swift, who made her boyfriend look like Sir Laurence Olivier by comparison.
It was Lautner's second non-Twilight film, Abduction, that sounded the alarms among those who had invested heavily in the young star. Lautner was paid $5 million for the film, an eye-popping sum for an actor who had yet to open a movie on his own. And because studios had bought into the narrative being perpetuated around town—that Lautner was the heir apparent to Tom Cruise, he had already lined up a number of high-profile films with huge paydays before Abduction had even opened. 
"Many of Lautner's other slated films will likely go forward no matter how Abduction fares, as a studio rarely backs out once a deal is signed," Vulture argued on the cusp of the film's 2011 release. Among those films were Universal's high profile adaptation of Stretch Armstrong with Lautner tapped to for the lead; Goliath, a modern take of the biblical story in which Lautner was expected to play the underdog David; and Incarceron based on Catherine Fisher's popular YA sci-fi series. So how many of those films actually got made?
Zero.
Abduction, a generic action thriller directed by John Singleton failed both commercially, and critically, earning a dismal 4% on Rotten Tomatoes. "After watching "Abduction," the supposed thriller that features Lautner in his first leading-man role, it's obvious that Lautner is being controlled (sorry, "advised") by people who do not have his best interests in mind," Yahoo's Will Leitch wrote at the time. "This may be the first film I've even seen where when an actor goes to put his hand thoughtfully on his chin, it's so awkward I became afraid he'd somehow miss and poke himself in the eye," added Movieline's Alison Wilmore.
While his Twilight costars were determined to prove their talents savvy performances in smaller niche films, the knock on Lautner was simple: He can't act. He also appeared just as wooden offscreen as he did on it. And in the age of Jennifer Lawrence-style pratfalls and Ryan Gosling-style meme generators, a symmetrical face and sculpted torso does not a star make.
To his credit, Lautner seemed cognizant of his bad wrap, when he signed on to a small recurring cameo in the second season of the quirky BBC three comedy Cukoo. While the series went largely ignored stateside, Lautner displayed surprising comedic chops and a willingness to subvert his heartthrob persona.
That's what makes his comeback effort so disappointing. It's an abovious and somewhat desperate return to the stale formula that got him here in the first place. It's fitting then, that Tracers is a film about parkour, the martial art that hasn't been relevant in years. Lautner it seems, is destined to suffer a similar fate.