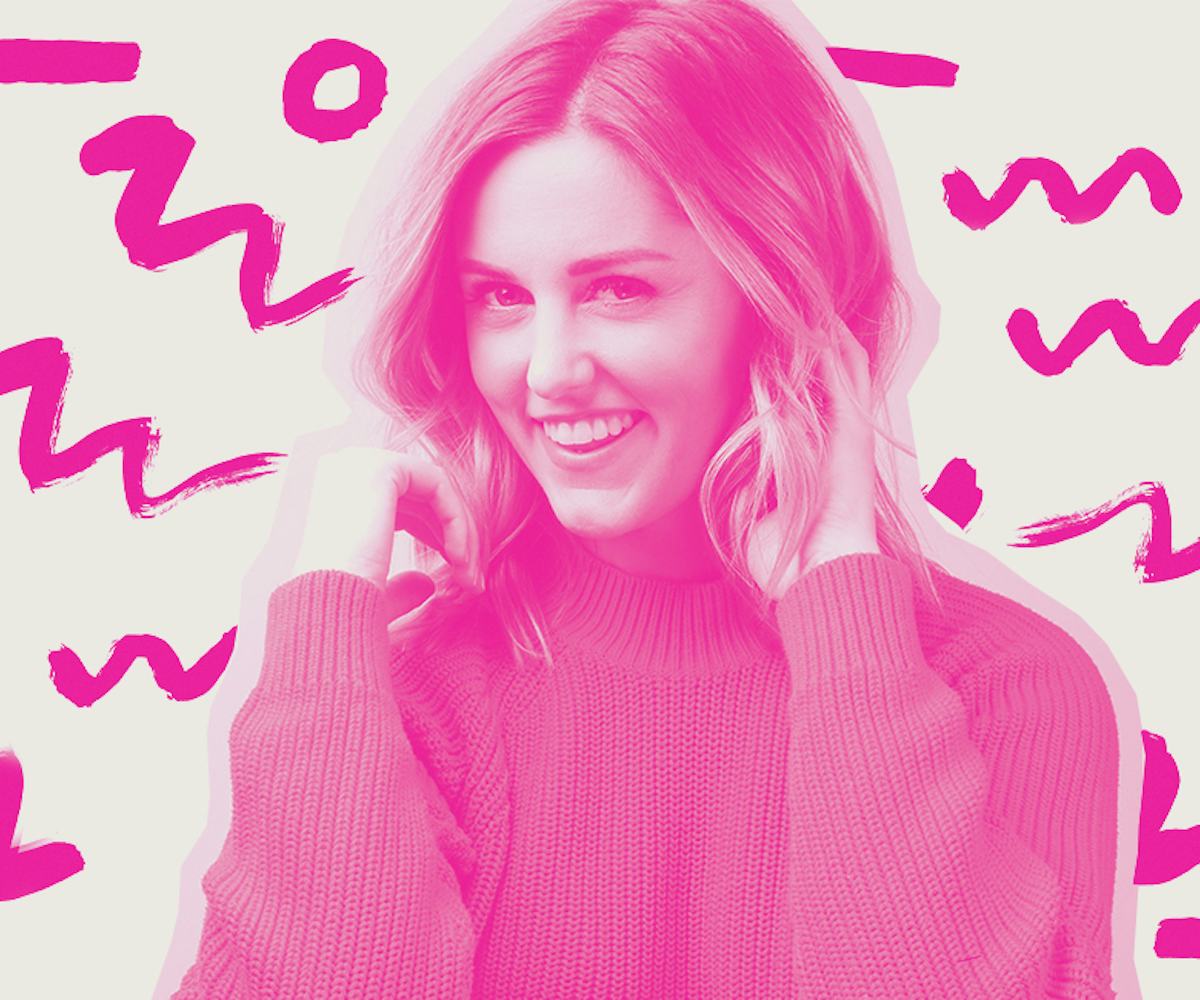 Photographed by Jenny Anderson.
How Taylor Louderman Brings Regina George To The Stage
She plays head plastic in the new 'Mean Girls' musical
Taylor Louderman doesn't remember the first time she saw Mean Girls. She remembers that she was in middle school and that it was rated PG-13 when it came out, so her dad wouldn't let her see it because she wasn't old enough yet. Its impact, though, when she eventually watched it, was hard to forget. "I've seen it played out in real life so many times, or I've heard it quoted so many times that it's made such an impression on me," she says. Specifically, Rachel McAdams as Regina George—but not for what her character is remembered as: a spoiled Queen Bee with a mean streak. "I wanted to be all of the good things about Regina,"Louderman says. Which speaks a lot to Louderman's own personality, that she can see the good even in someone like Regina George—which is exactly what makes her the perfect person to play the character on Broadway.
Louderman first made her Broadway debut in Bring It On: The Musical and also appeared in Kinky Boots. Up until a couple of months ago, she'd always played the quote-unquote good girl. So taking on the role of George in the new musical was a challenge, but one she was willing and excited to take on.
It's also worth noting that musical Mean Girls isn't the Mean Girls we know. The bones are still there, but jokes have been updated, social media is incorporated, and there's a new female empowerment angle to it. Because, in keeping with the times, feminism is, like, totally fetch right now.
And so ahead, we talk with Louderman about her own high school experience and what it was like to work with Tina Fey. As for where you can see her next, she says she wants to stick with doing comedies for a while and maybe try her hand at television. "I'm happy just doing anything that inspires me and challenges me," she says. "I think that's the best thing any actor could ask for."
If you had to pick a Mean Girls clique that you were a part of in high school, which would it be?
I was a floater. The book, Queen Bees and Wannabes—which is what Tina Fey based the screenplay off of—it's a book by Rosalind Wiseman. It's like a self-help book, for parents who have teens in the girl world, and she often refers to people who kind of bop around to a bunch of different cliques as "floaters." I would say I was sort of forced into being one because I switched high schools right after my sophomore year, and that really makes you shake up your social world.
And because I played sports and also did theater, at some point, I had to choose between the two. So, for a lot of reasons, I got to know a lot of different personalities, and at the time, I think that made me feel like I didn't really belong to any specific [group]. But now I'm grateful that I walked in all those different shoes because I'm able to use it in my work. This is my second high school-y role. So, I think it came in handy.
Were you in a lot of school plays growing up?
I am from a really small town where theater wasn't super-cool, I would say. Maybe, undervalued? So, I would drive into St. Louis, where it was cool. I would go to these all-boy schools where they needed girls in their shows and I would do my shows there.
Was there a point when you knew that theater was what you wanted to pursue professionally? 
I think I always told myself, I would audition for the top musical theater schools, and if I didn't get into one of my top five schools, that would be my sign. You know when you're in a small community, you don't really know where you stand, and so I just told myself that, if I didn't get into one of these top five programs, then I would choose a different path. Luckily, I didn't have to do that.
What drew you to the Mean Girls musical, and specifically the role of Regina? 
One of the roles I've done before this was a pretty innocent role, so I was really excited to have the opportunity to play the bad guy. I think it was a nice challenge for me, and then it's Tina Fey's writing, which everyone loves. More and more, I find that I love doing comedies; that instant gratification that you get on stage when they laugh at you feels really good. It feels like I'm affecting them. So, yeah, I would love to continue in that vein. 
What ways does the play differ from the film?
Tina Fey wanted to stay true to the plot as much as she could. She would keep the same setup for a lot of the jokes but enter a different punchline. Unless it was your iconic "Glen Coco" or "she doesn't even go here." So, you're still getting the moments you appreciate from the film, but it's a surprise punchline, and I just think that was so brilliant of her. And then, also, we have the musical to bring to life some of these moments, so I feel like we've raised the stakes in some circumstances and you really get to know a lot of your characters through a song or two. So, it's just a different take on the same sort of classic. But equally as smart and funny as the film.
The musical has a lot more female empowerment weaved into it, why do you think incorporating that into the play was important?
Any time you have a platform, or any influence, it's really important to use and make the most of it. I mean, it's sort of a moral responsibility or obligation any time you're in a position like that, and I think Tina definitely felt that. She didn't realize the movie was gonna be as big as it was, so with this musical, one of the things she really wanted to do was give out a positive message. You know, give it purpose. And I think she does that, opening up the conversation for young people and women to feel empowered, to say how they feel, while still treating each other with dignity. And, you know, we don't all have to be best friends, but we need to coexist in a way that supports one another, instead of bringing each other down.
Is there a piece of advice that Tina Fey gave that stuck with you? 
I don't know if it was one piece that stood out more than another… I think just her example, just her being around us was a huge perk for me. Spying on the way she works, the way she treated everyone, no matter what their position was on the show, was huge. She's a real collaborator and understands that we're gonna do better if we all work together toward this big thing. It was just really cool to watch someone I already admire live up to my expectations—exceed them, you know? That's because she's an awesome boss.
I will say, at the beginning of our rehearsal class, she did get up in front of all of us and say, "Look, we have to have each other's backs. This is gonna be tough, there's gonna be a lot of pressure, and the best thing we can do is be there for each other." And that was really important for everyone to hear.
Okay, let's do a quick lightning round of fetch or not fetch: Millennial pink?
Fetch.
Snapchat?
Not fetch. Not anymore!
Taylor Swift?
Uhh, that's an in-between. Can I do an in-between?
Yeah, you can. Times Square? 
Fetch.
The subway?
Oh, not fetch.
Army pants and flip-flops?
Fetch!