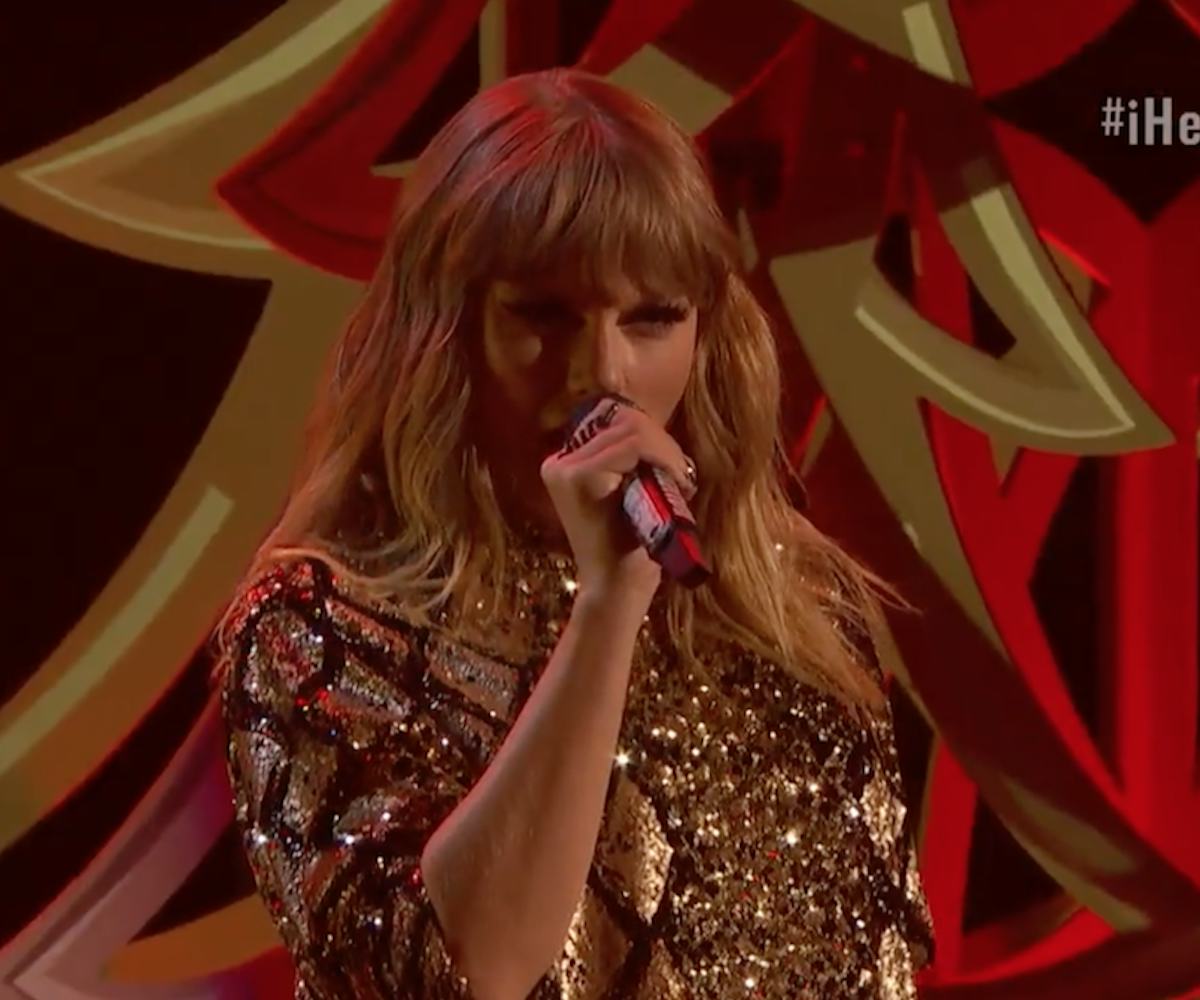 Photo via Vimeo @John Smith
Watch Taylor Swift Perform "End Game" For The First Time—With A Very Special Guest
Look what you made her do
Taylor Swift made her first extended return to the stage yesterday night at KIIS-FM's annual all-star Jingle Ball concert, closing out a phenomenal 2017 for the singer. As fans wait for her May tour to begin, Swift gave an energetic 25-minute set where she performed a mix of songs from her new album, Reputation, as well as the much-loved 1989. Decked out in a black- and gold-sequined hoodie reminiscent of—what else—snakeskin, her signature red lips and winged eyeliner, and gilded combat boots, the glam-meets-badass look blends old Taylor and new. And, weirdly, it kind of works. Though, as eagle-eyed fans will note, Swift, sadly, seems to have dropped her snake mic for a Reputation-branded one, which is maybe good news for fans of snakes who are only meh about Swift.
Although Swift has given a few small performances this year, Jingle Ball was the singer's first extended time on stage in a while. The six-song set list included "...Ready for It?," "Blank Space," "Shake It Off," "I Don't Wanna Live Forever," "End Game," and "Look At What You Made Me Do." The latter two, of course, come off Swift's enormously popular (and record-breaking) Reputation. Which, for those of you living under a rock, is now (finally) streaming on Spotify. 
As an additional surprise to fans, fellow singer Ed Sheeran joined Swift on stage for "End Game." It was the first time the two have performed together since 2013. It was also the first time "End Game" has been performed live, further adding hype to what will undoubtedly be one of the biggest tours of 2018.
Check out the full performance below.