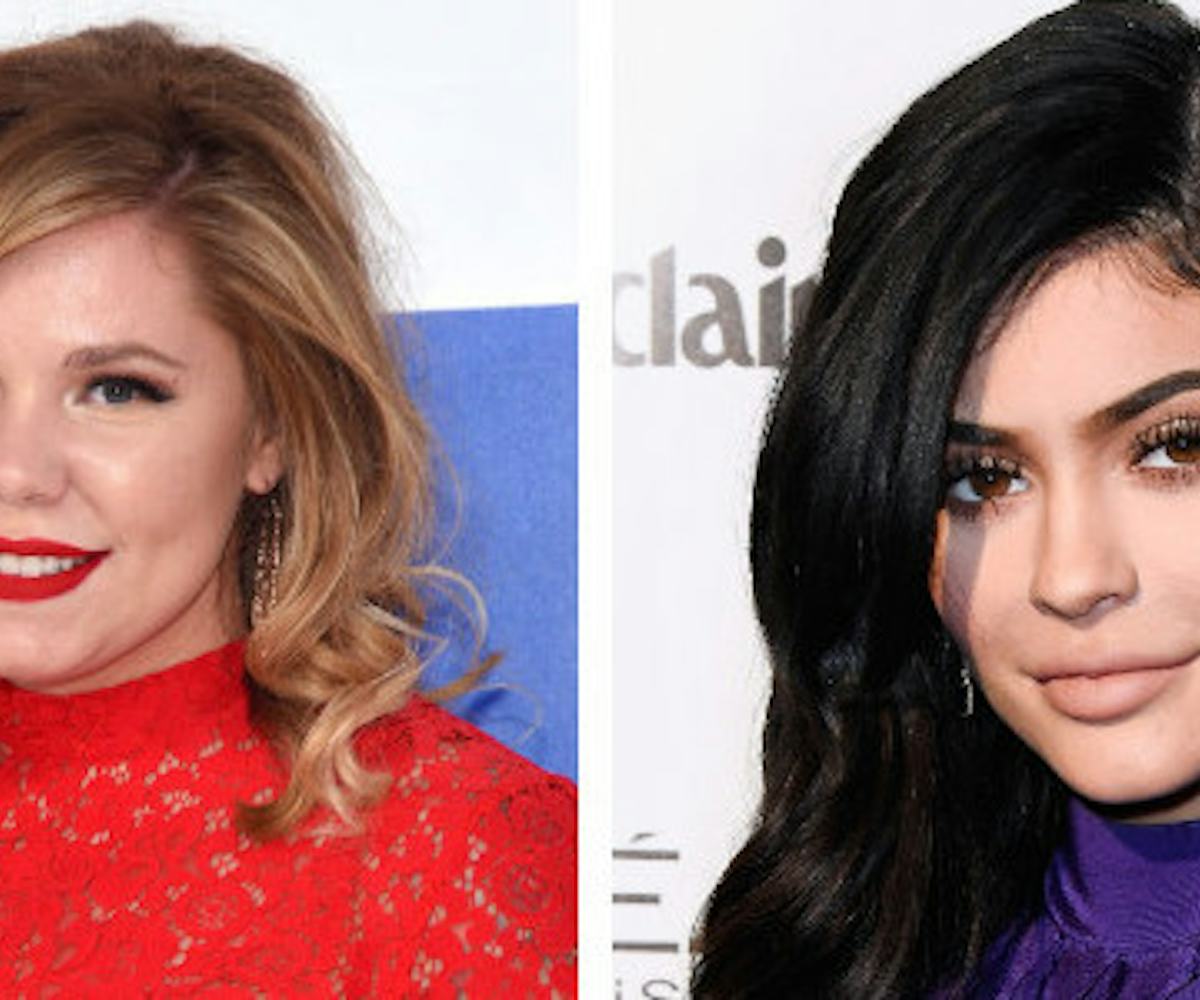 Photos By Jamie McCarthy; Frazer Harrison/Getty Images.
This 'Teen Mom' Star Thinks Kylie Jenner "Glamorizes" Teen Pregnancy
The internet was quick to call out the hypocrisy
Since giving birth to daughter Stormi Webster earlier this year, Kylie Jenner's mothering capabilities have been under a lot of scrutiny—and the latest person to criticize her is Teen Mom star Kailyn Lowry.
Last weekend, while speaking on Heidi Montag and Spencer Pratt's Make Speidi Famous Again podcast, Lowry said that, while she doesn't "want to hate her," she does think that Jenner is perpetuating an unrealistic image of young motherhood.
"When you're that young and you have that much money and you're able to kind of have a nanny and have a lot of help and you still do all these things," Lowry said, per Us Weekly, "I think that shows that it's kind of glamorous to have a kid so young." 
Lowry continued by clarifying that, while Jenner wasn't technically a teenager (Jenner was 20 at the time of her daughter's birth), the fact that she "can still go out and party and do all these things" does make the whole situation look "slightly glamorous." She then went on to say that, in her mind, Teen Mom doesn't make it look "glamorous." 
"Obviously it's slightly different, but we got a lot of backlash for Teen Mom and 16 and Pregnant... that [it] makes it look like the show is glamorous and I just don't agree, because it took me seven years to get a four-year degree," Lowry explained. "I didn't always have the money I have now. I would not agree that our show makes it glamorous."
Lowry then went on to say that, while she doesn't want to "mom-shame" Jenner, their scenarios are "completely different."
"It's weird," she continued. "It's hard because how do you look at the situations and you're, like, 'Okay, that's glamorous, that's not glamorous.' But really, nobody should look up to us in that aspect."
Fans online weren't pleased with Lowry's comments. "Wow. Pot, meet kettle!" one Twitter user wrote, while another told her to "have a damn seat."
Lowry has yet to respond.