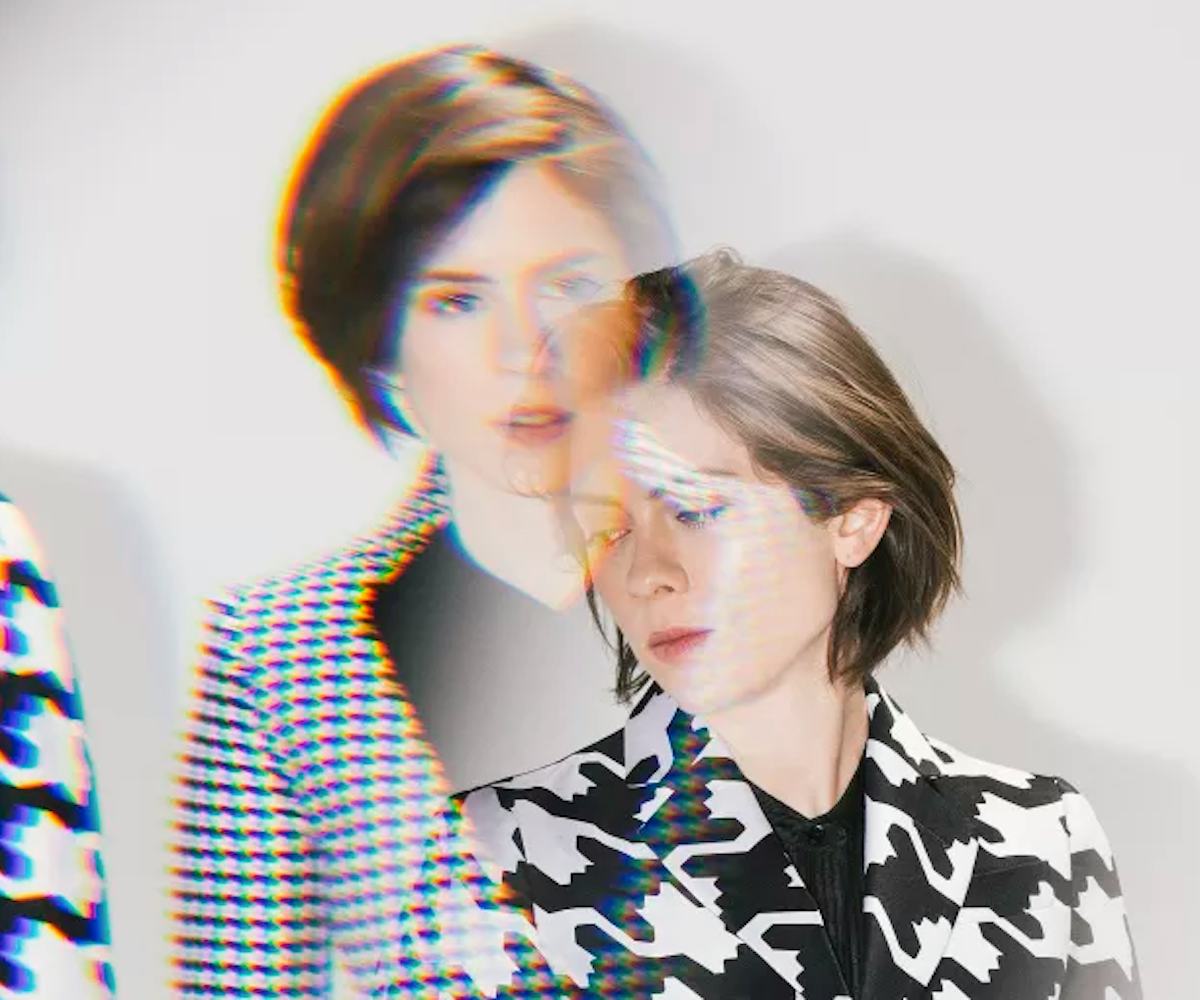 Photo by Derek Wood
Tegan And Sara's "Hang On To The Night" Video Is A Surreal And Beautiful Ode To Overcoming Anxiety
Anyone who has experienced anxiety knows how isolating and helpless it feels. Tegan and Sara's latest video, for their single "Hang on to the Night," navigates anxiety and the crippling thoughts that come along with it.
"The song was a response to a number of sudden deaths in our family and my anxiety about mortality," Sara Quin tells us of the synth-pop ballad. The video explores the "regenerative" aspect of the night, both literally and figuratively. "If you can manage to hang on, you can face another day."
The animated video is directed and illustrated by Lisa Hanawalt, who's responsible for the look of Netflix's animated hit BoJack Horseman. Though the collaboration seems unlikely, Hanawalt admits, "I'm an anxious person, which definitely informs my personal work." When Sara messaged the artist on Twitter, Hanawalt knew the song would be a perfect fit.
Tegan and Sara trusted Hanawalt with full creative direction throughout the process.  "When [Lisa] sent me her drawings, I already felt very realized, as if she saw me," Sara says. Inspired both by moments from Fantasia and traditional folklore, Hanawalt tells the story of a larger-than-life horse who acts as the guardian of the night sky. The video shows the horse waking up the nocturnal creatures, including two cats who are star-crossed lovers, sacrificing themselves to the night. Hanawalt describes the effect as "sad but hopeful because you know the cycle will repeat itself the next night."
Sara has always felt a connection to nighttime. When she was a child, the dark was a negative place in which the singer would cry herself to sleep over her anxious thoughts. In adulthood, however, Sara seeks comfort from the night. "I feel anonymous and protected at night," she says. "It's a time to absorb and reflect on the day, sorting feelings and experiences."
Hanawalt's signature colors convey the depth of emotional release found at night. "Saturated colors and gradients pair so well with music," she says. Especially in "Hang on to the Night," the illustrator finds that a "bright, swelling purple can be as powerful as any words."
Working on the video was a cathartic experience for both the duo and Hanawalt. "It feels good to sing something sad," Sara says. "The words take on a weight that buoys the music, but the melodies and textures of the song feel hopeful." For her part, Hanawalt found the process "humbling and comforting."
The video also encapsulates the song's quiet optimism. Sara feels the song ultimately captures the positive effects of grappling with anxiety: "Humans are incredibly resilient, and the refrain reminds me of what we are capable of and what we can recover from."
Watch the uplifting video for "Hang on to the Night," below.