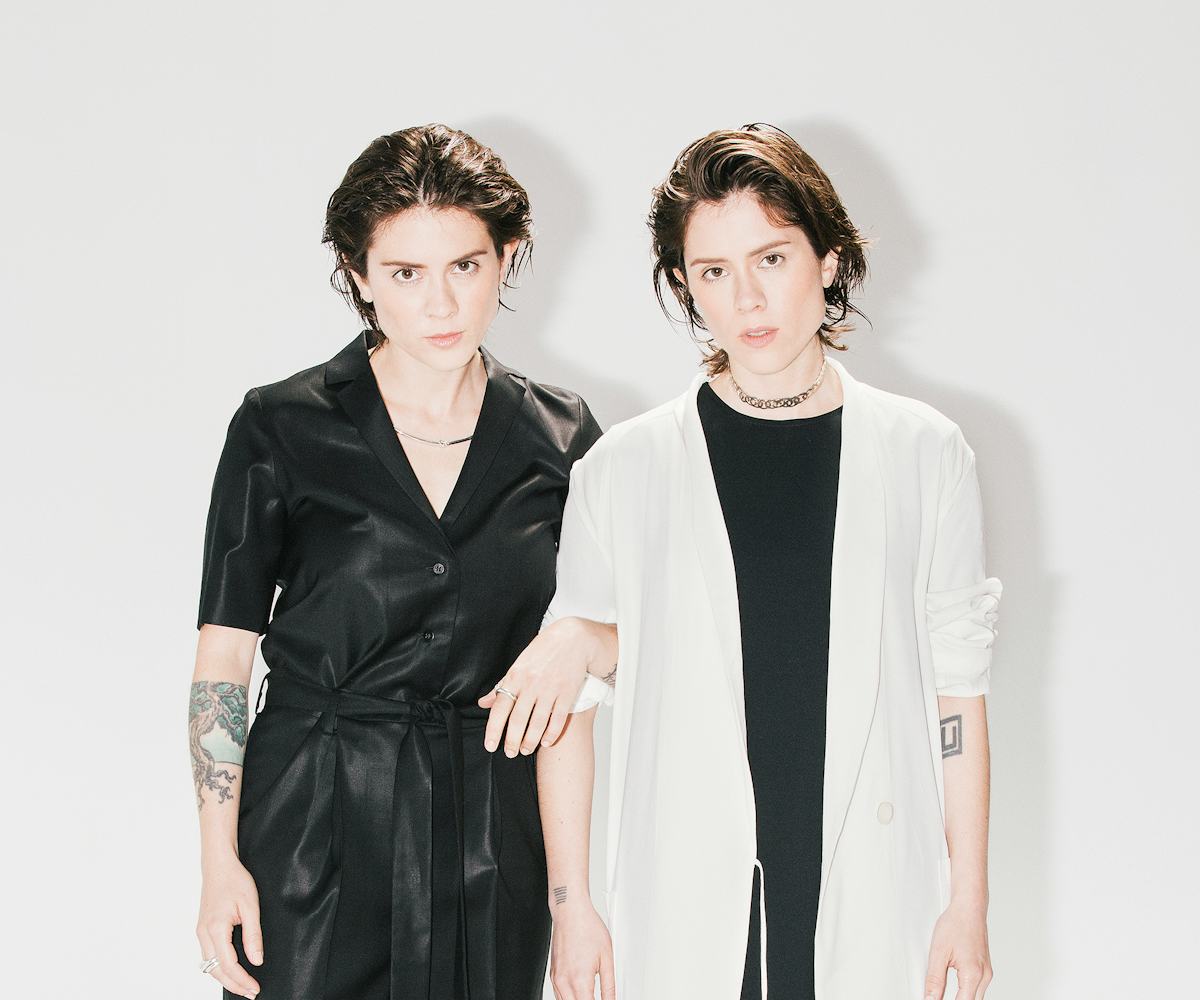 Photos: Derek Wood. Styled: Dani Michelle. Tegan: jumpsuit by COS, shoes by Alexander Wang, socks by Comme Des Garcons; Sara: top by Kallmeyer New York, jacket by David Michael, jeans by Nudie Jeans Co., shoes by Robert Clergerie; jewelry by Ali Grace
Indie Icons Tegan And Sara Are Taking The Plunge Into Electro-Pop
…on their upcoming album, 'Love You to Death,' out June 3rd
The following feature appears in the June/July 2016 issue of NYLON. Buy it now (and receive a 15 percent discount off your next order!). Or, subscribe.
In 2013, Canadian twin sisters Tegan and Sara Quin installed a mailbox in the lobby of their concert venues so their fans could drop off letters to them, often of the highly personal variety. Over the course of seven albums, Tegan and Sara, as they're officially known, had cultivated a devoted following that responded to their guitar-centric, heart-swelling music, and as their popularity grew, they didn't want to lose this intimate connection they had established. Nonetheless, after releasing that year's Heartthrob, a slick, pop-spiked curveball whose hit song, "Closer," was an earworm that burrowed a home in pop radio and helped them land an opening gig on Katy Perry's world tour, they anticipated some backlash. "I get it," Tegan says on a recent Los Angeles afternoon. "Our fans attach to a certain era of our band. I've been there. But just like how I can't go back and look the way I did when I was 24, musically, I can't go backwards. I don't want to."  
Click through the gallery to read the rest of the feature. 
Much to their surprise, the pop world embraced them in ways that the sometimes insular indie-rock community never had. Last year, they joined The Lonely Island onstage at the 87th Academy Awards, and performed The Lego Movie's Oscar-nominated song "Everything Is Awesome" in front of more than 65 million viewers. "How wonderful to be included," Tegan recalls. "I like this party a lot better!"
Tegan and Sara's new album is undoubtedly hook-heavy with pristine production, but, as Sara says, it also includes "some of the most bare, lyrical songs" of their career. The production, she emphasizes, doesn't obscure "the intensity or the emotional depth" of the songs. Case in point: On lead single "Boyfriend," Sara, who has been in a relationship with her girlfriend, Stacy Reader, for five years, recalls the pain of her partner being involved with a man when they first met: "You turn me on, like you would your boyfriend/ But I don't wanna be your secret anymore," Sara sings.  
The sisters' relationship has evolved in step with their music. "I always had this horrible guilt and shame about how much we fought," Sara recalls of their early twenties, when the sisters would physically tussle, something Tegan attributes to "power struggles with how we expressed ourselves." She adds, "Over the last decade we've grown closer and grown to understand each other's vision. I think there's a level of respect we have for one another that has trumped any sort of disagreement or personality clash that can happen."