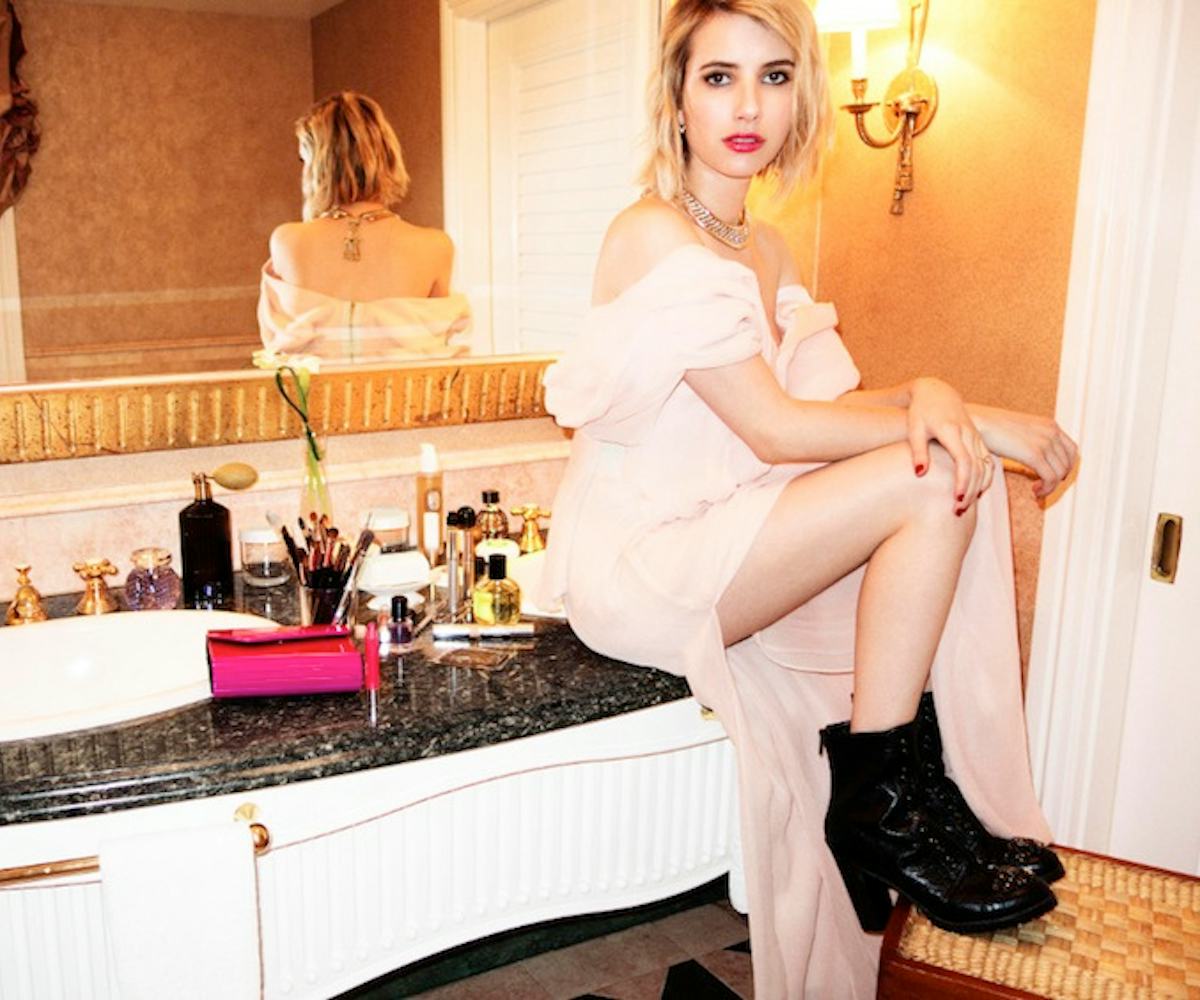 all photos courtesy of jimmy choo
10 things we learned from emma roberts' jimmy choo style diary
like how to style a vintage t.
It takes a lot for an Indie actress to become a household name. But with her vibrant personality, sartorialist instincts, and acting chops, it's no surprise that Emma Roberts, a two-time NYLON cover girl, has won over the hearts of every blue-blooded American through roles in American Horror Story, We're The Millers, Adult World. 
The Palo Alto star, who cites Jane Birkin, Stevie Nicks, and Cate Blanchett as style icons, recently created a six-look style diary for Jimmy Choo and spoke about her signature looks, upcoming projects, travel recommendations, and thoughts on the crop top. Here are 10 styling tips we learned along the way:
The best going-out outfit is comfortable and easy. "I adore a great slip dress with a vintage T and boots and a great cross body purse so I don't have to worry about losing it!" 
Jeans and Ts are key. "When I'm hanging with my friends, I pretty much live in my rag & bone black skinnys."
Embrace the '90s look. "I love that the '90s are coming back because it makes me nostalgic of my childhood. I was a huge Spice Girls fan and just bought platform sneakers in honor of them!"
Social Media yields great results. "I'm also in love with the '60s and '70s so I'm always looking for outfit inspiration on Pinterest and buying stuff off Etsy!"
Go classic. "If I were a shoe, I would be a classic Jimmy Choo pointed toe pump. I remember being younger and seeing that shoe on women and thinking how I couldn't wait to get older and get my hands on a pair!"
Work with what you've got. "I used to be an all heels all the time girl because I was self-conscious about being 5'2". Now I embrace it and pretty much live in boots and flats and high tops."
Know your limits. "I hate being the person that's limping behind in killer high heels!"
When it comes to special occasions, dress according to how you feel. "I love mixing it up on the red carpet. Sometimes I love to do long and other times I feel most confident in short. The red carpet is a great time to try out things you wouldn't in real life, which makes it really fun."
Go with the times. "Trends are what make fashion fun, so I say go wtih them and laugh at the pictures later!"
Channel your birth year. "If I could live in any decade I would want to be the age I am now (23) in 1991 (the year I was born). It seemed like such a cool time because we had technology but not as much as there is now. People weren't consumed by it! I also love the movies around that time and the fashion. Slip dresses and chokers!"