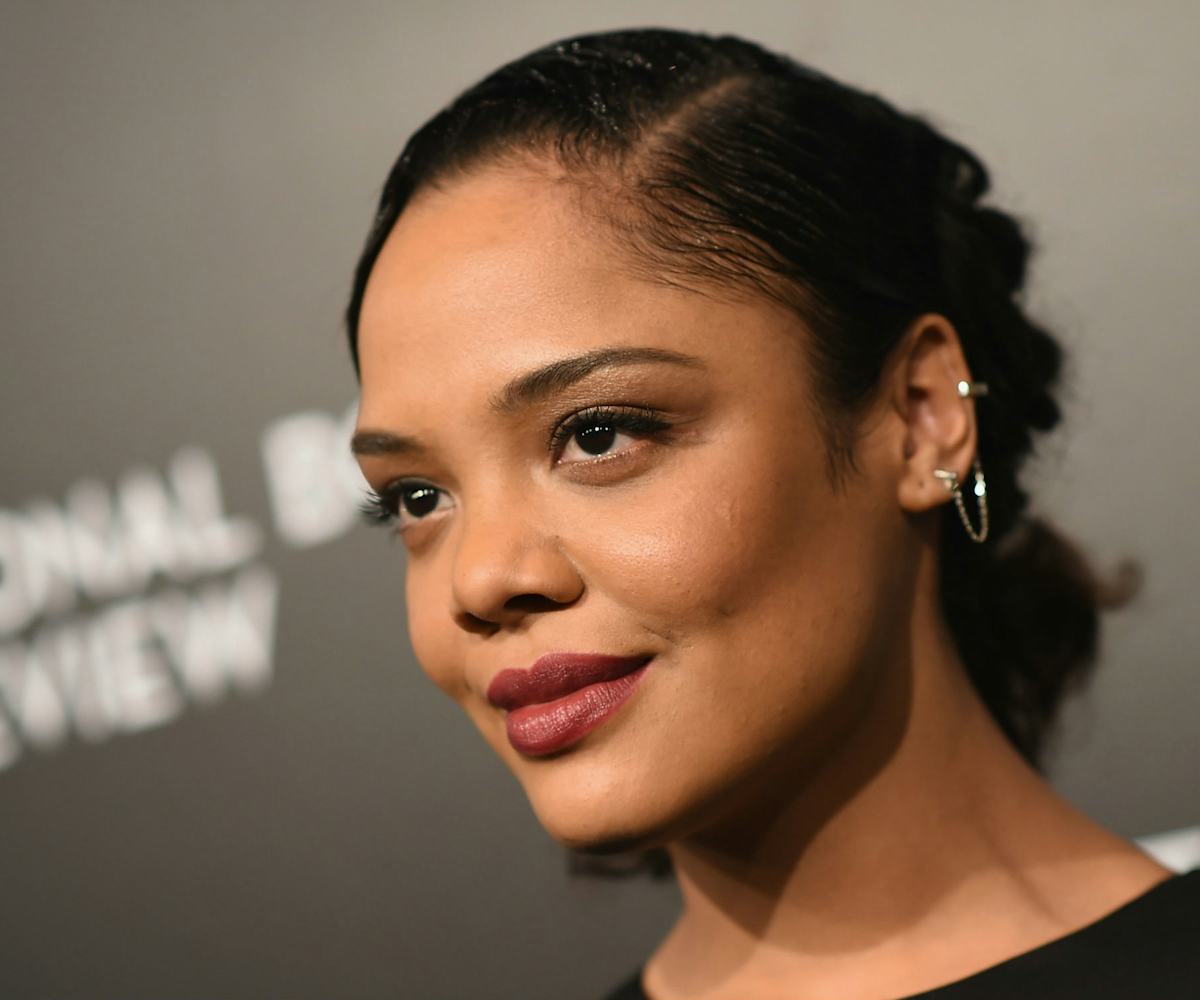 Photo by Dimitrios Kambouris/Getty Images.
Tessa Thompson Shades Woody Allen For Lack Of Black Women In His Films
This weekend, a clip of Kate Winslet, who stars in Woody Allen's latest film Wonder Wheel, praising the controversial director went viral. Within Winslet's praise, she points out how Allen—who has been accused by his adopted daughter Dylan Farrow of sexually assaulting her—has created "extraordinary roles, very powerful, complicated, roles for women for many, many, many years." It wasn't her words necessarily that people pointed out (though those were… not good, and can be added to this list of BS excuses celebrities have come up with to defend him), but the uncomfortable faces of the other celebrities in the room. Margot Robbie appears to be giving her a literal side-eye, Saoirse Ronan has a befuddled expression, and Jessica Chastain looks like she's screaming internally. Their reactions could be viewed as shade, though none of them spoke up in the moment. The true shade came from Tessa Thompson a couple of days later. 
Reacting to the clip, the actress wrote: "Anyways... 'Would I work with him?' is a highly hypothetical question for me. There are no black women in Woody's worlds." She followed the tweet up with a cup of tea emoji. 
Well, that's not, exactly, true. Allen did hire one black woman, Hazelle Goodman, for a significant role in one of his movies, 1997's Deconstructing Harry, in which she played a, well, prostitute named Cookie. Allen defended his lack of diversity in a 2014 interview with the Observer, stating he won't hire a black actor unless he writes a story that requires him to do so. Which makes the solution pretty easy: He could just write a story that would require him to do so. Or quit making movies altogether, we won't miss them. Anyway, he goes on to say:
You don't hire people based on race. You hire people based on who is correct for the part. The implication is that I'm deliberately not hiring black actors, which is stupid. I cast only what's right for the part. Race, friendship means nothing to me except who is right for the part.
And, apparently, no black women have deemed themselves worthy of an Allen nod. Except, that is, for the role of a prostitute. Noted!