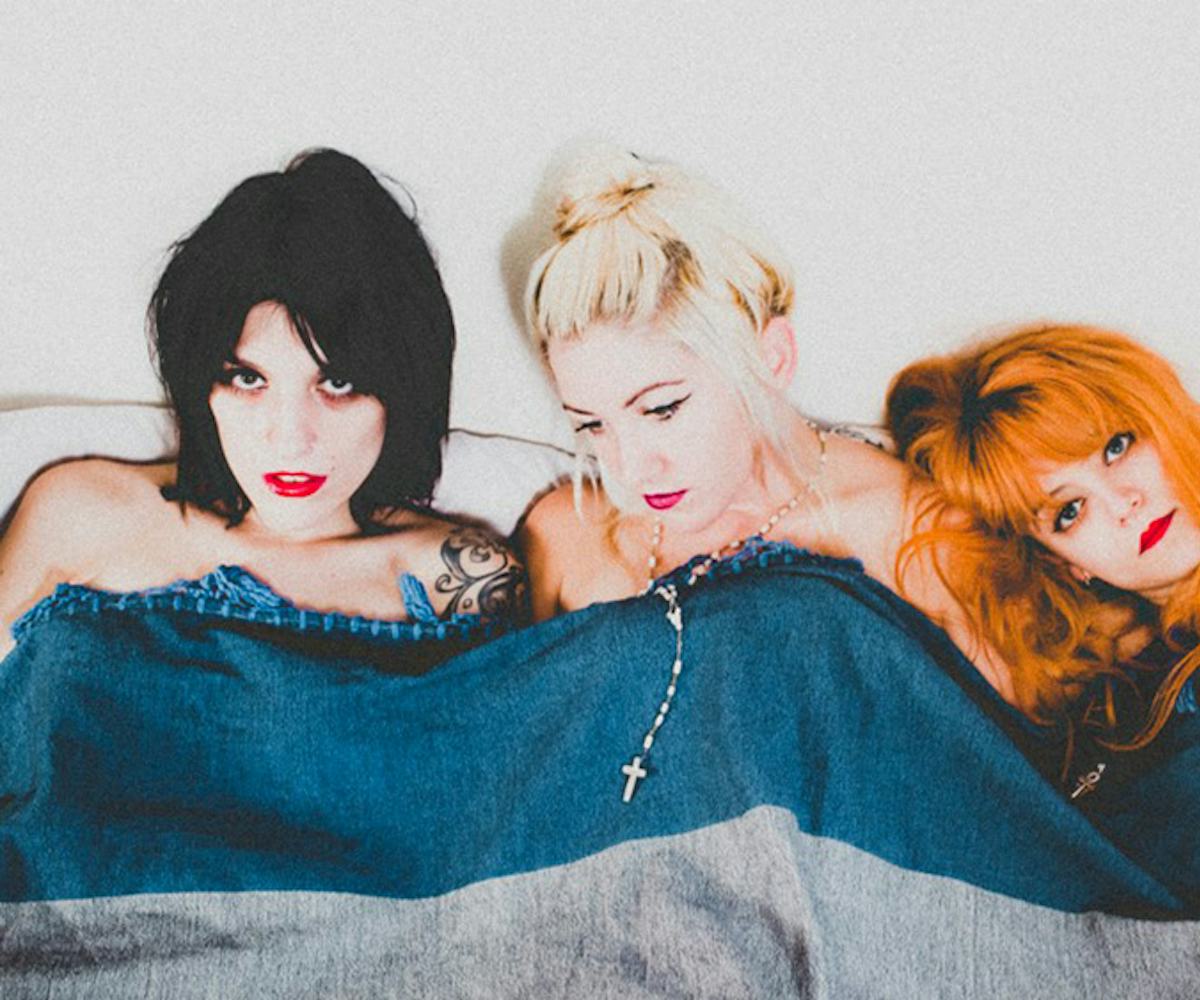 photo by joey halter via tete on facebook
song premiere: tête - "wires"
float on dreamy soundwaves by this trio of echo park babes.
Even though we have no idea what the forthcoming video for Echo Park band Tête's new single, "Wires," will depict, it's not hard for my imagination to run wild with the possibilities. The echoing, hazy vocals, and retro vibe that you get from the all-girl group's new track will conjure up visions of a '70s disco chick who just took some really good drugs and is slinking through the city like she owns the place. There'd be smoke, blue eyeshadow, glitter, and empty streets—not to mention smudged red lips and glossy nails, because we are talking about a disco chick, here.
The band, made up of Kimi Recor (from Draemings and Bleach Egg), Jax Cingolani (from Darklands and Spirit Vine), and a third beauty who just goes by "Ammo," apparently met over a chance encounter with a bag of gummy worms in 2013. The girls also name "metal" and "head" as members of their band, who obviously also had to have been a part of this serendipitous moment (perhaps in the form of a party playlist that was turned way up).
And right now, we're seriously glad that that bag of gummy worms existed, because "Wires" is a total jam (and now we're also kind of craving our own bag of Haribo—even though, yes, Trolli makes gummy worms).
If you are lucky enough to live in L.A. and had the chance to catch these three badasses at Burger a-Go-Go or at The Echo on Monday nights in August, then you know there's a lot to expect for the future of these dreamy rockers. If you haven't yet had the chance to see them live though, you'll probably just have to wait until their EP drops this spring (which we're so ready for). Until then, it's safe to say we'll be streaming this track on Monday mornings, hungover afternoons, during the process that is perfecting our smoky eyes, and while strapping on our platforms—because those are the exact moments that "Wires" seems to have been made for.