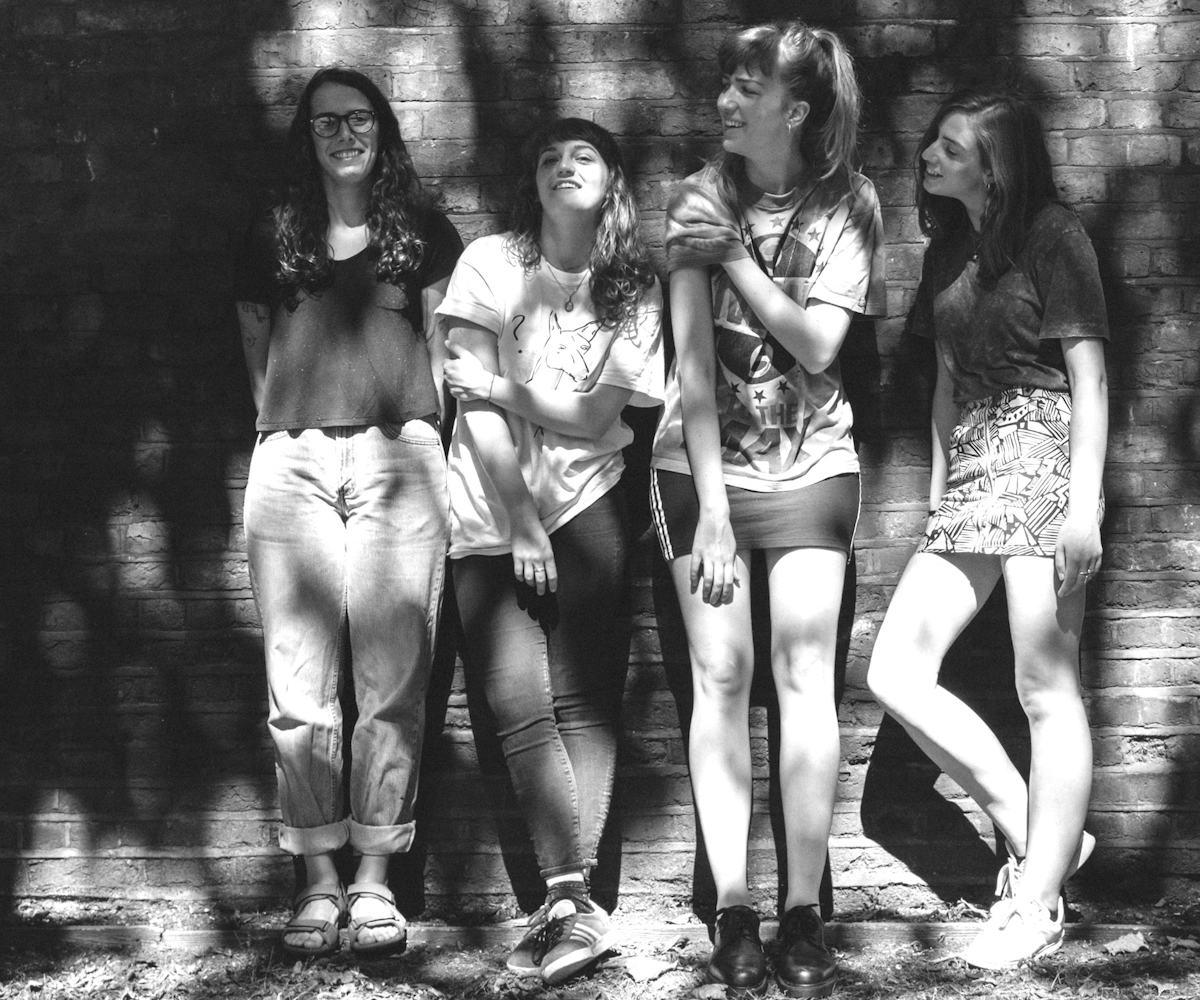 From left: Fern Ford, Soph Nathan, Juliette Jackson, and Celia Archer. Photographed by Ash Kingston.
London Quartet The Big Moon Looks Ahead To Its First LP
The up-and-coming garage-pop group is poised to be the next big thing
The following feature appears in the October 2016 issue of NYLON.
Though they've only known each other for two years, London quartet The Big Moon seem more like sisters than bandmates. Relaxing with mugs of tea in an East London studio ahead of their NYLON photo shoot, frontwoman Juliette Jackson, guitarist Soph Nathan, bassist Celia Archer, and drummer Fern Ford are regaling each other with stories of their weekends.
"We're really close," says Jackson, who spent her weekend at the U.K.'s annual Wilderness Festival, and has just re-enacted waking up surrounded by the deep, yogic breathing of her fellow campers, prompting fits of giggles. "When we met, we knew we'd get on straight away. I cared more about finding the right people than finding perfect musicians."
Do they ever need time out from one another? 
"Not really," says Jackson, looking tenderly at the others. "If we do, we'll give each other space, but 20 minutes later it's like, 'I'm sorry, I love you!'" 
The Big Moon (named in part after an occasion when Jackson mooned a DJ on live radio, and also for "astrological reasons") formed in London in 2014. The girls were introduced through friends of friends, after Jackson, who'd written a handful of melodic pop-rock songs about love, angst, and infatuation, started asking around for like-minded musicians. 
"We thought about making up a 'how we met' story that's more exciting and concise," says Archer with a laugh, "but that's it. I was the last to join."
After just a few months of rehearsal, they uploaded their first demo, "Eureka Moment," to SoundCloud, and were immediately inundated with emails. "We made a Facebook and Twitter page and sat in a café staring at the laptop and squealing every time we got a like," says Archer. "We were super cool about it, basically." 
A record deal and a debut EP (featuring standout singles "Cupid" and "Sucker") followed, while their ebullient live show landed them on tours with the likes of The Maccabees and on the bill at festivals including Latitude and Glastonbury. Jackson's infectious hooks and simple melodies have garnered comparisons to Britpop-era bands such as Elastica, and they've been dubbed "London's most exciting new quartet" by NME. Their debut album, produced by Catherine Marks (Foals, Wolf Alice) is slated for release in early 2017. 
Lyrically, Jackson relies on her experiences in relationships and navigating complex emotions for material. "It's a lot about love and being irritated, or being swept off your feet," she says. "All those things that make you happy or really sad. I've tried to articulate them in a way that isn't too complicated, because those kinds of feelings are really hard to explain. You try to find clarity by boiling down an emotion into one five-word lyric, and it's like, 'Ah, that means exactly what I want it to mean, and the music sounds like what the emotion is.' It's really cool when it works." 
Hair and makeup: Mira Parmar at Terri Manduca.