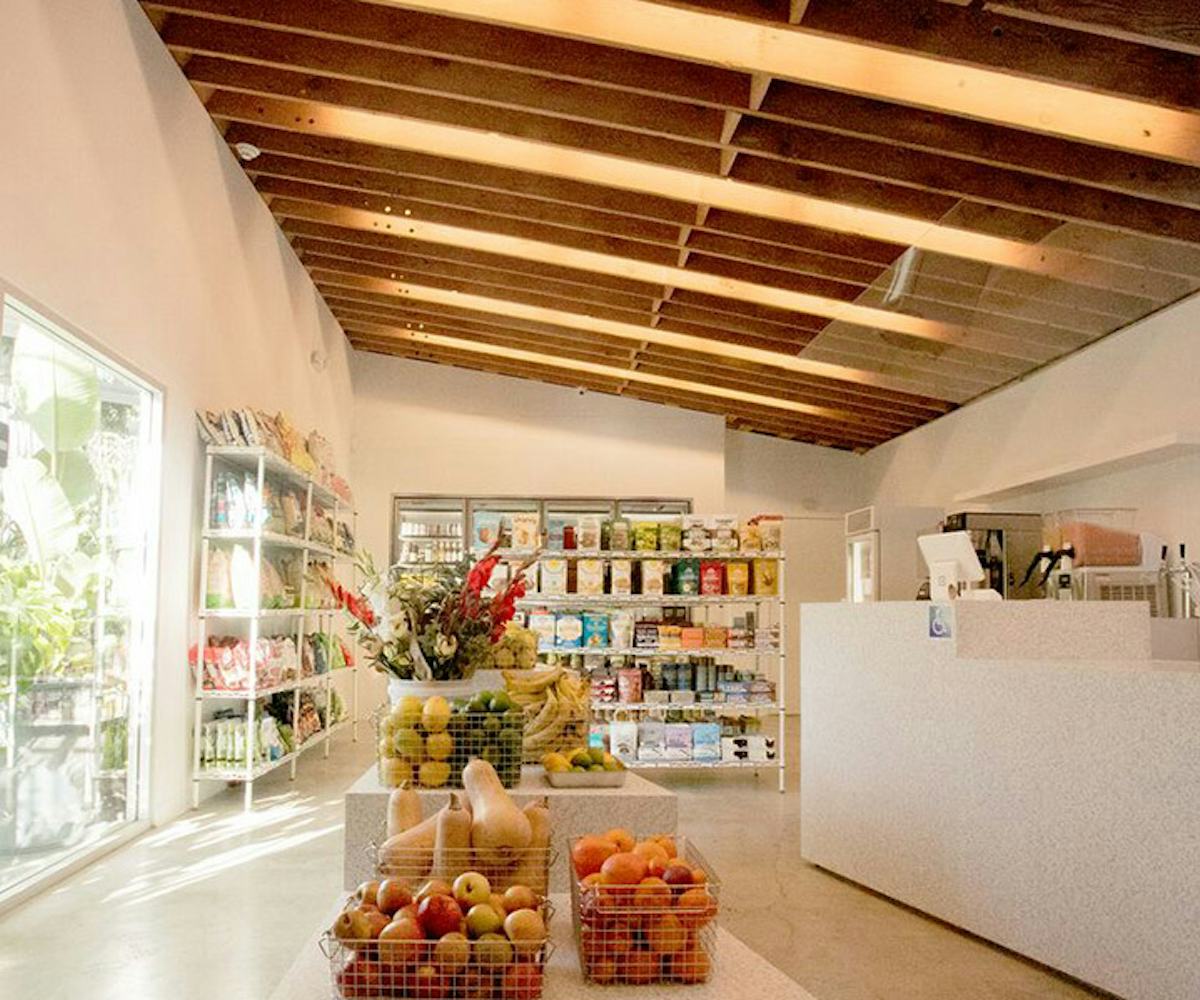 Photographs by Wyatt Conlon.
This New Mart Is A California Update To The Convenience Store
It carries L.A.'s best health foods and gives back to charity
It doesn't take more than looking at Rachel Krupa's client roster to know that she has great taste in all things food, drink, and wellness. As the founder of Krupa Consulting, the boutique PR firm that reps buzzy brands like The Class by Taryn Toomey, Gem & Bolt, Maman, MatchaBar, Sfoglini, and Goop Wellness, she vets a myriad of brands before taking them on as clients. It's that same dedication to shining light on only the most innovative and wellness-dedicated producers that has led Krupa to open her own convenience store, The Goods Mart, in California's Silver Lake last week.
A glimpse at the slanted, black-and-white striped facade leaves no doubts that The Goods Mart is no ordinary convenience store. Driven by Krupa's mission to "do good, be good," the store is stocked with health-conscious, L.A.-based brands like Barnana, Countertop Foods, Better Booch, and Crack Nuts. Here you won't find any products holding artificial colors, flavors, and sweeteners; animal proteins with nitrates, antibiotics, and GMOs; BPAs; or pesticides. Nor will you find single-serve plastic bottles.
Growing up in rural Michigan, Krupa has always loved convenience stores and gas stations. "We stopped at the local Sunoco station/market for our home essentials—milk, eggs, toilet paper—and I always tossed a candy bar, some chips, or an ice cream treat into the basket," she reminisces, while talking about how the idea for The Goods Mart came up eight years ago. "Later, as I began to learn about ingredients and evolved with my eating, I found that nearly all mini-marts were limiting, and I had nowhere to soak in my obsession, nowhere to stock up and peruse brightly lit aisles on the random. When I had to stop in, it was always 'choose the lesser of two evils'—mediocre mixed nuts or preservative-filled beef jerky." After questioning why she compromising in a city like L.A., filled with health-driven and socially conscious options, she set about building The Goods Mart as a way to "shake up the archaic 7-Eleven model."
"7-Eleven has everything you need in a hurry, but the quality of the ingredients and ethos of the brands just isn't there," she says. "At The Goods Mart, you'll find all the tried-and-true categories but with better-for-you-and-the-planet upgrades."
In lieu of greasy taquitos and questionable pizza, Krupa offers Banh Oui. bánh mìs and freshly baked croissants from Bakers Kneaded; in place of high-fructose corn syrup-loaded Slurpees, organic slushes from Kelvin Slush Co. and iced tea from Art of Tea; lukewarm, bitter-tasting coffee is subbed for La Colombe drip. Even the fruit is of the "cosmetically challenged" (read: ugly) variety to help eliminate waste ("so much food is left to waste because it's not 'pretty' enough to eat," she says), supplied by GrubMarket. After trying hundreds of products and studying convenience store-buying habits over the course of a year, Krupa curated over 300 mission-driven products that are not only healthy but actually delicious. "After narrowing down my favorites, I hit up friends and family for more input. I'm from Michigan, and not everyone eats 'healthy' or 'organic,' so it was a true test to see if the products were truly 'delicious' to everyone," she says. "My biggest critics when it came to candy were my 10- and eight-year-old nieces!" From toilet paper and coffee filters to spices, nut milks, and snacks, everything has been tested for taste and approved for its eco-responsible practices and function.
If all of this makes you envision a costly receipt at the end of a coffee and breakfast pit stop, know that Krupa wanted to make the store's basic products accessible to everyone. While chatting with a builder who was working on the space for her, she learned that bottled water and most to-go coffee offered in the area were outside of his budget. "He was building my dream but likely wouldn't be my customer," she says. Then and there, she decided that she would offer an amazing coffee (which would end up being supplied by Colombe) and a boxed water (JUST) for only $1.25 each, in addition to more items. "Coffee is one of those things that everyone needs in the morning. It's the beverage that really connects us. People talk when they're waiting to pour their coffee or after savoring their first sip," she says. "So why not make it accessible to all, to everyone walking by or passing through?"
At the end of the day, Krupa believes that that is The Goods Market's true mission—to serve its community. "During our first week of business, I've watched neighbors meeting, talking to each other, and connecting in a way I haven't seen in the neighborhood before," she says. "Convenience stores are situated in the hearts of neighborhoods or at the exits and entrances. In the past, they were an essential part of all neighborhoods, a place to bump into neighbors." As fate would have it, the space now occupied by The Goods Mart used to house a drive-thru mini-mart in the '70s, before turning into a bike shop. "When I first walked into the building, it still had the old-school '70s refrigeration inside. I took it as a sign that the space was yearning to return to its original purpose," she says. Soon afterward, she recruited Lauren Jordan to design it with as many recycled materials as possible. "When designing the space, the focus was on creating an environment where the brands could pop off the shelves," Krupa says of the bold exterior and a modern interior not typical to "green" markets. Starting next month, she plans to hosts community dinners on the patio-community garden, designed by local landscape architect Terremoto, to highlight the local chefs, that make pre-packaged sandwiches, burritos, and salads for the store, and bring the community even more so together.
A strong believer of "if given an option to do good, people will," she worked with Square to set a "tip" function at checkout, where customers could donate to local charities that rotate every quarter as they pay. "Since we've opened, we've averaged around $60 of donations each day from our customers," she says. "These donations aren't $5 or even $1; we're asking for 10 cents, 25 cents, or any amount of change. Small change equals large change," she says. "I believe that, if given the opportunity, we all do good, so why not seamlessly incorporate that option into a quick milk and eggs pickup?" She has also partnered with Lunch on Me (which is also the charity of choice this quarter), which will move food within 24 hours of expiration from shelves to the hands of those who are hungry and homeless.
Take a closer look at the store, below, and hear about some of the brands that The Goods Mart is proud to carry.
"GrubMarket's mission, to bring local and organic products to every inch of L.A., is inspiring. So when I needed fruits and vegetables, I had to connect with them. We're looking to educate our customers that all fruit tastes the same inside. I think that our 'ugly' fruit is even more beautiful and sweeter."
"We opened the La Colombe West Coast cafes through my PR company, Krupa Consulting. I learned about their quality standards and knew it was a fit. They also worked me with me fulfill my dream of having a great coffee for less than $2!"
"The quality is impeccable. Everything is organic, local, and incredibly delicious."
"When you think of organic slushies, Kelvin's is the only one you should think of."
"My favorite ice tea, I've been drinking it for years. All I want is a simple black tea in the summer, and this is it."
"A friend, who I trust about all things delicious, recommended them to me. They are also a Smorgasborg favorite. I was in at first bite."
"A dear friend introduced me to Karla at Sósia Flora. Karla was a pastry chef at an amazing restaurant in L.A. but decided to follow her dreams and open a floral company, so I HAD to support her!"