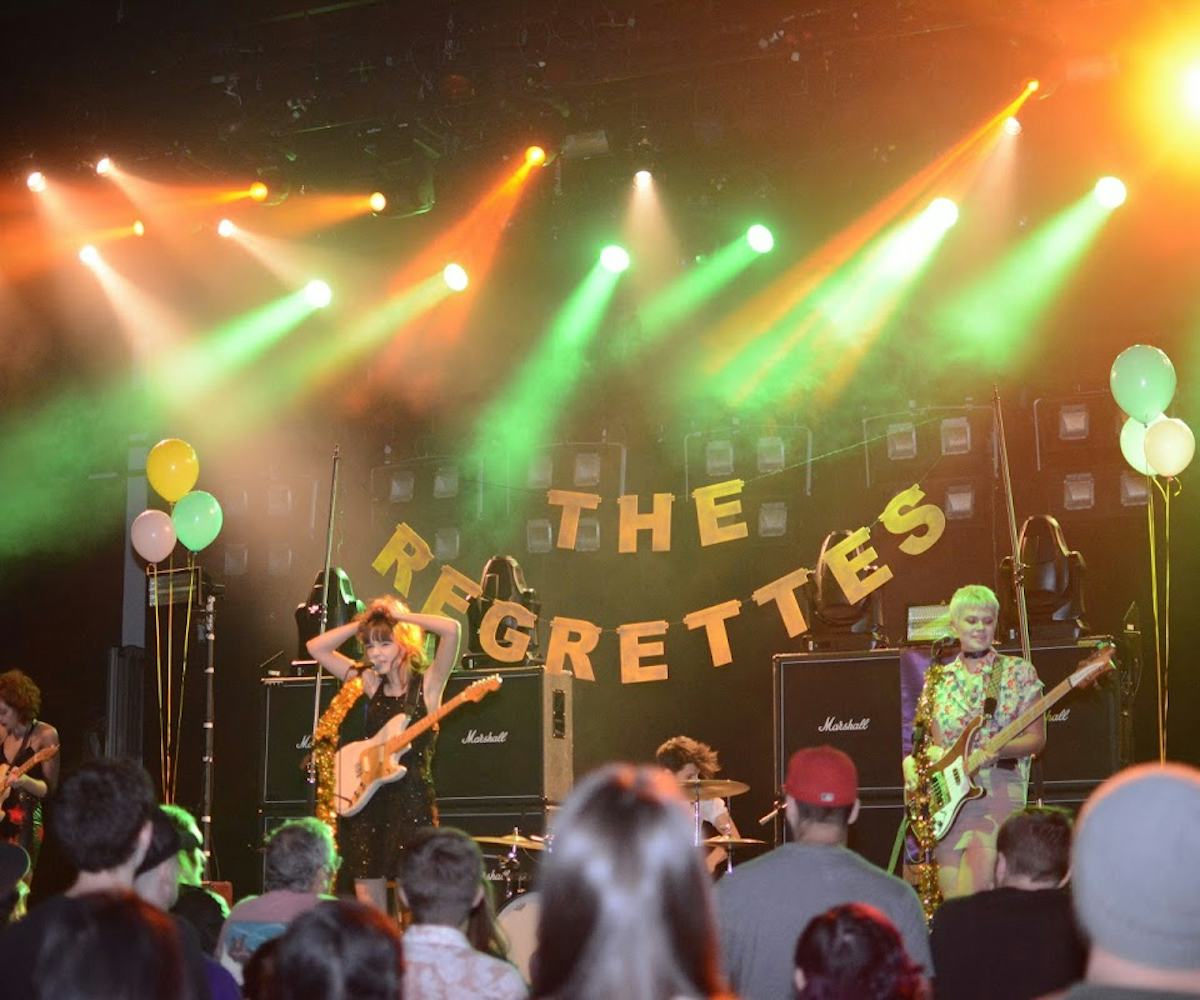 Tour Diary: On The Road With The Regrettes
On the road with Sleigh Bells
In 2016, we saw numerous new musical acts come up, with many showing incredible promise for the future. And with everything that's happened in the past year, we definitely needed to have hope in something, like, for example, bands like The Regrettes, a four-piece, predominantly female, teenage garage-rock band that hails from Los Angeles and raises a giant middle finger to the idea that young women can't rock.
On their track "A Living Human Girl," frontwoman Lydia Night addresses this, calling out exactly who she is: "crazy," "girly," and "happy," though also, "sometimes I'm not." Night embraces the idea that you don't have to be one thing all the time, and you definitely don't have to be what people expect or want you to be. 
In terms of the future, The Regrettes are showing a ton of promise. Fresh off a tour with Tacocat, they hopped back on the road to go out with Sleigh Bells, and they show no signs of slowing down. Check out The Regrettes' photo diary from their time on the road below, and look out for their new record, dropping January 13.
Here's Sleigh Bells, sound-checking!
Lydia had to take a quick phone call before going on.
Genessa and Sage relaxing in San Diego before a crazy night.
Maxx looking intensely at his phone. Classic.
Kermit and Lamby discussing politics.
Sage was very excited about her pancakes.
Here's a cute ass cafe we found in Weed, California.
The most important lesson Lydia learned on the road.
WEED, CALIFORNIA LOOKED LIKE A PAINTING!
Maxx making bank.
Our stage being set up in Seattle.
Here is Genessa in a box.
A little pre-show selfie action.
Look how cute our sign is!
Genessa deep in thought.
Lydia got tired, so she took a seat.
Sage's eyeliner was on POINT at this show.