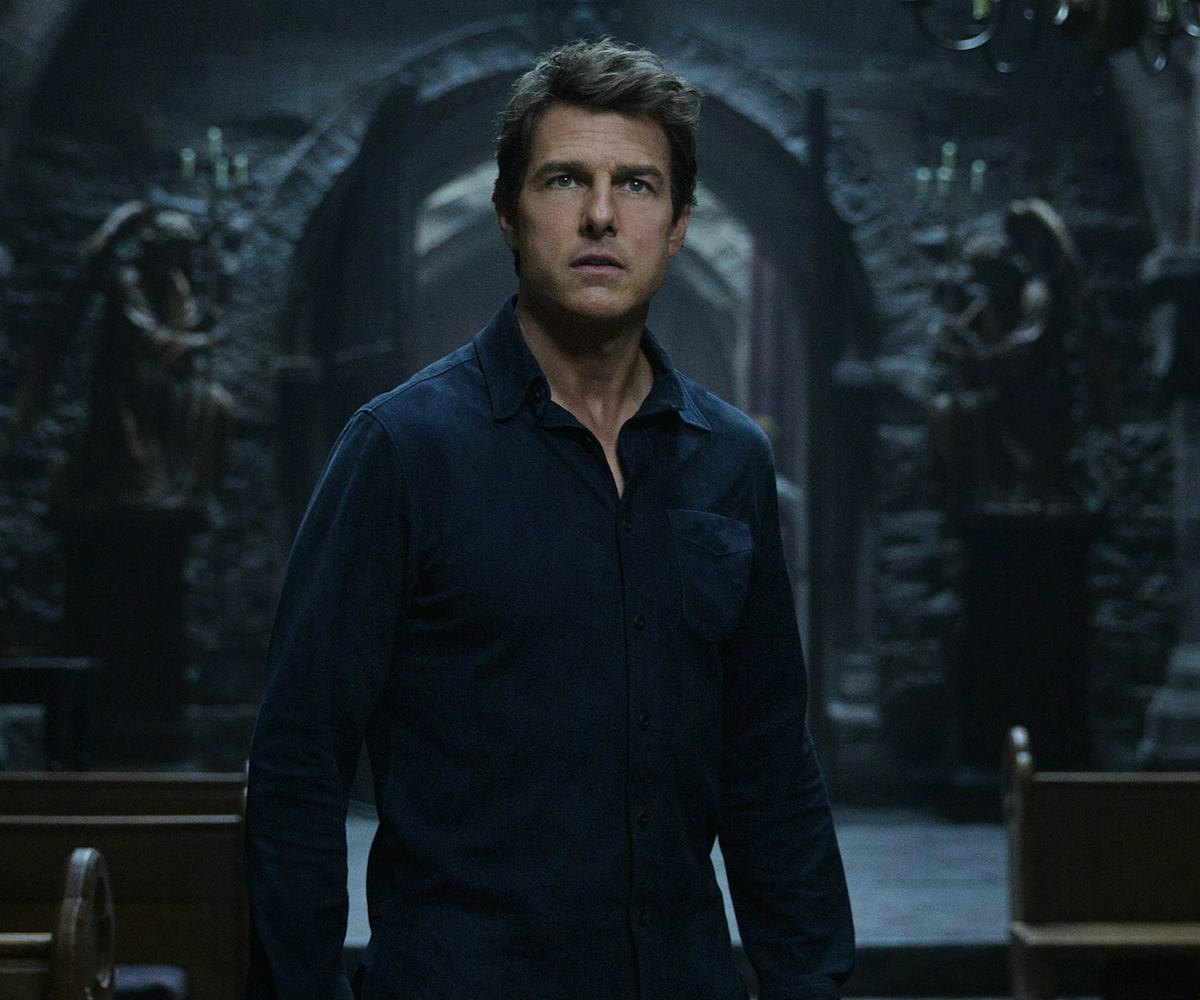 Photo by Universal
On The Unstoppable Resiliency Of Tom Cruise
The superstar has shown an incredible ability to bounce back
Leave it to Tom Cruise to risk his life for a selfie. If that sounds too ridiculous to be true, remember who we're talking about. This is the same man who caused a global freakout for jumping on a couch. Cruise's entire life is too ridiculous to be true. According to Courtney B. Vance and Annabelle Wallis, who co-star with Cruise in his latest blockbuster The Mummy (more on that later), the action star dangled out of a helicopter that hung 2,000 feet over the Namibian desert after he was told not to, just so he could snap an IG-worthy pic. (It's worth noting that Cruise does not have Instagram.) He did this because Tom Cruise knows that Tom Cruise is invincible.  
While conceiving this piece about the resiliency of Tom Cruise the Movie Star, I came up with the perfect nickname for him: Teflon Tom. Get it? He's bulletproof! Nothing can take him down. Convinced I was the first person to come up with this genius moniker, I did my due diligence anyway and Googled "Teflon Tom Cruise." Of course, other people beat me to it.  
The nickname started popping up in the mid-aughts (at least, on the internet), when Cruise was the undisputed box office champion of the world. He had just fired off a string of hits like Minority Report, Collateral, and War of the Worlds. Even a fairly average and somewhat problematic period adventure like The Last Samurai was elevated by the combination of Cruise's sheer hunger and star power. It was over this period that Cruise cemented his reputation as not the hardest working, but the hardest trying actor in Hollywood. He'd do just about anything to entertain an audience, including his own stunts.  
But then came a series of cringe-worthy public mishaps, like lecturing Matt Lauer on the TODAY show about psychiatry—Lauer calls the interview the most awkward of his career—and, of course, his antics on Oprah while professing his love for Katie Holmes. This strange behavior was amplified by the increasingly sinister specter of Scientology that hung over the star like a toxic cloud. People began to wonder if Cruise's private life would impact his box office draw. The answer is that it probably did. War of the Worlds, which Cruise was promoting when he called Lauer "glib," went on to be a huge success. But that had more to do with director—in this case, Steven Spielberg—than the star. Then came Mission: Impossible III, which despite being the best entry in the franchise to that date, grossed almost $150 million less than its predecessor. Around that time, Paramount unceremoniously cut ties with its marquee star. "As much as we like him personally, we thought it was wrong to renew his deal," Paramount head Sumner Redstone told the Wall Street Journal. "His recent conduct has not been acceptable to Paramount." 
Until then, what separated Cruise from other top stars was his impeccable taste and penchant for risk. He could have spent his time cashing in on sequels and franchise-starters, but instead, he speckled his filmography with auteur-driven projects like Eyes Wide Shut, Magnolia, and Vanilla Sky. These projects, along with earlier acting showcases like Jerry Maguire and Born on the Fourth of July, showed Cruise to be a Serious Actor (his three Oscar nominations back up that claim). But in a case of terrible timing, Cruise seemed to lose his knack for picking projects at the exact same time his pristine public image fell apart. Following his separation with Paramount, Cruise suffered the weakest stretch of his career at the box office, with Valkyrie, Lions for Lambs, and Knight and Day all missing the $100 million mark that was once considered a layup for the superstar. It was also during that period that a damning—and damn fun to watch—Scientology indoctrination video leaked online and showed a scarily locked-in Cruise saying a bunch of really crazy shit. It was the opposite of a good PR move.
At this point, Cruise was known more as a punchline than as someone who pretended to punch people. So he did what any movie star in need of a career reboot would do: He put on a fat suit and bald cap and cameoed in a Ben Stiller movie. As the megalomaniacal studio mogul Les Grossman in Stiller's Hollywood send-up Tropic Thunder, Cruise was showing the world that not only did he not give a shit if people laughed at him, but that he was in on the joke. Tropic Thunder ended up a box office smash and the role earned Cruise an improbable Golden Globe nomination. He was back.
To cement the comeback, Cruise returned to the role of super spy Ethan Hunt in Mission: Impossible—Ghost Protocol, where he scaled the heights of the world's tallest building as a giant "fuck you" to the doubters. Even a completely ludicrous turn as the shirtless hair metal rocker Stacee Jaxx in the 2012 dud that was Rock of Ages left Cruise unscathed, and later that year, he was back in the title role of Jack Reacher, playing an all-American killing machine that suited the stop-at-nothing action star persona he had cultivated, that was successful enough that a sequel was announced shortly after. 
In 2014, one of the biggest anomalies of  Cruise's career occurred when the brainy sci-fi thriller Edge of Tomorrow was released to something of a collective shrug. But the movie, which saw Cruise play a soldier who fights aliens and has to relive the same day over and over after he dies at the end of it, is considered by many to be one of the best and most slept-on action movies released in the last decade. One has to wonder if Cruise had released the movie in his early-aughts heyday if it would have done double the business. Cruise followed that with another Mission: Impossible movie (hit) and another Jack Reacher movie (miss). At this stage in his career—and in this era of franchise-obsessed studios—he had slowed on the risk-taking, opting instead for familiar roles in known properties.
Which brings us to The Mummy. Choosing to reboot a silly 1999 blockbuster where the antagonist was the title character was always going to be a risky proposition, and for Cruise, it felt like an especially odd choice, like he was relinquishing the spotlight to an ancient, half-CGI monster played by Sofia Boutella. Universal, the studio behind the movie, was also using The Mummy to launch its so-called Dark Universe, a shared cinematic world filled with all the classic Universal monsters—Dracula, Frankenstein's monster, The Invisible Man—and heavyweights like Javier Bardem, Russell Crowe, and Johnny Depp all lined up to star. The pressure for The Mummy to succeed was enormous. But if anyone could it, surely it would be Teflon Tom.  
Welp, as I began writing this piece, reviews for The Mummy—which I have not seen—began hitting the web like a plague. Indiewire called it "the worst Tom Cruise movie ever made." Bilge Ebiri, critic for the Village Voice, called it "the first Tom Cruise film in ages where the star feels totally anonymous and disposable. He's just generic leading man." And The Hollywood Reporter writes that Cruise "brings little daring and less charm to the film." Daring and charm are literally what Cruise is known for. Ouch. 
With these kinds of reviews, The Mummy is likely to land with a giant thud, at least in North America. International audiences are usually more forgiving of our movie stars than we are. He'll take some time to figure out where it all went wrong (the script, Tom), mostly in between takes of filming his current project, Mission: Impossible 6. But if everything goes right for Cruise, his next project looks like it could be the mouthwash needed to eliminate the bad taste left by The Mummy. 
American Made, out September 29, reunites Cruise with his Edge of Tomorrow director, Doug Liman, and sees Cruise play slightly against type as the anti-hero Barry Seal, a pilot recruited by the CIA to smuggle guns and spy on South American drug cartels, who in turn recruit him to smuggle their product. The trailer, which came out earlier this week, not only looks like a blast, but it shows Cruise ditching the action hero routine that he's been relying on so much and just going for it. Which when you think about it, is what he's always done best.