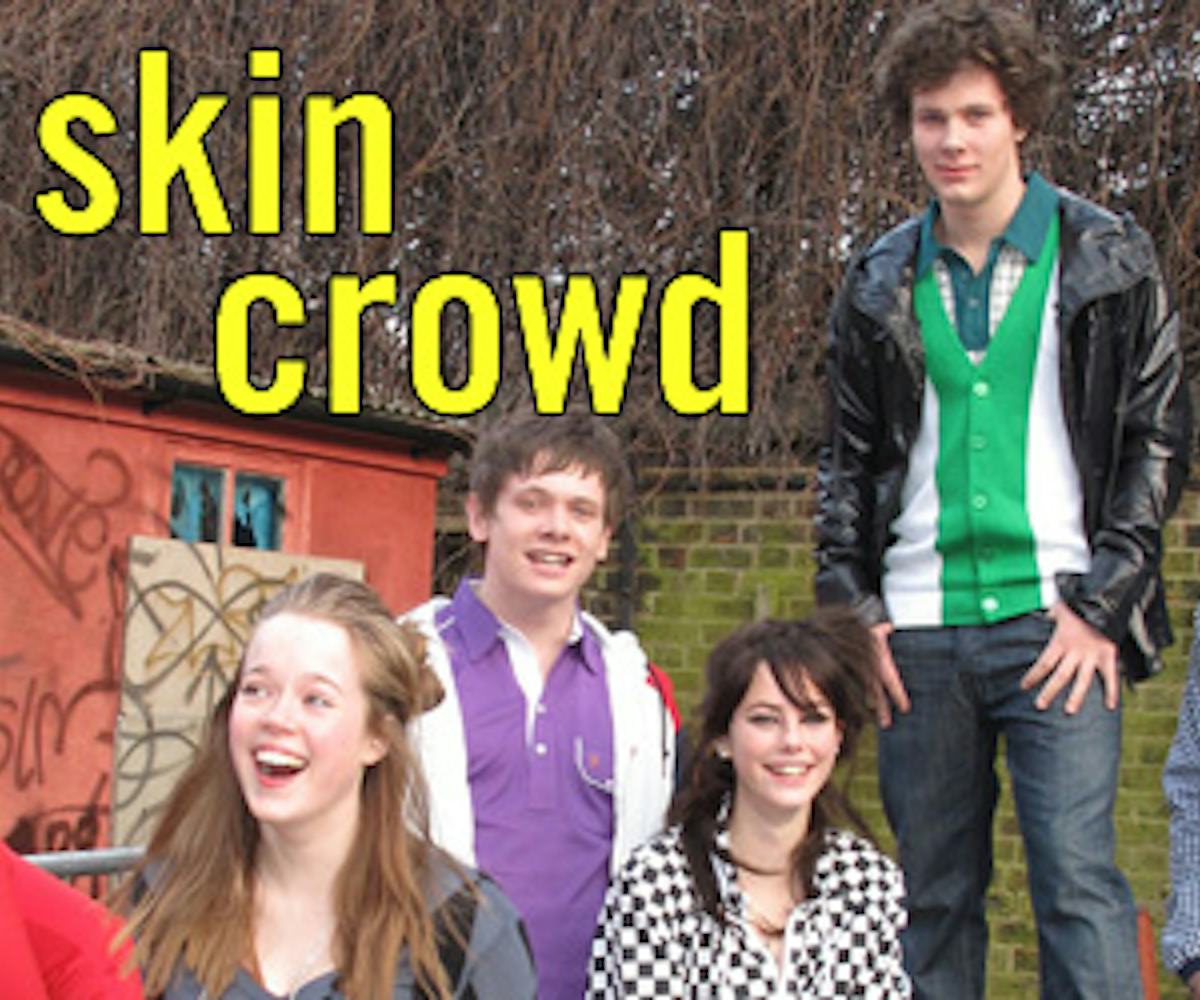 photo by: valerie phillips
THE SKIN CROWD
up close and personal with the hottest british tv cast!
In 2007, a comedy-drama about the lives of a bunch of middle-class teenagers debuted on British TV and instantly caused a furor in the U.K.'s "sensible" press. Skins purported to show these upwardly mobile British youths as they really were: louche, sexually active, anorexic, and fond of drink and drugs. It starred a host of largely unknown British actors, among them Nicholas Hoult (previously seen in About a Boy) and Dev Patel (later to find cinematic glory in Danny Boyle's Slumdog Millionaire). The controversy did the show wonders, of course, and it became a smash hit that subsequently picked up by BBC America. Now into its third season, it boasts a new cast primed to whip up media controversy all over again.
"Wouldn't have it any other way," says 17-year-old Ollie Barbieri, with a grin. "How better to start your acting career than in something everyone is talking about, eh?"
Keen to be as close a representation of British youth as it possibly can be, the producers of Skins elected to find its fresh new starts not from actors' agencies but rather via open auditions. Consequently, its cast had never acted before. They were raw and real. They still are.
"The reason I got into acting," says Kaya Scodelerio, 17, who plays Effy, "is because I had a very difficult time at school. I was bullied a lot. This way my way out, basically – my way of getting respect. Guess What?" She smiles. "It worked."
For Jack O'Connell, 19, who plays wiseguy James Cook – and also starred in the British hit film This Is England – life was only ever going to be a choice between acting or soccer. "But I'd seen the way some of my friends' sporting dreams had gone," he says in a broad Yorkshire accent, "and I didn't want to spend my life on the substitutes' bench. Acting is much more real. More fun"
Lisa Backwell, meanwhile, an 18-year-old who could pass for four years younger and who plays the shy Pandora, still can't quite believe she has landed a part in a major TV show. "This is more than a dream," she says. "It's fantasy: I'm gobsmacked. My mom is very happy for me." Asked what her father thinks of the show's adult themes, she blushes. "I don't speak to my dad about it."
"There is something kind of philosophical about acting, I reckon," avers Lily Loveless, her pale blue eyes peeking from beneath an electric fringe. She takes the role of one of the shows more memorable characters, Naomi Campbell. "I love the opportunity of delving into someone else's mindset, and expressing emotions I couldn't otherwise express in daily life."
But the first flush of fame is something each of them is still slowly coming to terms with.
"I was recognized in a bar the other day," says Luke Pasqualino, who plays Freddie. "This bloke came up to me and called me a twat. Suppose I'm going to have to learn to deal with things like, right?"
NICK DUERDEN
Bonus: Watch the Skins kids on NYLON TV!
Luke Pasqualino
All together now
Coke addict.
Lily Loveless
Kaya Scodelario
Ollie Barbieri