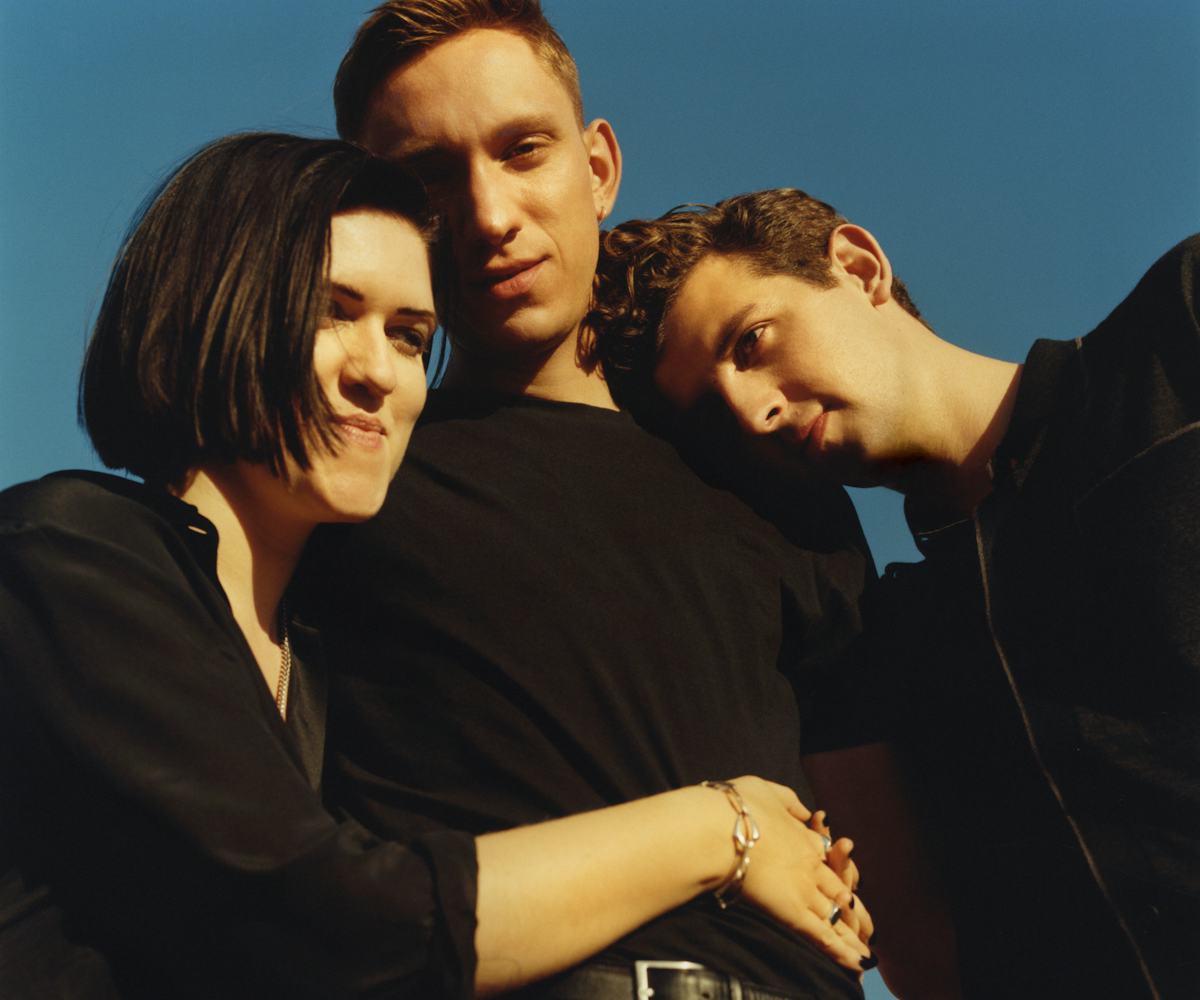 Photographed by Laura Coulson
Indie Pop Trio The XX On Their New Album And Going With The Flow
The following feature appears in the February 2017 issue of NYLON.
"People always seem to think we're vampires," says Romy Madley Croft, seated on the edge of an ornate leather chair at New York's Bowery Hotel and flanked by Oliver Sim and Jamie xx, her bandmates in the indie-pop trio The xx. Dressed head-to-toe in signature all-black garb, and with a collective skin tone that approaches the alabaster end of the spectrum, they might well come across as reclusive night dwellers fond of introspective wallowing. But it's an image the band have shed with I See You, their confident and punchy third studio album, which has thrust the three shy kids from London into the worldwide spotlight.
Their self-produced breakout record—2009's xx—was anchored on Madley Croft and Sim's intertwining elegiac vocals, which gelled with Jamie xx's nuanced beats to deftly fuse a dream-pop vibe with sample-digging tendencies. After xx scored the coveted Mercury Prize and its follow-up, Coexist, was released in 2012 to critical acclaim, doors began to open for the group, leading the way to opportunities to curate and headline their own Night And Day Festival in 2013 and to perform a series of exquisitely intimate shows at New York's Park Avenue Armory a year later, to crowds of 40 people that often included stars like Jay Z and Beyoncé. "Being so close to our idols that we could smell their perfume was pretty nerve-racking," says Sim.
But every time The xx started to gain momentum, the group members' self-conscious tendencies kicked in like a defense mechanism. While recording Coexist, for example, they stripped down their minimalist formula even further as they locked themselves away in a studio setup that Jamie xx refers to as "just this very dark room." With I See You, however, they're emerging from their cocoons. "I can absolutely see why people might think that about us—that we're shy and we're not massive characters," says Madley Croft. "But we're not like that at all, and I'd like that to come across a little bit more in the music this time." 
That goal is evident from their songwriting process for the album: Whereas they once composed songs by emailing delicate shards of lyrics back and forth, because "we were too shy to sit and sing in front of each other," says Madley Croft, this time they hung out face-to-face and composed melodies "in a very communal way." Sim chimes in: "I See You is a more confident version of us, and I think that fits with how we're developing as people," he says. "We were given the opportunity to push out of our comfort zone and try new things."
But The xx's emergence from their shells didn't stop there. While recording I See You, whose title was inspired by the Velvet Underground song "I'll Be Your Mirror," the band made a collective decision to travel to New York, Reykjavík, Los Angeles, London, and Marfa, Texas, in search of musical inspiration. The expansive approach has imbued the record with a glow and a self-assertiveness that was absent from earlier albums; the opening track, "Dangerous," resonates like a mission statement with its fanfare of horns, garage-influenced beats, and lyrics that cry, "I couldn't care less if they call us reckless." 
Madley Croft further explains how the project was influenced by the ambient playlist from their travels, recalling highlights of their trip such as vibing to soulful rock down in Marfa and absorbing synth-pop remixes bubbling out of the radio in Reykjavík, before Jamie xx chips in with a story about a harrowing road trip from Portland to Los Angeles, during which each member was assigned the task of compiling a mixtape to provoke their creative instincts. "It was a pre-studio holiday of sorts and we all agreed to listen to a bunch of music in the car to inspire us," recalls Jamie xx. "It ended up becoming a pretty full-on experience."
As The xx navigated the winding roads and cliffs around Big Sur, vintage West Coast soft rock soon made way for pummeling techno music. "We were driving through the worst bit of the trip—you couldn't see around corners and it was like a nightmare, but for some reason we just kept it on," Jamie xx says. "I think we were enjoying the wild intensity of it."
With this fresh, outgoing method of making music, The xx have learned the value of going with the flow of life, rather than micromanaging every intricate step of the creative process. "When we went to Marfa, we decided to make music that's a little more band-y and has more live drums," recalls Madley Croft of their earlier blueprint for the album. "But it's funny how it's ended up not like that at all. Over a period of time you come out of an album with one idea, and then you go on a whole journey." It's a mentality that casts I See You as The xx's first steps on an assured new adventure.