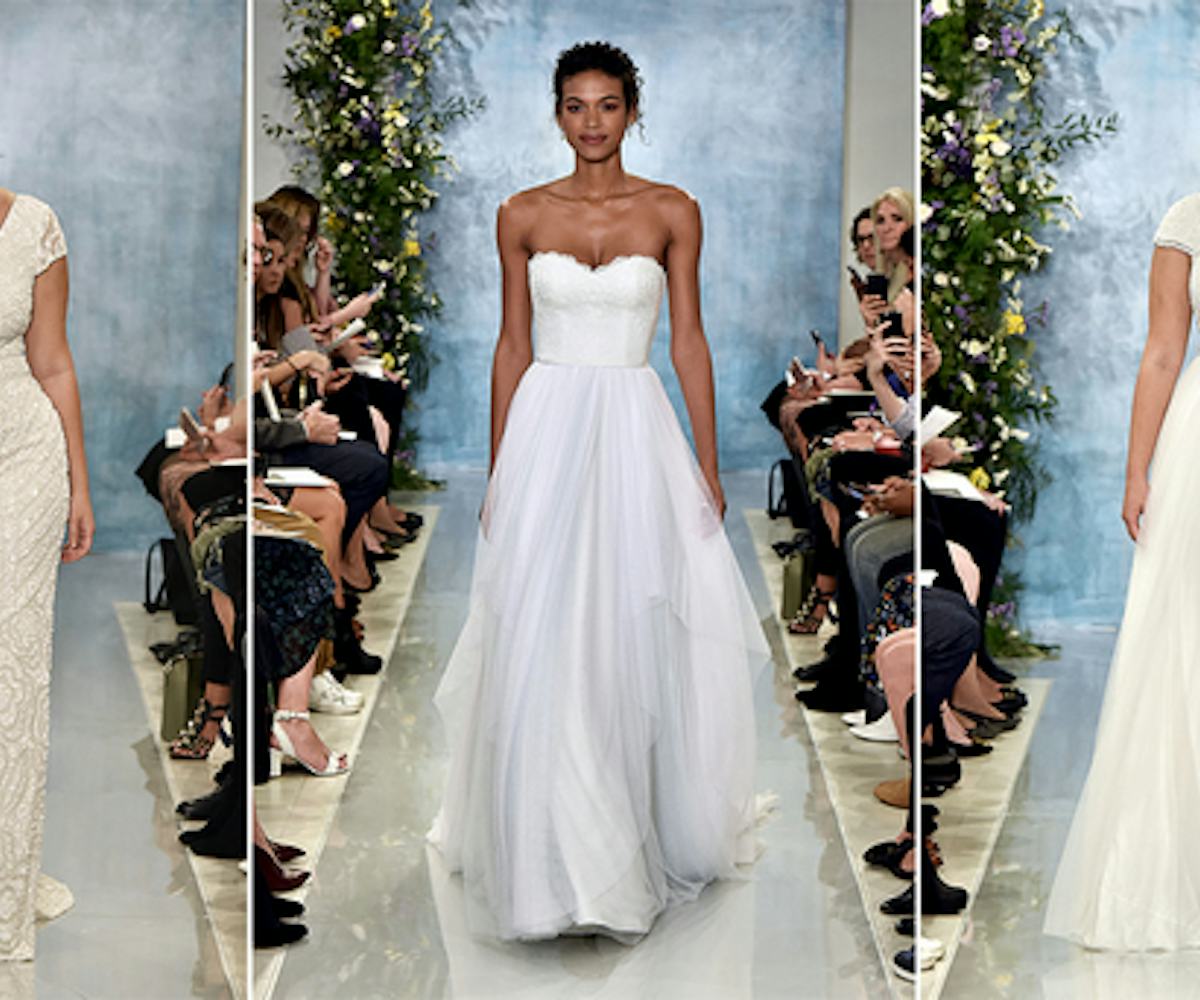 The Plus Size Pieces In This Bridal Collection Show "Sexy Has No Size"
Check out Theia's Fall 2018 show
There's a soft buzz circulating the showroom as we wait for the beginning of Theia's Fall 2018 bridal show. We just found out that the brand launched a plus size capsule collection that will be available exclusively at Lovely Bride come January, and the excitement is palpable. The bridal industry is notorious for being unfriendly to larger women and every step to counteract that feels essential right now. The program reads, "Embracing all women, eager to see their inner goddess shine is the core of the Theia brand philosophy, so it was a natural progression to do so with a plus size bridal collection."
As Don O'Neill, the brand's creative director and the mastermind of one of my favorite bridal collections of all time, appears on the runway to open the show, the crowd goes instantly silent. "Sexy has no size at Theia," he says. "We want to embrace gorgeous women and all of their curves." Coming from him, it doesn't feel "woke," it feels genuine, not least because O'Neill has dressed the likes of Oprah, Gabourey Sidibe, Ashley Graham, Danielle Brooks, and Rebel Wilson on numerous occasions in the past. "We've always designed wedding dresses for plus size brides," he tells me separately, seemingly rejecting any pat on the back for showing and designing for realistic body types. "Now we're just putting them on the runway where they belong."
As if in celebration of curves of all shapes and sizes, the collection felt much sexier than what we've come to expect from the brand. In a somewhat rare occurrence, it's the result of the customer though. "The Theia bride, in the past, has been a little bit more boho and more relaxed. But we've been getting feedback from our brides to bring a bit more sexy to the collection," says O' Neill. After listening to their suggestions, he sent out more tight-fitting silhouettes, plunging necklines and backs, and sheer illusion bodices on the runway, in both plus and standard sizes, that felt very much on brand, meaning still sophisticated and elegant. In true Theia manner, there was also a jumpsuit—this time reimagined beautifully in flowy satin and a V-neck—stunning 3-D floral appliques and embroideries, and whimsical touches of sky blue and blush.
See for yourself, below.