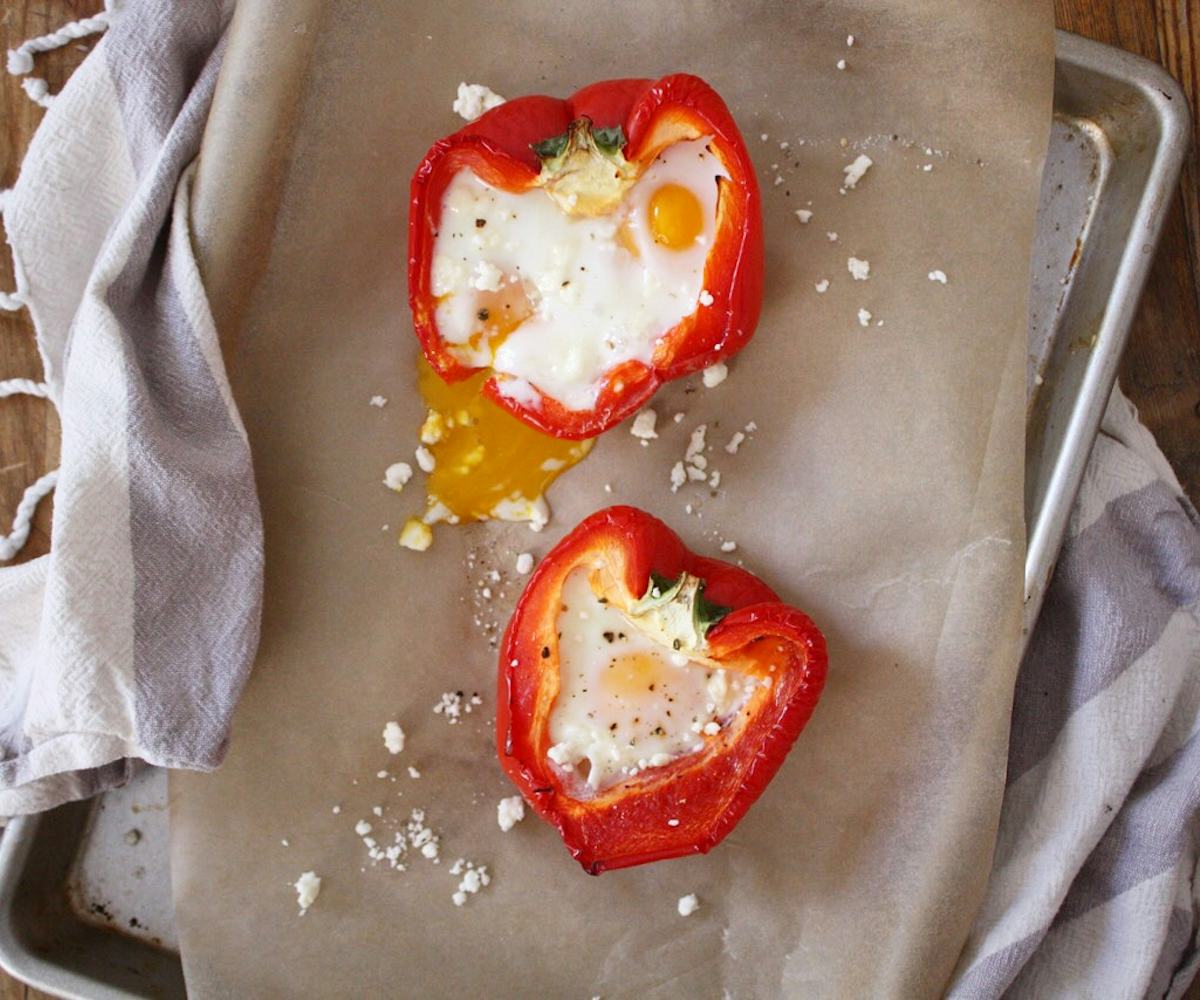 Photo by Brittany Bennett
5 Energizing Breakfast Recipes That Use Only 3 Ingredients
The sun slips through your shades and an alarm beeps on your nightstand. You want to punch snooze for the second time but a chorus of birds is chirping and a mountain of work is waiting. You need all the energy you can get to conquer the Everest of reports and assignments on your desk, so kick the comforter off and treat yourself to more than a bowl of cereal.
Channel your inner Child—Julia Child, that is. The powerhouse personality and chef behind Mastering the Art of French Cooking once said, "You don't have to cook fancy or complicated masterpieces—just good food from fresh ingredients." And we tend to agree. Navigating the world of online dating is complicated, your breakfast shouldn't be. 
A recipe doesn't have to have an ingredients list longer than the credits of a movie. All it takes is three things from your kitchen to compose a flavorful plate that'll fuel you for the rest of the day. These recipes are easily achievable and require no heavy grocery haul. Added bonus: Most of the ingredients can be found at your local farmers' market, which is on par with Child's call for "fresh," encouraging you to eat well so you can crush your morning presentation. 
It really can be as easy as one, two, three. Recipes in the gallery, below.
1. Mini Frittatas
Power up on the protein provided by eggs. If you're running late, they're small enough to pop in a container and eat on the go.
Ingredients:
4 eggs
½ red onion, diced
1 small purple potato, diced
olive oil
Directions:
Preheat oven to 400 degrees F.
Scramble the eggs in a small mixing bowl. Add the onion and potato.
Grease a muffin pan with olive oil. Pour egg mixture into the pan.
Bake for 15 to 20 minutes. Makes 5 to 6 mini frittatas.
2. Baked Egg Stuffed Pepper
After this breakfast, you'll leave the house feeling full and ready to take on the day.
Ingredients:
1 medium pepper, halved
2 eggs
Crumbled feta, for sprinkling
salt and pepper
Directions:
Preheat the oven to 400 degrees F.
Once the pepper is halved, discard of the seeds inside. On a rimmed baking sheet, lined with tinfoil, roast the pepper for 15 minutes.
After 15 minutes, crack an egg into each half. Sprinkle with crumbled feta, salt, and pepper. Bake for another 10 minutes, or until egg white is set.
3. Raspberry Jam
Simple, yet effective. Whip up this jam once, and have your breakfast set for the rest of the week.
Ingredients:
6 oz. of raspberries
3 tbsp honey
1 tsp brown sugar
Directions:
In a small saucepan, over medium-high heat, mix the raspberries, honey, and brown sugar together.
Boil the raspberries until they liquefy, about 3 to 5 minutes, stirring occasionally. Cover and continue to boil, stirring occasionally, until the liquid thickens, about 12 minutes.
Take the pan off of the heat and let it cool for 10 minutes. It will continue to thicken. Enjoy on a piece of toast. Makes about a quarter of a cup of jam.
4. Pizza Egg Skillet
You get a taste of pizza but without all the carbs. If you're DYING for a fourth ingredient, plop some pepperoni on top before baking. Invite your friends over to sit around the skillet.
Ingredients:
26 oz. of store-bought pasta sauce
½ cup shredded mozzarella cheese, plus more for sprinkling
5 eggs
salt and pepper
Directions:
Preheat oven to 375 degrees F.
Pour the pasta sauce in an oven-safe skillet, over medium-high, and heat for 5 to 7 minutes, until it begins to thicken. Stir occasionally. 
Add the mozzarella and cook for one more minute.
Crack 5 eggs into the sauce-and-cheese mixture, season with salt and pepper. Place in oven and bake for 12 to 15 minutes, or until the egg whites are set.
5. Oatmeal Apple Bowl
You can eat oatmeal out of a bowl or you can eat oatmeal and the bowl.
Ingredients
1 pink lady apple
¼ cup dried old-fashioned oats
3 tsp brown sugar, divided, plus more for sprinkling
Directions
Preheat oven to 400 degrees F.
Slice the top of the apple off and scoop out the filling (make sure to snack on the apple filling to avoid food waste!). Sprinkle in half a teaspoon of brown sugar and spread around the inside of the apple. On a tinfoil-lined baking pan, roast the apple for 12 to 15 minutes. 
Meanwhile, prepare the oatmeal. Pour the oats in a microwave-safe bowl and cover with half a cup of water. Cook on high for two and a half minutes. Stir in the remaining brown sugar.
Pour the oatmeal into the baked apple. Sprinkle with a little more brown sugar and bake for two more minutes. Serve warm.