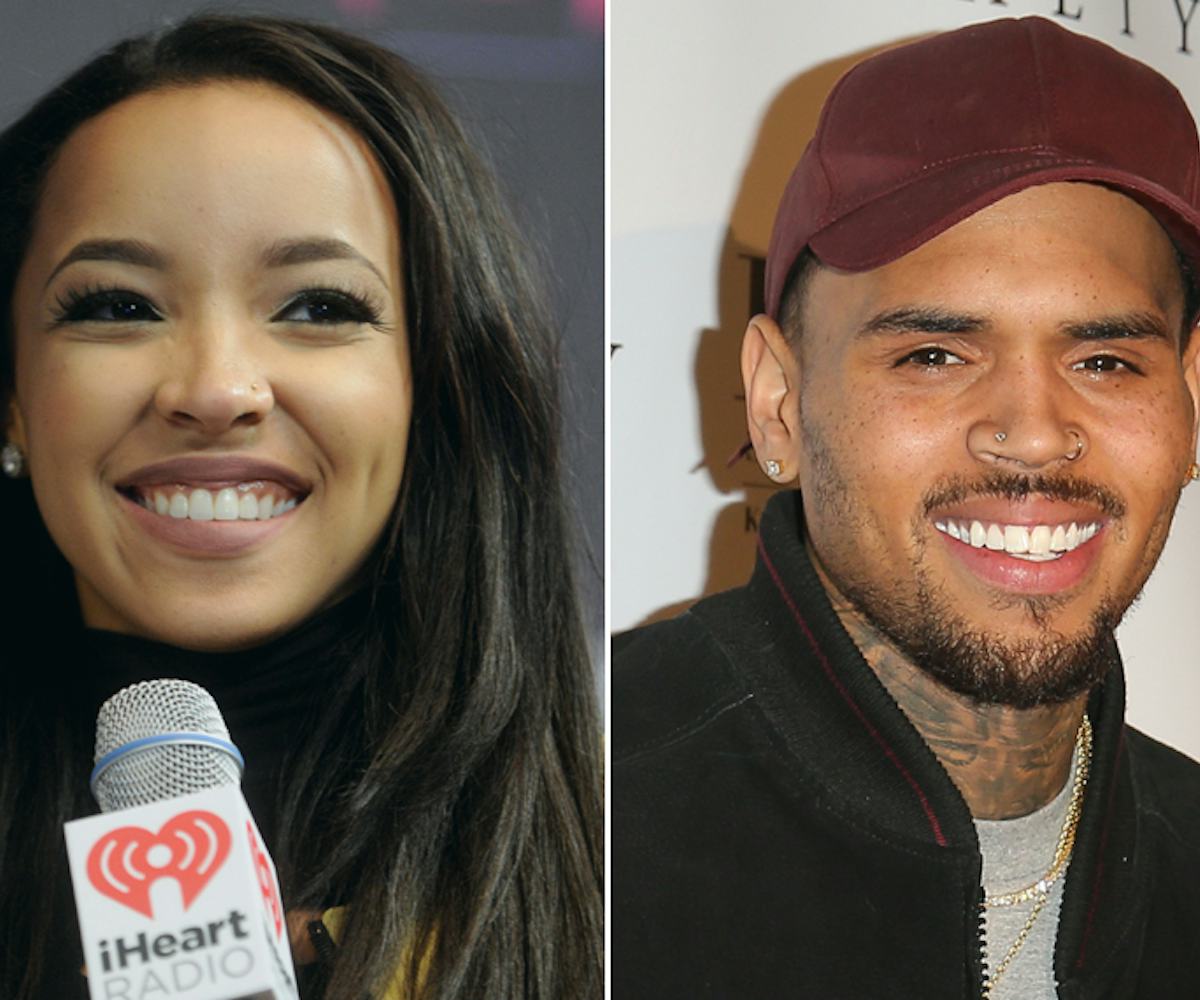 Photos by Brad Barket + Imeh Akpanudosen/Getty Images
Did Tinashe Just Suggest Her Label Made Her Work With Chris Brown?
In a recent interview with Canada's edition of Entertainment Tonight, recording artist Tinashe opened up about her controversial duet with accused woman beater Chris Brown on their single "Player." "It was really the label," she mock-whispered to the ET correspondent. "It wasn't me."
Depending on what exactly Tinashe meant by that, it would be a stunning turnaround from the events of just a few months ago when many—including some of us at NYLON—took the young singer to task for working with a man who many feel is an unrepentant abuser. When held against her previous collaboration with accused (if unprosecuted) child molester and pornographer R. Kelly, it demonstrated—at least to many of us here—that this rising artist of unquestionable talent, style, and intelligence had a severe and possibly career-threatening blindspot when it came to working with problematic men in her industry. 
When we published the piece raising these very points, we found ourselves as a publication (and, yes, as individual writers) singled out for criticism (and just a little harassment) by not only Tinashe's fan base, but by Tinashe herself too. "Everyone wants to be the expert of your life," she tweeted, "as if they know what you have been through & somehow deserve the right to tell you how to live." She continued, "collaborating is not a consign of actions Lol. Come on now. Please don't speak on the politics of matters you do not know about." Essentially, some of us took her argument to mean that Brown wasn't a bad guy, that collaborating with him did not mean she supported his actions, and that, "Hey, who said this was any of your business anyway?"
Fast-forward to today, and we're seeing what appears to be a more ambivalent Tinashe and maybe, just maybe a suggestion that the collaboration she so strongly defended wasn't actually something she wanted in the first place.
In the interview, ET's correspondent asks, "How did that collaboration come into play because Chris Brown isn't necessarily the most popular person in the music industry." During the question, Tinashe gives an affirmative nod while giving one of those grimacing smiles that seem to say, "yeeeeeeah, about that." Repeating a narrative that Tinashe has used throughout this controversy, she answered back with, "Um Chris is…he was on a list of people that I always, you know, just wanted to collaborate with, my, like, 'dream collaboration' list, and he heard the record, he really loved the record, and it was really just that simple, he just hopped on the song and we had a Chris on the song." It was all pretty positive, pretty familiar stuff said in a fast, fluttering way.
Then, Tinashe, as we noted, went into a mock whisper and said, "It was really the label. It wasn't me."
She had a mischievous smile while saying it, but, frankly, we don't know what she meant. Was she divorcing herself from the choice? Was she talking to the reporter assuming it would be edited out? Was she making fun of the controversy? Was she admitting that it wasn't her choice? Was it a joke? An admission? A cry for help? Who even knows?
What we do know is that it keeps the story alive for another news cycle, and forces us to ask if Tinashe is reevaluating her past statements (and past actions) in the light of criticism (or after a good, hard look at the facts). Frankly, we hope this is an early step in her disavowing Brown and moving on to better things. (She said in the same interview she wants to work with more female producers, so yay!) It also makes us look at her posture and comments from a few months back in a more sympathetic light. 
Tinashe, if you're reading this—as you've read us before—we're going to say again that we want you to thrive. Part of that is knowing who you're working with and what that means to your fans. You have nothing to apologize for, but, like all of us, experiences to gain. We hope that ET interview is proof you're doing so. 
Oh, and to that end, your new "leaked" track is pretty solid.