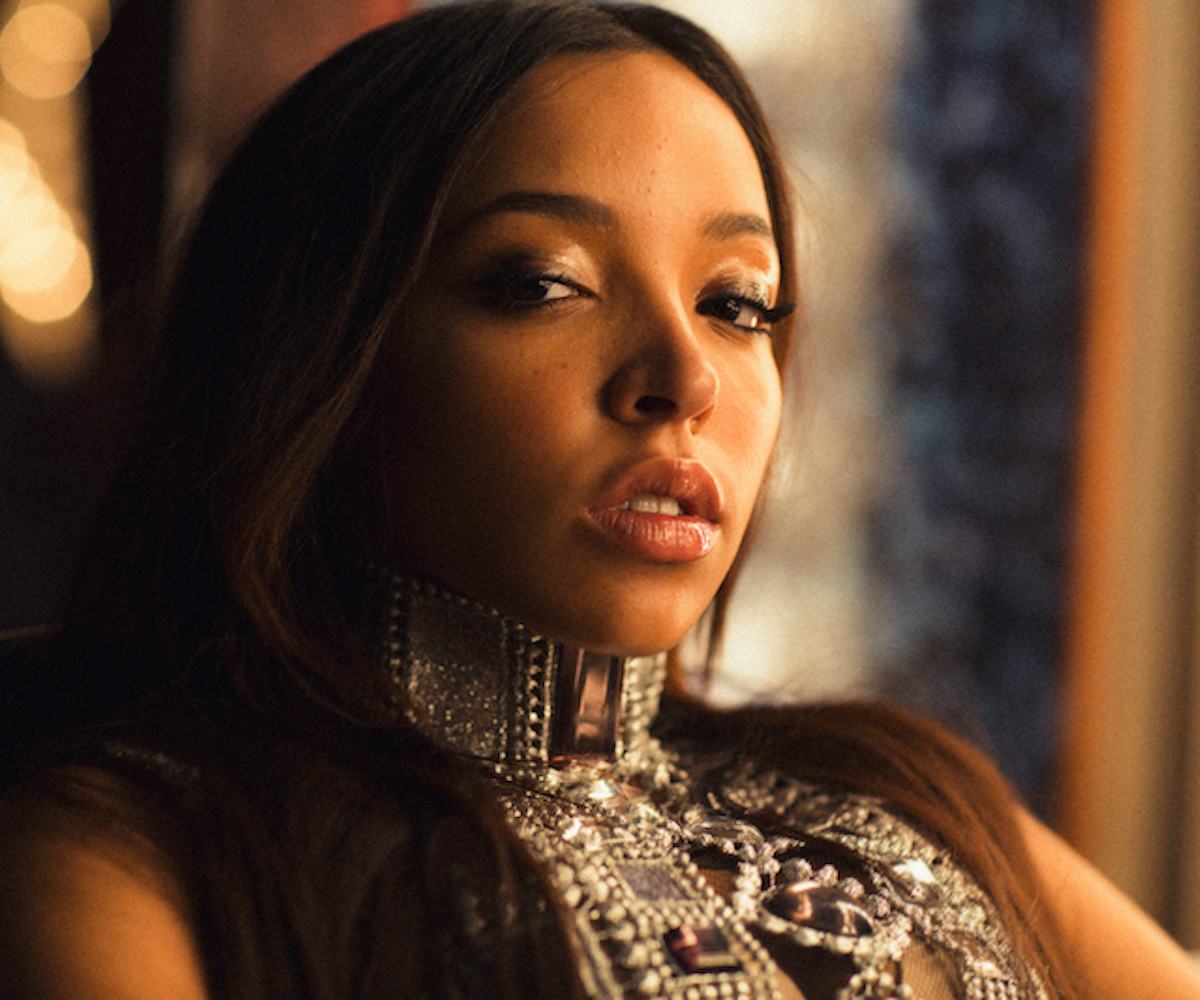 Photographed by Olivia Bee. Styled by Shiona Turini. Dress by Marc Jacobs.
Tinashe Takes Us On A 'Joyride'
…with her sophomore album
Tinashe is halfway to the bottom of a glass of pinot noir when she spots a banker bro in pinstripes dancing through the Hudson Hotel's Library Bar, seemingly unaware of the fact that he's in the presence of a 22-year-old R&B star. 
Unfazed by his impromptu crotch grab, Tinashe eggs him on, yelling out: "MJ, you got the moves!" He takes this as an invitation to share that he's on a Tinder date, is "literally in love," and wondering whether he should jerk off in the men's room to let off steam. Suddenly, Tinashe's a relationship expert: "Yes, you don't want the sexual tension to overpower your date—and don't get too drunk!"
Click through the gallery to read the rest of our profile on Tinashe from the December/January 2016 issue.
In his defense, Tinashe looks nothing but approachable in tapered black pants, a Dr. Dre and Snoop tee, and leather bomber—Ralph Lauren swag she picked up last night at a performance for Denim & Supply (she's in their most recent campaign alongside Cody Simpson and Bella Hadid). A natural entertainer, Tinashe is used to being constantly on, a quality that might register as "rehearsed" were she not so layered an artist. After the success of "2 On"—her erogenous club single produced by DJ Mustard—it came as a surprise that her debut album, Aquarius, wasn't just a vehicle for radio pandering. Instead, it was a labyrinth of moods, from breathy exhalations to smoky nightlife numbers.
Her music feels intimate because much of it is recorded in her bedroom. She "abso-fucking-lutely" loves solitude. This ties in with her need for hands-on curation. For her earliest videos (before signing to RCA in 2012), she'd recruit her parents to film while one of her two brothers ran the lights. "I think the fact that it came from that genuine place helped," she says. "People respected that I had a point of view." Her later self-directed videos ranged from simple (Tinashe freestyle dancing in a tunnel in "Bet") to conceptual (Tinashe traversing a desert in "Bated Breath"), with seamless choreography that earned comparisons to the youngest Jackson—she was even tapped to perform a tribute to Janet at the 2015 BET Awards.