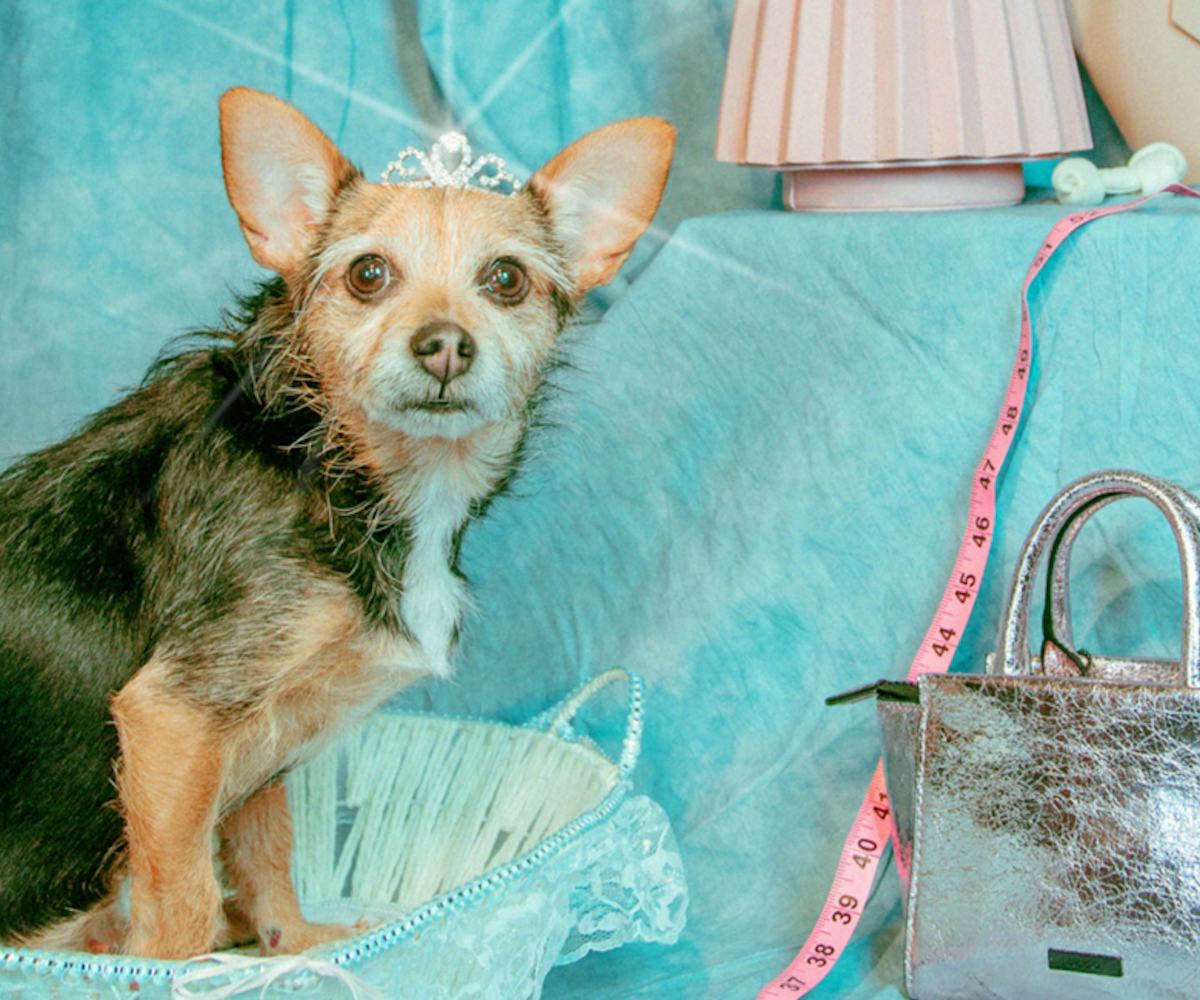 Photographed by Savanna Ruedy.
Please Stop And Look At All These Tiny Handbags And Tiny Dogs
So far, 2018 has proven bigger isn't always better. As far as accessories are concerned, the sunglass frames are getting smaller, the heels on shoes are shrinking, and bags are losing their circumference. As celebrities like Gigi Hadid, Rihanna, and Kendall Jenner have proven: micro is in. If 2015 was all about the life-changing magic of tidying up, 2018 is all about the life-changing magic of sizing down.
There's a certain fascination to miniature objects. Their smallness makes us feel like giants and, therefore, powerful. There's a whole community of "miniacs" (who New York magazine defines as "the makers, collectors, and fans of diminutive versions of, well, everything"), who are drawn to shrunken-down everyday products. And there's a reason why shows like Tiny House Nation and Tiny House Hunters are so popular. As miniature artist Thomas Doyle told Vice in an interview: "The creation of small worlds gives us the illusion of control. In a world that grows ever more faster and chaotic, in a world in which we are bombarded with imagery, artworks in small scales allow us a place of retreat, where time has stopped."
The idea of paring down also plays a part. Trading in your tote bag for a hand-held purse might turn some people off because of the dramatic decrease in storage for your necessities. But, what really are the "necessities," anyway? If you're going out, the most you probably need is your phone, a credit card, maybe some cash, and a lipstick or balm. That also happens to be all most mini bags can fit. The less stuff you need to lug around, the less worried you have to be about losing it. Leave the clutter for your junk drawer, and we promise you'll feel lighter in the process.
So, let's try it. Let's edit down the excess and savor the essentials. Ahead, we've gathered a bunch of our favorite mini bags from our favorite not-so-mini brands. Oh, and, as you might notice, we've also paired them up with tiny dogs from Animal Haven. Their names are JLo, Buttercup, Luna, and Dawn and they're all looking for homes. You can learn more about adopting them, here.
Photographer: Savanna Ruedy
Prop Stylist: Chelsea Finkel
Market Editor: Jenna Igneri
Staud, Shirly Bag, $210, available at Bergdorf Goodman; 3.1 Philip Lim, Soleil Mini Barrel Top Handle Bag, $550, available in May at 3.1 Phillip Lim.
LZL, Pyramid Bag, $495, available at LZL; Alexander Wang, Patent Dime Small Satchel, $595, available at Alexander Wang; Simon Miller, Bonsai Bucket Bag, $390, available at Simon Miller. 
Staud, Grace Bag, $250, available at Staud; The Common Knowledge, Mini Prism, $194, available at The Common Knowledge; Loeffler Randall, Mini Leather Shopper, $295, available at Bloomingdale's.
Mlouye, Mini Lantern Bag Pleated, $460, available at Mlouye; Carolina Santo Domingo, Amphora Mini Leather Bag, $765, available at Moda Operandi; Aldo, Pama handbag, $40, available in May at Aldo. 
Future Glory, Rockwell Mini in Blue, $350, available at Future Glory; Furla, Crossbody Lemon, $298, available at Furla.
Marc Jacobs, Snapchot Colorblock Camera Bag, $295, available at Neiman Marcus.