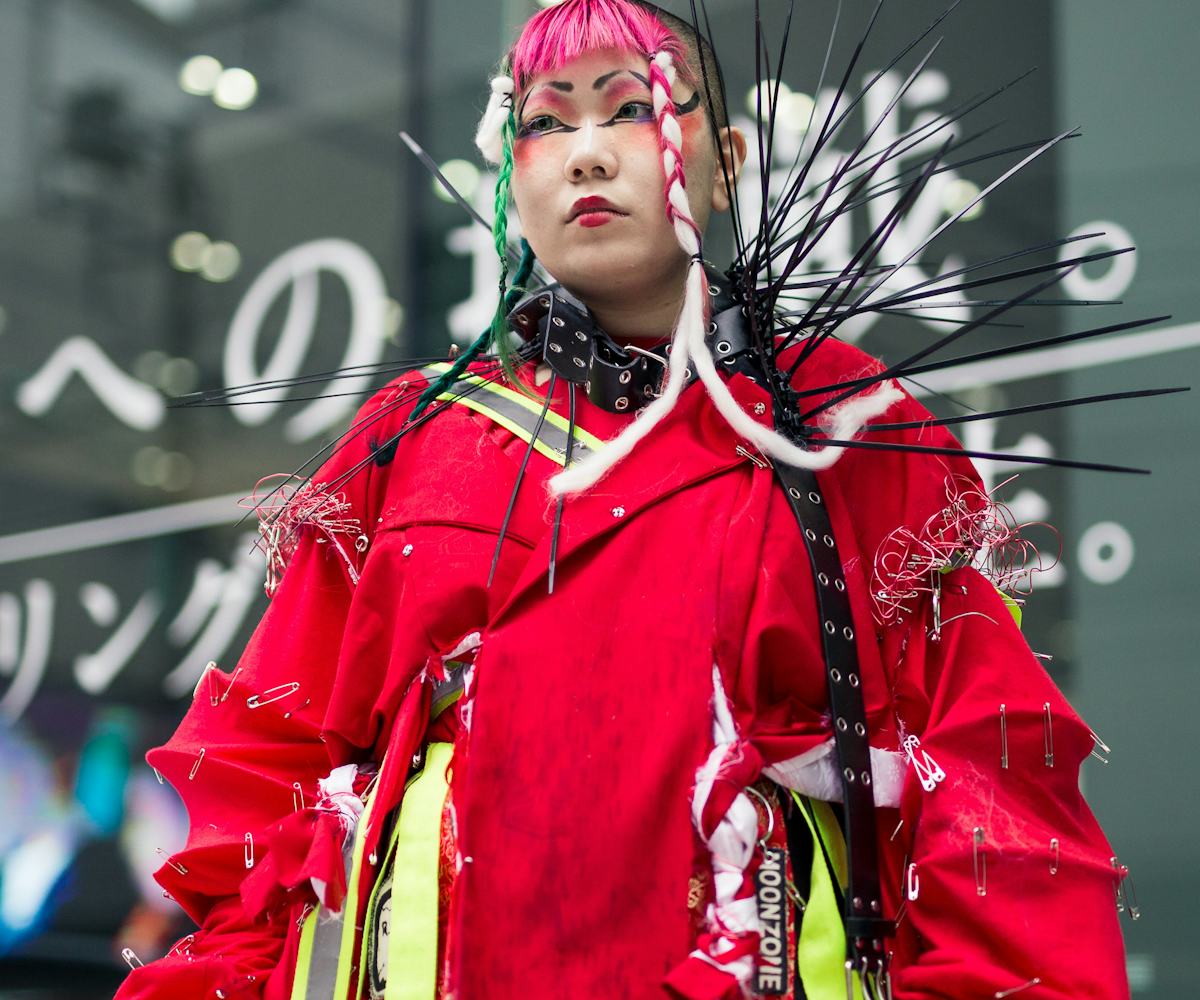 Photo by Matthew Sperzel
The Wildest Street Style From Tokyo Fashion Week
Serving looks not for the faint of heart
If you thought the battle for best Fashion Week street style was between New Yorkers and Parisians, think again: Japan's show-goers came out to play this past week at Tokyo Fashion Week, and they just brought street style to a whole new level.
Tokyo's streets were filled with arguably some of the brightest (and that's counting hair color, too) and most creative looks we've seen out of all the recent Fashion Weeks. Whether dressed in head-to-toe '80s vintage or rocking a neon buzz cut and potentially dangerous neck gear, Tokyo's street style stars aren't afraid of color—and certainly aren't messing around.
Take a glimpse of some of our favorite, below, and get your daily dose of fashion inspiration.
Mix and match your polka dots for a surefire way to stand out.
Long live the '80s.
We don't know what's more magical: her hair, makeup, or those killer platforms.
Excuse us while we drool over this jewel-tone Chanel bag.
[Insert joke about zipping your lips shut.]
When all else fails, dress like the rainbow.
We're here for this all-over silver.
You can never have too many zippers, TBH.
Jazz up a t-shirt dress with some chunky gem jewelry.
What's black and white and (a hint of) red all over?
In case you weren't sure, fringe is definitely having a moment.
Party on top, business in the middle, athleisure on the bottom.
When your look resembles a Yayoi Kusama exhibit, you know you're winning.
Buckle up!
Well, that's one way to repurpose old jeans.
Peekaboo shoulders are still having a moment in the spotlight.
YASSSS to this entire look.
High school, but make it fashion.
The couple that dyes together, stays together (or something like that...)
Punk's definitely not dead.
When your bag is cute but also makes an important statement.
Ring game strong.
We <3 this seasonally appropriate Fendi bag.
Quite possibly the most perfect jumpsuit to ever exist.
Now that's a statement sleeve.
We love a good coat twinning moment.
This devil-horned buzz cut is everything.
When your zebra print pants aren't even the wildest part of your look.
This is high fashion punk if we've ever seen it.