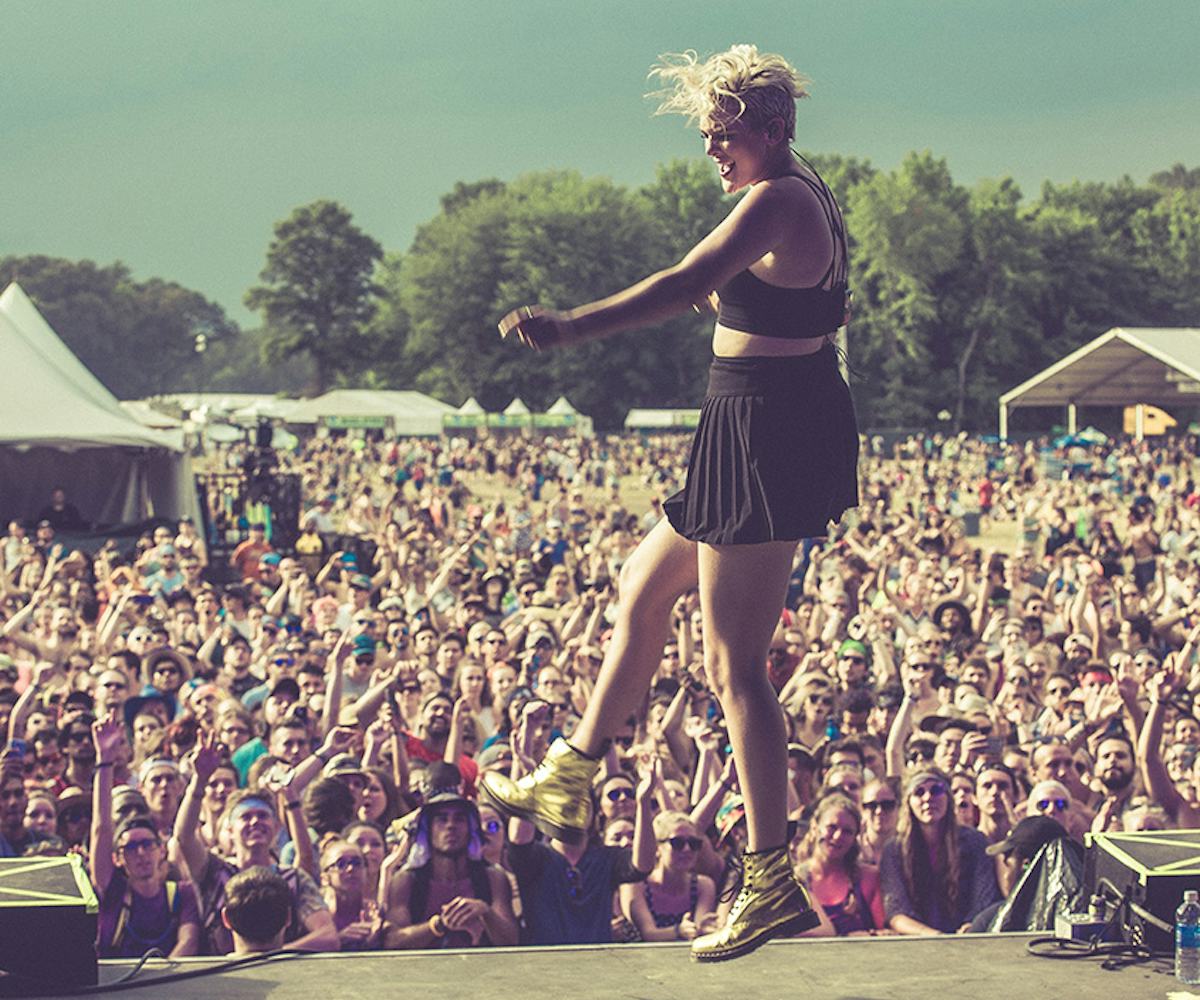 photographed by Zak Cassar
see betty who's exclusive tour diary
an inside look at a betty who tour
So it's 9:30 pm in Grand Rapids, Michigan. I ate too much Thai food an hour ago; my fancy new gold Doc Martens are threatening to cripple me for life; I'm standing in a bathroom that isn't much bigger than a port-a-potty trying to get my cheek contouring right (having my very own Miss Congeniality "I can't remember which one of these is lipstick" moments); and there are about 400 people chanting, "Betty! Betty! Betty! Betty!" 
Send. Help.
Photographed by Zak Cassar
It's often like this on tour. My time-management skills have never been spectacular, and I have this agonizing "REJECT THE MAN. FIGHT THE POWER!" complex in which the second my assistant informs me it's 10 minutes until stage, I remember all the things I should have done an hour ago and begin to sluggishly tend to them, much to my assistant's chagrin. At five minutes from showtime, I'm finally wrangled into the pre-show huddle. The whole team (band, assistant, tour manager, and occasional manager or family member) and I put our hands in like we're the Lakers coming back from a time out. They all look at me expectantly, waiting for me to say something inspirational and electrifying. Sometimes I have it in me: "LET'S DO THIS KIDS. LET'S GO OUT THERE AND MELT SOME FACES OFF. WHAT TEAM. WILDCATS. GETCHA HEAD IN THE GAME." Other days, it's an exhausted "Alright gang. Let's just get out there and do what we do. Try to make the most of it and still have fun because in two hours we'll be catching up on Orphan Black in our pajamas. But right now, we're gonna go make some people feel awesome". 
Photographed by Zak Cassar
Tonight thankfully, it's more of the former. We do a little chant, take a shot of Jameson, and there goes the band. My assistant and I stay backstage jumping up and down and kicking our feet together. He says things like "You're fire! You're gonna kill this! Are you kidding? Do you HEAR them yelling your name!?" and while I quietly question every night why this kid believes in me enough to give me a full Mighty Ducks mid-game pep talk, a part of me really likes giving him a reason to believe.   
A few deep breaths and 1, 2… 1, 2, 3, go.
Photographed by Zak Cassar
I don't go to other people's shows much anymore. It's hard to get motivated to go see a show when you play one every night for three months straight. When I was on the Katy Perry tour, I watched her almost every night, but it was never as a fan (although, I am a massive one). I watched the show like it was one of those '90s chemistry instructional videos you see over and over again in ninth grade, taking notes and rote learning the mechanics of it all. (I was also obviously belting "Roar" and wishing my boobs were as nice as hers, let's not get it twisted). But a few months ago, I went to see Bleachers at Webster Hall in New York. When Jack walked out on stage and the crowd went wild, I remembered what it felt like to be a fan. Because this was my "one night only" with this band. I didn't get to watch the show every night in a different city. I didn't know when he would play "Rollercoaster." I didn't know the exact backline setup or ask the front-of-house guy what kind of program they use to run tracks (Ableton? Pro Tools? Do you trigger them all live?! How do you do it, damn it, tell me now). Because I didn't care. I wanted to yell "Wild Heart." I wanted to "Get Better". I wanted to scream and have one of the guys on stage touch my hand and then tell everybody about that exact moment for years and years to come. In that one moment I was totally engrossed in the energy and experience that is Bleachers. And then I wondered if that's how people feel when they came to my shows.  
Photographed Zak Cassar
I've toured for two years or so now, on and off. At first, it's chaotic and nerve wracking and disorganized and exciting. Are you kidding, 80 people came to see us?!?! That's insane! And it still feels that way to me. Whether it's 80 people or 18,000 people watching, I love doing what I do. And maybe I'm drawing a big, fat conclusion here, but I think all touring musicians forget what it feels like to watch a show once. To be a fan for life and then have this one spectacular, emotional night with them.  To actually walk away from a show and say, "That was the best night of my life."  
Photographed by Zak Cassar
We're tired. Every city feels the same. I've had more Starbucks spinach and egg white wraps than any one human should ever consume, and I've considered just carrying around a coffee drip that feeds directly into my blood stream. Most days, it's bus-venue-hotel-bus and I see sunlight for approximately 18 minutes total. We shower every two to three days (if we're lucky), and we've all taken to just buying new underwear and socks instead of washing the dirty ones.
Photographed by Zak Cassar
But other days, we're all in a Portland strip club making friends with the tattooed strippers asking them how they can do headstands and twerk upside down (truly, it's spectacular—my money is on lots of yoga), and my keys player, Lauren, is throwing down ones like she's Usher in 2003. Other days, we're exploring San Francisco piers, playing hundred-year-old pinball machines, and desperately looking for dollar bills (why don't these photo booths take quarters?). Other days, we're climbing the Sydney Harbour Bridge and my manager, who failed to mention he is afraid of heights, is about 500 feet from the ground, sweating, listening to our tour guide talk about how many people fell to their deaths during the construction of the bridge. Most days, I can't even believe that this is really what we all get to do for a living.
Photographed by Zak Cassar
And every day? Well, every day we play a show and someone in the crowd (even if it's that one person at the first festival I ever played who was being too polite and pretended to know the words to my songs when they really didn't) is making my heart so full, I feel like I could just explode. You can't really explain what it feels like to have someone sing the words that you wrote back to you. It's like trying to explain sex to a virgin or something.
Every day, I try to be a postman, delivering a good show through rain, shine, or emotional snow and sleet. Hell, I've had to deliver shows through emotional tsunamis.  But seeing that one overly polite festival-goer mouthing all the wrong words to "Somebody Loves You" is so heartwarming, it pulls me right out and above the water to 30,000 feet, looking down at the storm and saying, "Oh it's just a little rain." 
*flips bangs like Zac Efron in 2004*
"WHAT TEAM?"