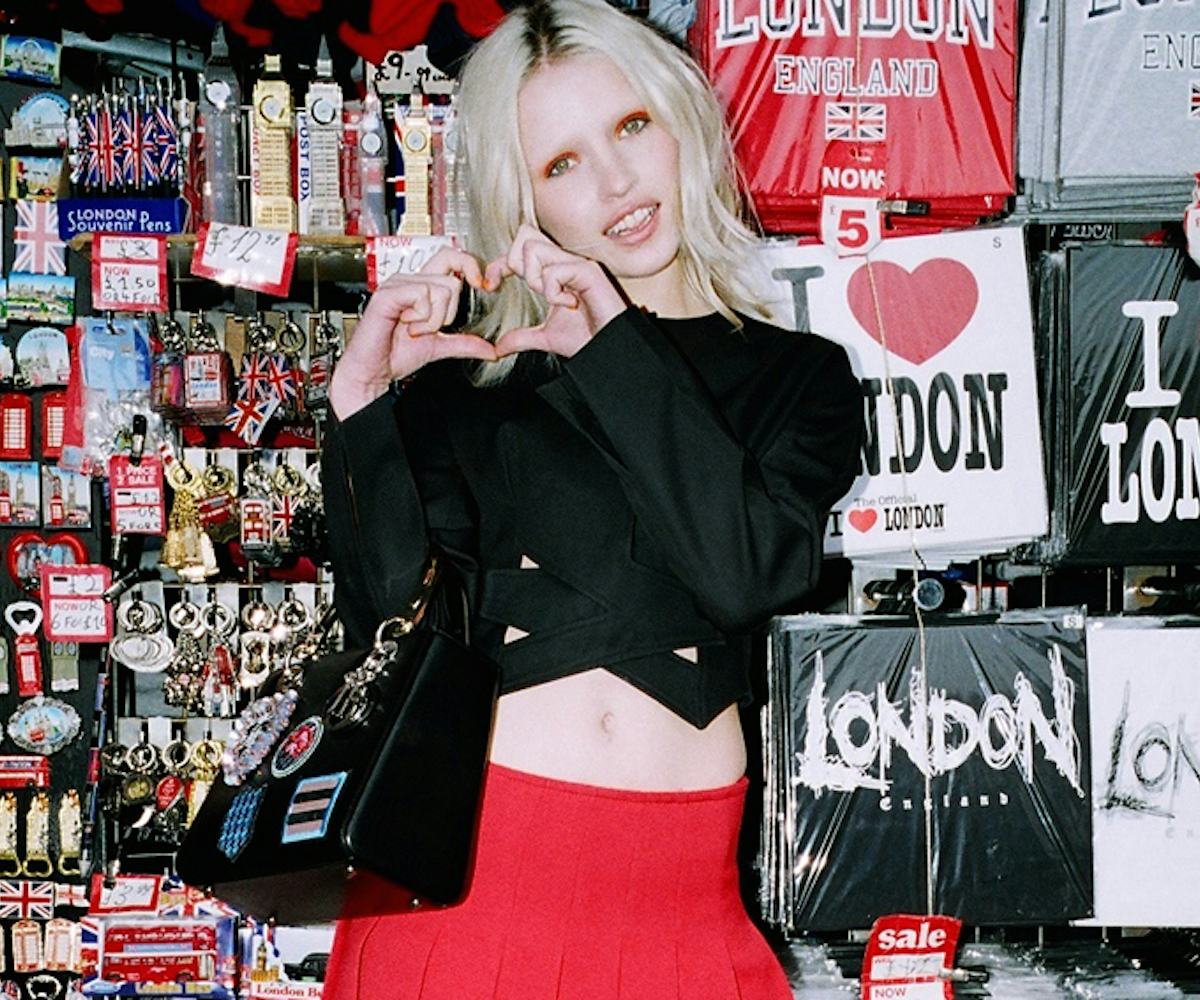 Photographed by Bella Howard, Styled by Siobhan Lyons
The Anti-Tourist Tourist's Guide To London
what to do, see + eat in england's capital
Much to the dismay of anyone I've ever traveled with, I've always been one to avoid a tourist trap at any and all costs. And while I've tried to be a good sport about taking a quick trip to see some random monument in a busy part of a new city, my heart's never been completely in it. And, yes, I am very vocal about that. In my eyes, the best way to experience a new city is to immerse yourself in hole-in-the-wall restaurants and bars, and soak up what you imagine to be the city's quirks.
When I briefly lived in London during a study abroad, I strayed far, far away from nearly anything touristy. So when I took a trip back to England's capital this winter with London & Partners, the tourist promotion company for the city, I was admittedly apprehensive to spend the day roaming from one site to another just for the sake of seeing everything. After all, there are many more things you could do than trudge around for hours just to stare up at buildings and see how a Starbucks now stands where some momentous occasion happened hundreds of years ago. That, to me, is depressing. 
But while experiencing the many sites that are part of the city's Fans of London campaign, I found myself oddly interested in just about everything I was seeing and doing. Am I actually enjoying being a tourist? I thought to myself. I was initially terrified at how quickly I could experience such a drastic change of heart, but now I am at peace. I realized that by writing touristy ventures off, I was inevitably limiting myself from experiencing some of the richest parts of the city's culture. 
Now, here's my PSA: If you share the same thoughts that I once did, I urge you to open your mind, and yes, your heart. Try it out. If it's not for you, that's totally cool. But you may just learn a little more about yourself in the process. 
See my anti-tourist tourist's guide to London below.
Travel
Flights: If you're trying your darnest to immerse yourself in tourist culture, you might as well start by flying on an airline actually born and bred by your destination. British Airways a great airline by any standards, and if you're feeling luxe, we recommend taking first class. If there's anything that makes a long flight worthwhile, it's HD televisions, Champagne, and seats that actually recline. 
Public Transport: London's tube system is exponentially cleaner than New York's subway system, efficient, and it's really easy to navigate. If you're staying for more than a day, I have two words for you: Oyster card. It makes traveling from one zone to another way cheaper. If you're traveling late at night—after the underground shuts down—take the night bus. Not only are the double decker buses a quick way of traveling from one place to another, but you'll also witness some pretty, err, interesting things past 3am. 
Black Cabs: Every black cab driver is required to take an eerily named test called "The Knowledge," which takes the average driver between two to four years to pass. Basically, every driver needs to know every single street in the city to get you to your destination in the least amount of time. 
Accommodations
If you're going to be traipsing around the city all day, you may as well stay in the heart of London. While Mayfair may be one of the bougiest areas of the city, it is also the most convenient. Not only is the London Hilton on Park Lane an institution of the city itself (it opened in 1963), but it's also right at the edge of Hyde Park and a quick walk to Buckingham Palace. Keith Richards lived in its Park Lane Suite, where he was rumored to have written the riff to "Satisfaction." Also, it's next door to the place where Cass Elliot of The Mamas and the Papas lived and passed away of heart failure—and not, as is widely rumored, of choking on a ham sandwich. 
Museums, Galleries + ExhibitionsExhibitionism: The Rolling Stones Exhibition, Saatchi GalleryOpening April 5 at Saatchi Gallery, this is the first fully immersive exhibition about the five-decade evolution and journey of the Rolling Stones. Created in close conjunction with the band's members, the two-story presentation features original stage costumes, artwork by the likes of Jeff Koons and Andy Warhol, instruments, and a rendering of the apartment where the band lived in squalor.
British MuseumEven if you don't want to spend your day looking at the priceless artifacts that the British Empire accrued through their many destructive colonialist ventures, with free admission, it's worth a trip, if only to see the Rosetta Stone.
Tate ModernIf the British Museum and the Victoria & Albert Museum aren't your speed, the Tate Modern is a great spot to soak up some impressive modern art. 
Food
Sketch The most Instagrammed restaurant in all of London—and possibly the world—Sketch is beyond beautiful and majestic. From the David Shrigley-imagined Gallery to the two-Michelin-starred restaurant, The Lecture Room & Library, it's a must-visit, even if you only have time for an afternoon tea. Oh, and don't feel bad about taking pictures in the insanely futuristic bathroom—we've all done it.
Twilight Soho Food TourIf you're craving tacos, dumplings, margaritas, and cured meat, the Twilight Soho Food Tour has you covered. Not only do you get to eat and drink a ton, but you also get a tour of the very quirky, scandalous Soho.
Must-See: Handel and Hendrix
Once upon a time, Jimi Hendrix lived in the flat next door to famed composer George Frederick Handel. Sure, they were separated by about two centuries, but who's counting? In 2001, Handel's Brook Street home was restored and converted into a museum, and just recently the museum opened Hendrix's flat to the public. While it's still a renovation in progress—the museum has gone through painstaking lengths to make sure that everything looks and feels authentic to the way the musicians lived—Hendrix's bedroom was recreated with the help of numerous photographs of Hendrix in his room and his ex-girlfriend Kathy Etchingham's guidance. 
The World of Harry PotterIt's hard to talk about present-day London without talking about Harry Potter. The books-turned-film franchise was filmed on-site all over the city, and the studio used to create Hogwarts is a quick train ride away. If you want to get the full wizarding experience, take a trip to Warner Bros. Studio and take a tour, during which you'll see the sets, props, and costumes used in the film. You can spend anywhere between one to thirteen hours exploring. You can also take a walking Harry Potter tour, which is 100 percent nerdy and 100 percent delightful, with Touriocity.