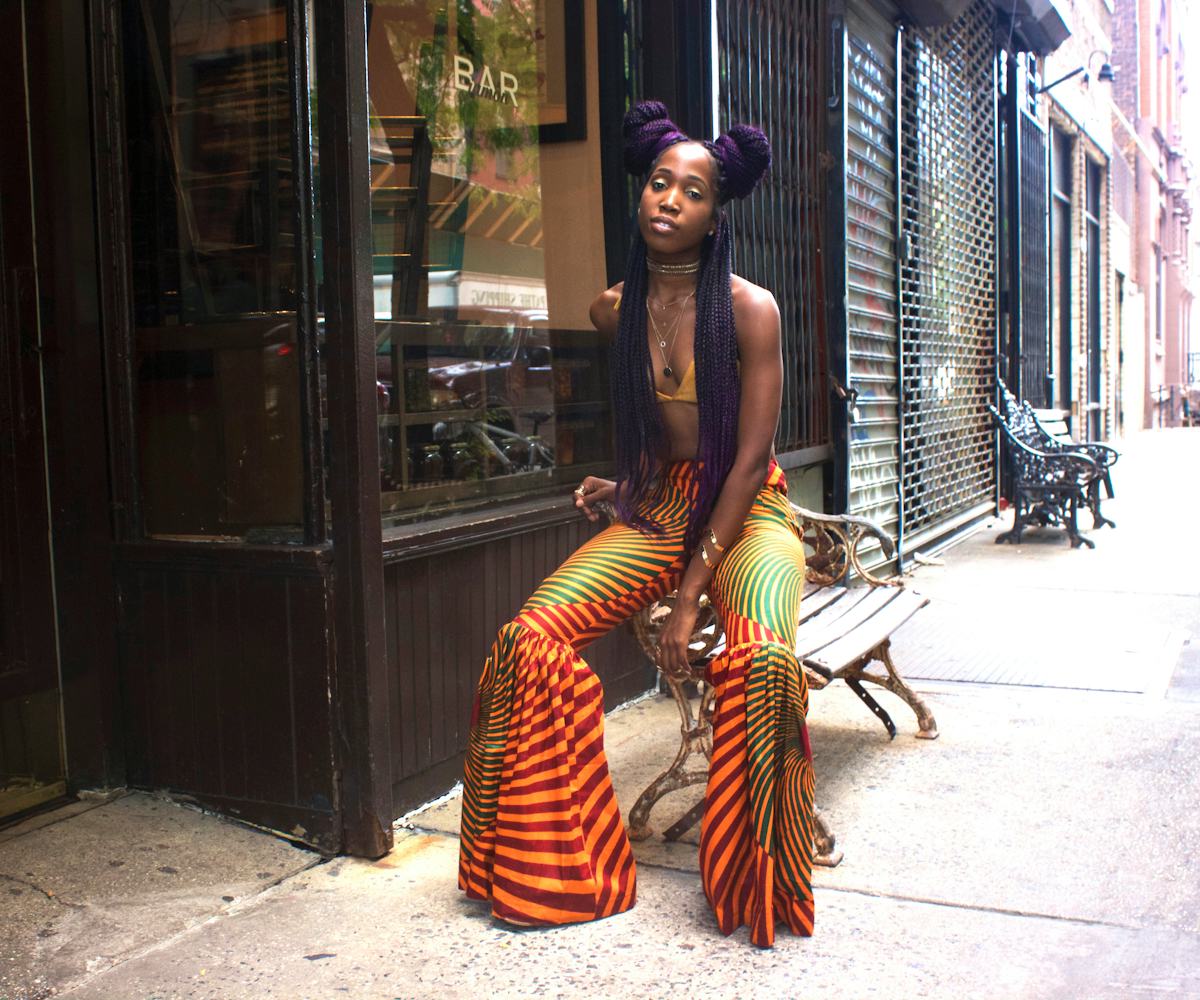 Photo by Curtis Bryant
Meet OWO, The Artist Who Created Her Own Genre
First-generation artist in a genre-less generation
Tracee Atanda-Owo is the originator of a genre she describes as "afro-electro-R&B." The 26-year-old Nigerian-American artist hails from Maryland, a place that, she says, instilled an "introverted and observant" nature within her. At 18, Atanda-Owo moved to New York to study at The New School and began recording songs on GarageBand. Her music is inspired by the sounds of Nigerian afro-funk artists like the Lijadu Sisters and Fela Kuti.
Atanda-Owo views her upbringing between two cultures as a privilege and finds that her dual nationality extends into her art. On stage, as OWO, she puts her Nigerian culture on full display. Atanda-Owo thinks that it is imperative to show "the vastness of African culture, American culture, and R&B culture" within her work. Furthermore, she's embracing the beauty of being a first-generation artist in what she describes as a "genre-less generation."
OWO is gearing up for performances this summer, which include The Drum Collective Presents A Night of Dance feat. Music from Africa & the African Diaspora at Subrosa on May 25 and a show at Baby's All Right on July 2 in New York. Check out OWO's Drums and Emotions EP and learn more about her vibrant background in the interview, below.
How does your Nigerian heritage influence your music?
It influences the sound, but I wouldn't say it's overt. I feel like it's just culturally influenced more than anything. Being Nigerian is a big part of me, especially when it comes to me being a hard worker, being aggressive, being ambitious. I really do put it in a lot when it comes to my sound during live performances. I usually have a djembe drummer with me when I'm performing or dancers, I use a lot of Ankara prints. It's definitely a part of me, you can't separate it.
How did you decide on your music moniker?
I just took the end of my surname and made it my artist name, but it actually does mean money as well. It's interesting; people who are Yoruba or Nigerian are like, "MONEY, I like that." I'm just like, "Okay, cool, but it's actually my last name."
What has your journey with music been like?
A very awakened one. As I was writing different sounds and different verses, I had a conversation with a very close friend who works with me closely now, and he was like, "You need to put traces of your culture in your music." This was about five years ago. I was like, "What do you mean?" He was like, "Go do your research." So I did heavy research, and I found artists like the Lijadu sisters who I didn't know existed. They were twins from the '70s who were afro-pop stars in Nigeria, and I had no clue who they were and how they fused it. I listened to a lot of people who genre-bend. We all kind of influence each other's music. So the first vocal mix I put out was the introduction to that new sound, and luckily it was well-received and we just started to flow with that sound and really became keen on producing ourselves and working with producers who understood the afro-electro-R&B sound that I wanted to make. That's what my journey was. 
How would you describe your sound?
Afro-electro-R&B. It's interesting, and it gives people this screwed face like, "Whaaaaat?" Then they go listen to it, and then they get it. So instead of saying "I'm a mix of this and that," I just created it. 
What are some of your goals as an artist?
Right now, I'm planning for a lot of shows, and our goal is to reach as many people as possible and to perform for as many people as possible and to get set up with the right team. It may be a label [or] it may be a partnership that understands the vision, understands the goal, and understands the mission that we're trying to do, which is trying to show the vastness of African culture, American culture, R&B culture; especially now, where there's a huge emphasis on Africa, to show the beauty in the female artists that you don't really hear about. Then, me being raised here, there's the beauty of first-generation immigrants making music that's influenced [by another culture], but you can still understand it. You can still get. As much as I listened Fela or Wande Coal back in the day, I was listening to Mary J. Blige and Destiny's Child and everybody, so I want people to see that. 
How is your family receiving your music?
I use my parents as a filter for if a song is good or not. As much as they're older, they get it. I would say I have parents who are more in tune. They sometimes know songs more than me from listening to the radio. They'll be like, "You know what? This sounds great. The lyrics, I really don't understand. But it sounds great." So they're very supportive especially since they've seen progress. Of course, being Nigerian you kind of have to show, not tell too much. So as I've been showing, they're been super supportive and very receptive. I'm really blessed to have that. Being a creative and a business woman and an artist and Nigerian, I feel like I'm blessed to have that.