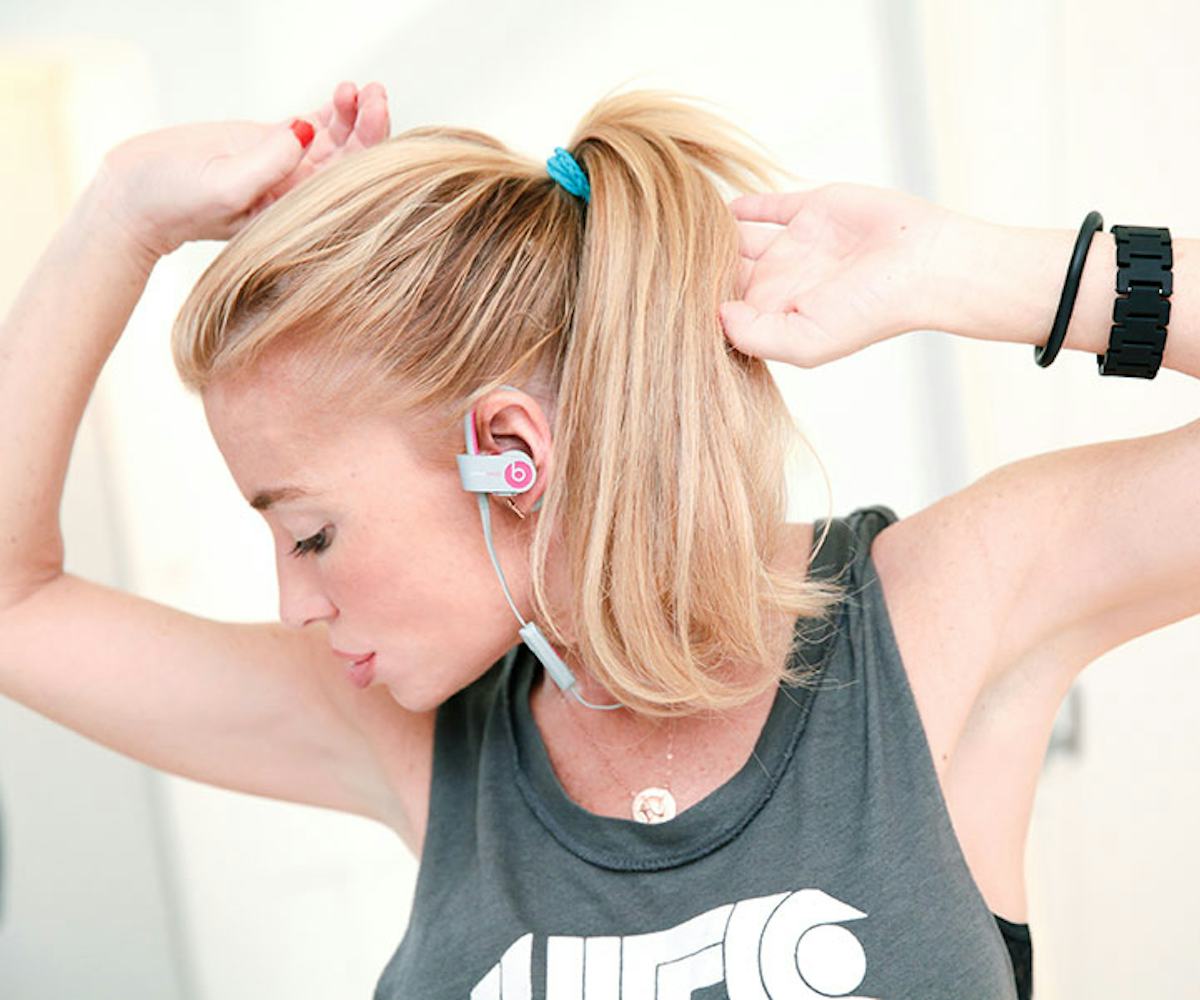 photo courtesy of beats by dre
how celebrity trainer tracy anderson keeps her clients in shape
a first-hand account, c/o #beatshourofpower
There are three numbers that stand out from my first and only Tracy Anderson #beatshourofpower class: 8, 18, and 1. The first (8) stands for the number of counts the ballerina-turned-workout-guru utilizes for each move. The second (18) stands for the number of times I thought I was going to throw up straight onto the hardwood floors of her Tribeca Method studio. The third (1) stands for the number of times I actually did—thankfully in the bathroom, which is quite possibly the one place in the entire venue with air-conditioning. 
"Up until now you didn't work out, but now you do," Anderson told me before the class. "It's absolutely the most life-giving thing that we have. We're meant to move. We have to—period." It's that philosophy and ride-or-die mentality, along with 20+ years of research and paying her dues, that has made Anderson one of Hollywood's go-to trainers-slash-life-gurus. But speeches can only go so far, and thankfully the petite (she stands at 5' 0'') mother of two's techniques get results. Her program, aptly named The Tracy Anderson Method, exercises conventional muscles (abdominals, hamstrings, biceps), but also taps into what she deems "accessory muscles"—tiny muscles that are often left unengaged. By initiating the entire body, using dance-like moves and strange arm-flapping motions, participants slim down quickly. And since some of her celebrity clients (Kelly Ripa, Gwyneth Paltrow, and Nicole Richie) are oftentimes referred to as "too skinny" or "waiflike," Anderson has gotten herself into hot water in the media. But some of her other clients, like Jennifer Lopez, Girls executive producer Jenni Konner, and occasionally Lena Dunham, use Anderson's techniques to maintain their curves and strengthen themselves. 
"Your muscles are the thing that we have to completely change our structure, become our most balanced selves," says Anderson. "If you want to look like a body builder, you have permission to do that if it feels like you're meant to be that. I say this to a lot of people that it's really important for you to hone in on your own individuality and what you feel like is right to you." 
I should take this moment to say that I am not a huge proponent of working out all the time (see: here), yet taking her class—which is actually void of all conversation, instead focused on the "vibes" of the room (the moves are adjusted accordingly)—was about as close to a healing mind-body-soul act as I have ever experienced. And even though my body seemed to be shutting down like I downed a fifth of tequila during the class, there were three things that kept me going: peer pressure, fear of embarassment (I took the class alongside New York Times reporters), and the music.
"I think it's really important for you to have a workout that is to music. I'm a huge advocate of this," says Anderson. "And some of the more meditative fitness routines are quiet when you're connecting yourself and it causes a lot of things to come forward in you, then maybe you might not want to deal with it. It's just uncomfortable. So let the music kind of speak through you and energize you. It does it, naturally." 
After the class, with one beet/kale/carrot/any-other-imaginable-health-foot juice down, I felt stronger and healthier than I had since I stopped actively playing sports. And that in and of itself is part of Anderson's objective, which is what helped foster and strengthen her relationship with Konner and Lena Dunham. "I'm very big right now on the message of every woman really being themselves," says Anderson. "The way that they have crafted the show exposes that we're all real: everyone's different, we're all unique, we're all real—and that's powerful."
So where exactly is the future of fitness headed? "I mean, I can tell you that I've been designing for women for two decades, and the butt has always been something that they want lifted and higher and all that, but I think that—I don't think the butt's going anywhere by the way, at all—but I think that what's going to go and shift and change. I think we're going to get more balance, but I think it's going to be about not everyone having a big, huge, lifted butt to be sexy." And with that more aggressive Yin and Yang mindset, it seems that all that's left to do is start the health revolution. And the best way to do so, according to Anderson? Grab your wireless Powerbeats2, turn on this TA-playlist, and just get moving.