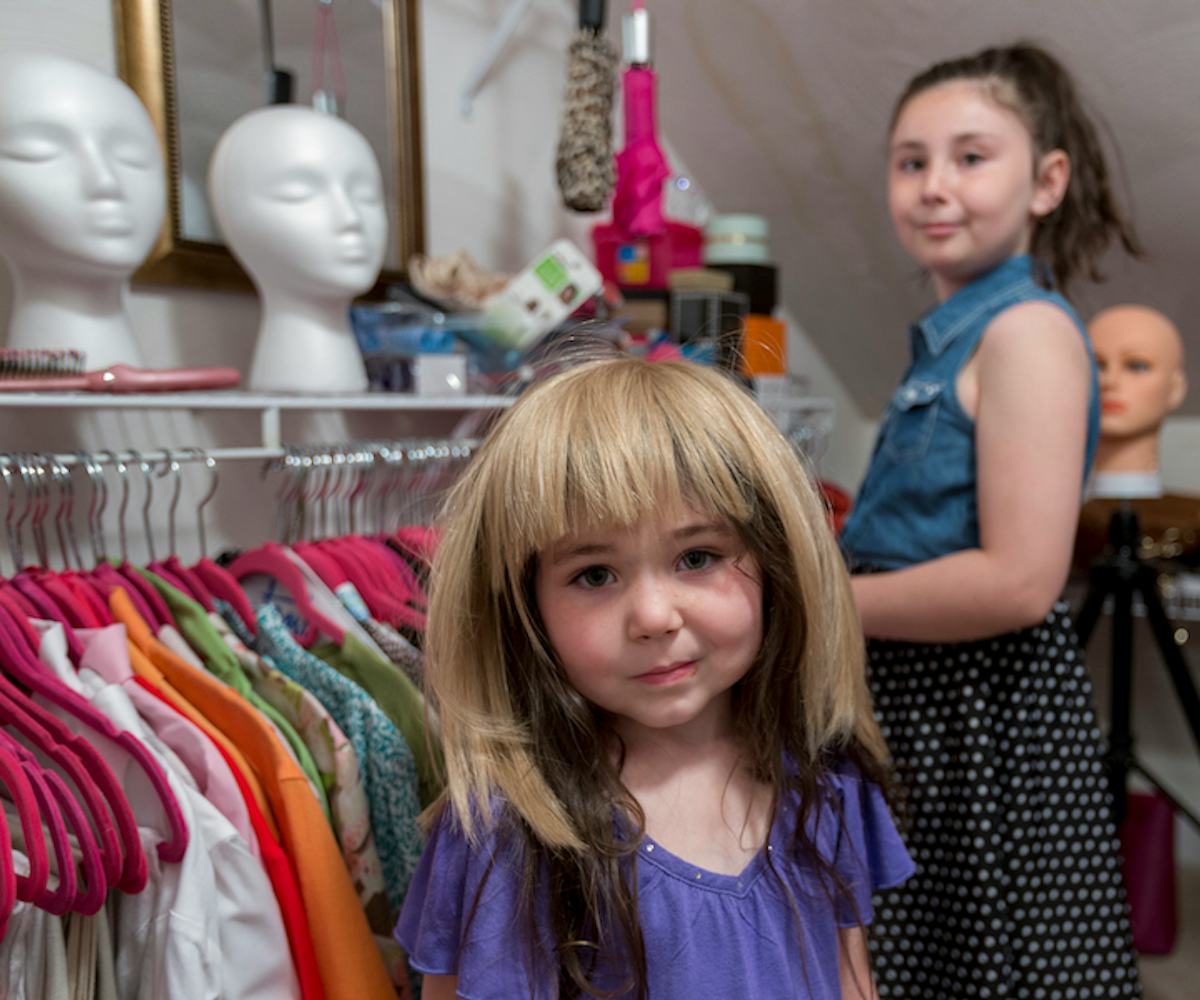 Photographed by Matthew Clowney
'Mimi's Family' Shows Visitors' Children Can Talk About Gender, Too
what it looks like to be a trans grandparent
"I was very fortunate to have parents who raised me as a feminist," says Matthew Clowney, the photographer behind a pioneering, new art exhibit on display at the Boston Children's Museum that invites children into a day in the life of a grandparent who is transgender and her family. "I was raised with this mentality that people are just valuable and worth loving on their own terms. It was very informative to my worldview, so that is a big part of my work." This mentality is evident in his photography, as is the influence of the appeal to human connection in the work of photographers Tina Barney and Sally Man who he cites as influences.
Clowney's photography of Erica (Mimi) Tobias, a grandparent who transitioned from male to female in her 60s, is featured in the exhibit Mimi's Family, an exhibit geared toward children. The exhibit developers created the show as a way to not only share Erica's journey of transitioning later in life but also engage children in conversations about love, family, and gender. Clowney explains, "I don't think there is no conversation connected to children happening, I think there is a good amount of that, but I still think most the conversation is targeted at adults and that's where I hope that this show might contribute something." While creating the exhibit, the developers also consulted with advisors from a number of community organizations including The Network/La Red and the Gay and Lesbian Advocates and Defenders (GLAD).
Trans activist and author Grace Anne Stevens explains, "Young kids don't have any problems with people transitioning. They are very flexible, very adaptable." Stevens served as a mentor to Erica during her transition and is glad to see the impact the exhibit to create conversation, minus much of the media hype about gender transition. "For good or bad, Jenner has put transgender on everybody's lips. The downside is that Jenner does not represent the bulk of the community, nor has the experience to teach about it," notes Stevens. "We are all over the place. We're everywhere and all we're trying to do is be authentic and live our truth," says Stevens. She sees the exhibit as just another way to allow visitors to get to know transgender people as people like anybody else.
Maybe the best example of just how adaptable children can be to gender transition is exemplified by one of Erica's grandchildren, nine-year-old Maddie who is photographed in the show and gave a speech at the opening of the exhibit. "I thought it was fun that I got to come up with a new name for my grandmother. I wanted to call her grammy but she said that sounded so old, so we agreed on Mimi." Exhibit designer Margaret Middleton was very conscious of finding a family to focus on with a transgender person as a way to both honor the "T" in LGBTQ and create a space for children to have a conversation about gender identity. "When I first found out that Margaret and Matthew were doing this exhibit on our family, I thought—'Wow! Being transgender is awesome!'" exclaims Maddie.
Nevertheless, it's important to recognize the photography in the exhibit features a middle-class, white family. Because of the inevitable shortcomings of using one American family or trans experience to present universal experience, Clowney is hesitant to have his work as representative of the modern family, or really anything beyond the interactions with the individuals in the photos. "I find it safer and actually more productive and rewarding to just dive into and enjoy these individual relationships, and I think in doing so we find those sort of bigger connections to what it means to be an American family today."
As a visitor to the exhibit, the most powerful moment came when standing in front of the grand portrait over the mantel and looking in on Erica's family. Erica is holding her granddaughter Kylie, the sole person making eye contact with the viewer. I felt drawn into her gaze and the warmth Clowney describes radiates out from Kylie and Erica across the interactions between family members throughout the rest of the image.
Another powerful photograph is taken from the point of view of Kylie. "By getting down on the ground with little Kylie—I mean she's tiny!—that was a deliberate way of looking at the family from her perspective." He continues, "We printed that almost exactly life size and mounted it on the wall at her height too, so that viewers in the exhibit would get to experience it from her height," explains Clowney.
The exhibit also includes a sharing station where visitors are encouraged to draw images of their own family, and curl up on the couch to read children's books about family and gender such as Red: A Crayon's Story by Michael Hall and Jacob's New Dress by Sarah Hoffman. A printed handout is available with a list of LGBTQ-focused organizations, resources, and a glossary of terms about gender for those who may be new to ideas such as personal pronouns, transition, and cisgender. A display of the shared colored-pencil drawings offers visitors a look into the diverse families who have visited the exhibit before them.
The Boston Children's Museum exhibit closes on December 13 and as of now, it's unclear where Mimi's Family may go next. Clowney has been approached by visitors who say they would love to see his photographs of Erica and her family in their own library or school, and is excited about all of these ideas.
Before concluding our interview, Clowney wanted to make sure to let me know what a lovely experience it was getting to know Erica and her family and what a privilege it was to spend time with them. The warm, playful, free-spirited, and loving family he describes certainly comes through as viewers engage with the photography in Mimi's Family. "So many people don't know a transgender person in their life. They don't have a transgender friend necessarily that they're aware of, and our hope is that for everybody that comes to see this show, that Erica can be that friend for them."