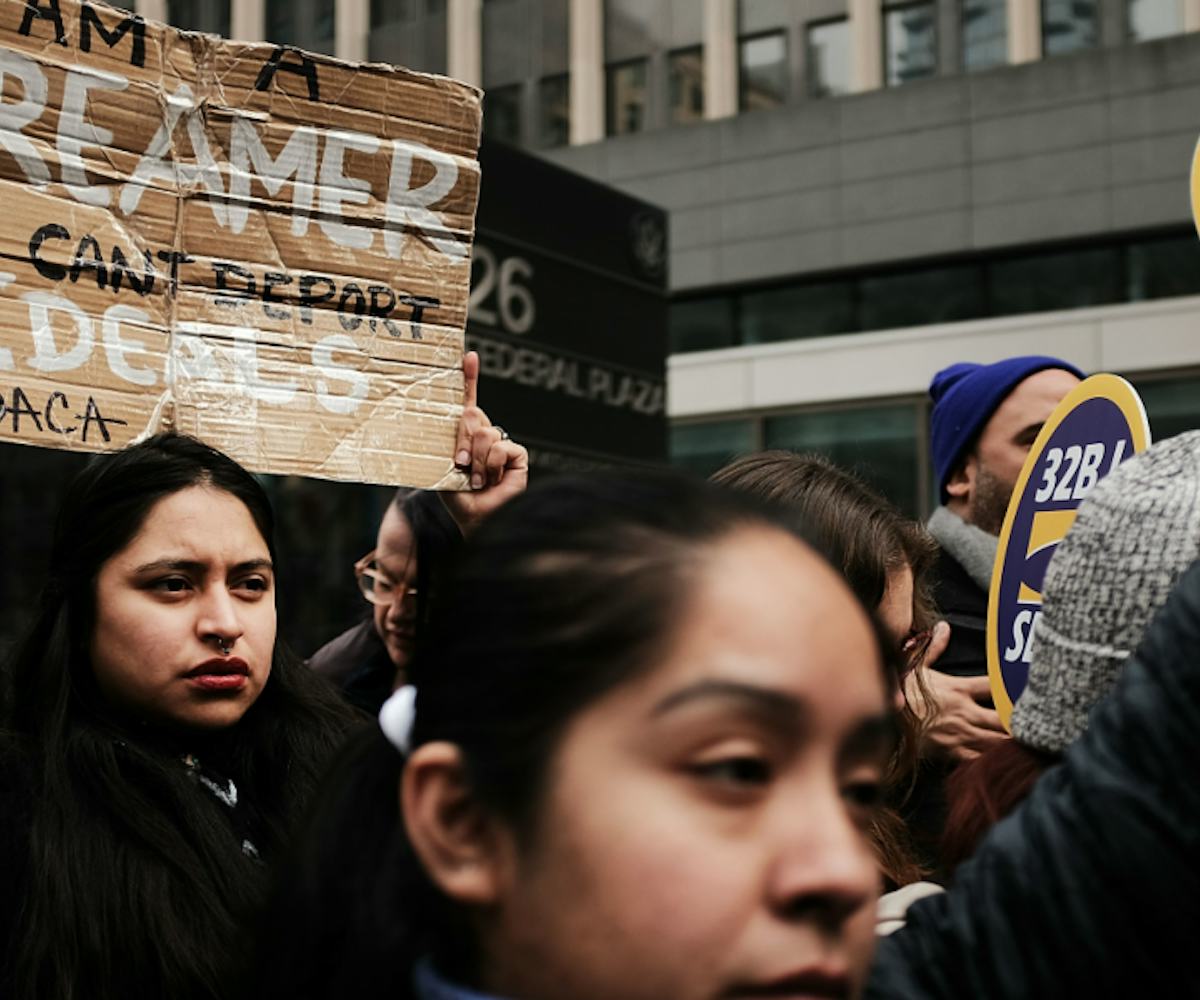 Photo by Spencer Platt/Getty Images
Trump Went On Another Twitter Rant About DACA This Morning
If you thought that President Trump tweeting "HAPPY EASTER!" early this morning meant you'd get to enjoy a peaceful, incoherent-rant-free Sunday, unfortunately, you thought wrong. Shortly thereafter, Trump launched into a series of tweets about border control and Deferred Action for Childhood Arrivals (DACA), calling for an end to the related legislative filibuster. "NO MORE DACA DEAL!" the President wrote.
The president called for Republicans to "go to [the] Nuclear Option," which, according to CNN, means that debates can end and measures can be pushed forward with a simple majority, rather than the standard Senate rules which mandate that 60 out of 100 senators must agree in order to move forward with anything.
Trump also threatened to end the North American Free Trade Agreement (NAFTA), a trade agreement between the United States, Canada and Mexico, and once again referenced building a wall between the US and Mexico. "They must stop the big drug and people flows, or I will stop their cash cow, NAFTA. NEED WALL!" he tweeted.
Trump ended his Twitter rant with, "These big flows of people are all trying to take advantage of DACA. They want in on the act!" But of course, that wasn't really the end of things. Upon arriving at his Easter church service in Palm Beach, Florida, Trump had more to say to reporters, stating: 
Mexico has got to help us at the border. If they're not going to help us at the border, it's a very sad thing between two countries. Mexico has got to help us at the border. And a lot of people are coming in because they want to take advantage of DACA and we're going to have to really see. They had a great chance. The Democrats blew it. They had a great, great chance. But we'll have to take a look. But Mexico has got to help us at the border. They flow right through Mexico. They send them into the United States. Can't happen that way anymore.
You can see the video of his statements below.
This isn't the first time Trump—with all of his nightmarish ideas about immigration policies, like reversing Obama-era legislation that stoped ICE from detaining pregnant people—has come out against DACA, which provides deportation protection for undocumented immigrants who were brought into the country when they were children, so they can stay in the country and attend school and obtain work permits. (According to USA TODAY, the program protects nearly 700,000 people.) The program—which doesn't provide recipients (AKA DREAMers) with lawful immigration status but simply defers possible deportation—exists because the Obama administration felt that minors who were brought into the country shouldn't be at fault for just existing and living their lives, as Complex explains.
Back in September 2017, President Trump's administration announced its decision to end the Obama-era program, though in January a federal court ruled that the administration used flawed legal reasoning to end DACA and started processing renewals again. DACA's fate is currently in the hands of the courts, and it's expected that there will be a ruling on the program this summer.
Given the stances Trump has taken towards immigration since long before he was even sworn in as the President of the United States, not to mention his propensity for ridiculous Twitter rants, these tweets don't really come as a surprise—but that doesn't make them any less frustrating and disappointing to read.