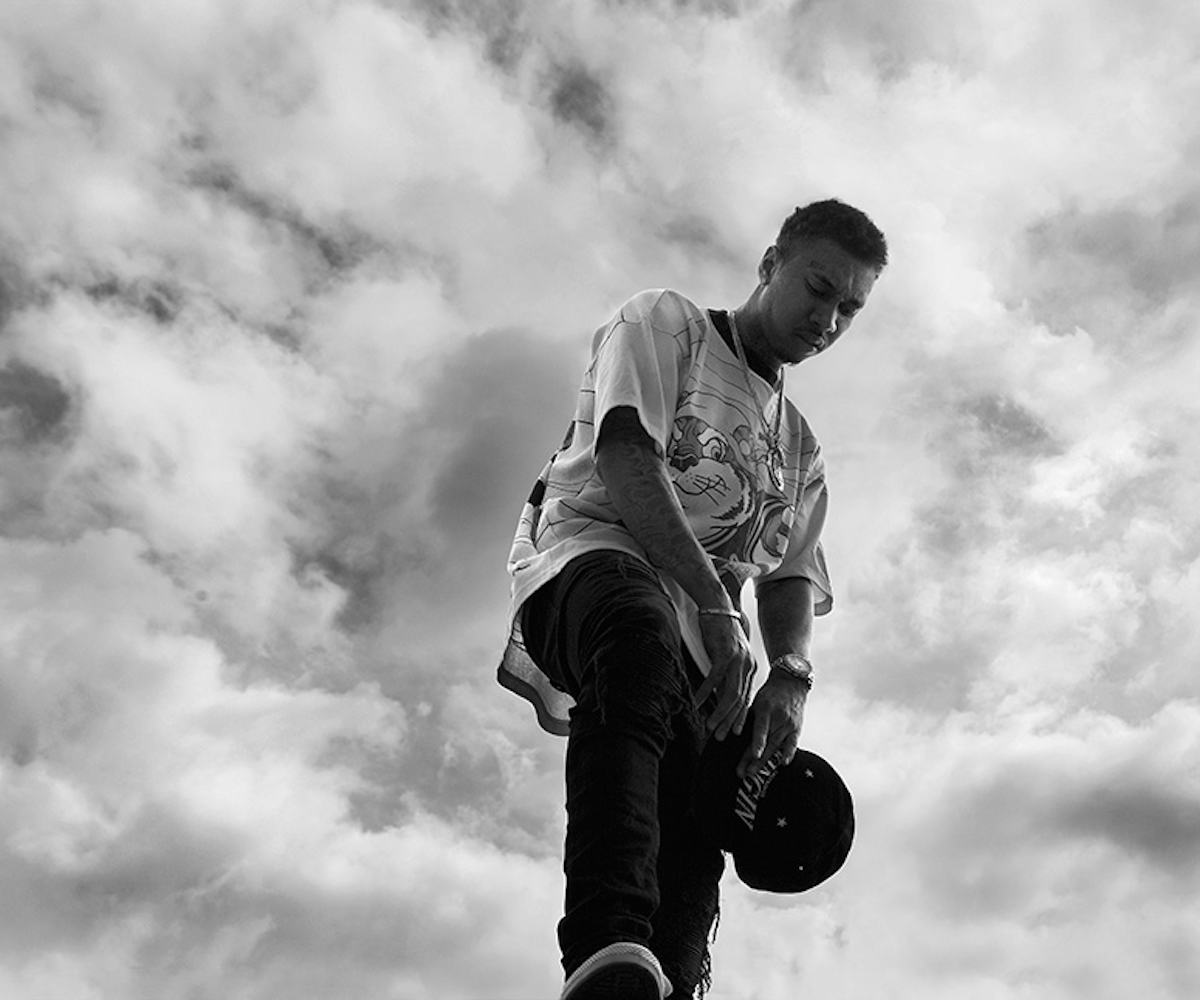 All photos by Steven Taylor
tyga talks fame, money, and love
and reveals which one he's banking on
When Tyga rolls into the photo shoot, he's almost two hours late. His assistant had warned earlier that he can be brief, and she wasn't exaggerating. There's no grooming, no styling, and within minutes, the photographer is shooting, with Tyga grimacing into the lens with middle fingers up. He's clearly playing to the camera, but is he enjoying it? Nah— doesn't really look like it.
Which is kind of surprising, considering most of Tyga's persona seems to suggest that he's not just comfortable in the spotlight, but reveling in its glare. From his car (a matte red Range Rover), to his hair (neon cherry), to his grill (lower teeth: gold and diamonds), to his girl (rumored to be Kylie Jenner), everything about the 25-year-old rapper seems to be screaming for attention.
Except that his latest track, "40 Mill," and its video would suggest otherwise: There's the nursery- rhyme-like repetition of the verse "I don't want to be famous/ I just want to be rich," and bleak snapshots of Tyga's day-to-day life; but in case all that was lost on the audience, the "Fame is the devil" line floating in the last frame of the video should be clear enough. "Fame is a thing that happens when you do something you love—nobody wants to be famous for the wrong reasons," says Tyga as we pull chairs to sit outside the L.A. studio. "It's not my goal, but if being more famous means I can get more music out, that's cool."
Tyga grew up in Compton and was inspired to start rapping not by hometown heroes N.W.A, but by a Busta Rhymes video for "Gimme Some More." "I just loved the visuals so much," he reminisces. "It made me want to be a rapper so that I could shoot videos." He eventually got into other aspects of rapping, and learned how to write songs by transcribing Eminem lyrics, but videos are still his favorite thing to work on. "I might shoot one for a random song that isn't even a single," he laughs. True: To date, he's made 48 of them.
Tyga has written and directed his last several music videos himself, and since everything he touches is layered with imagery—from his Last Kings clothing line to the hand-drawn pharaohs on his boots to his son's name (King Cairo)—his videos are dispatches with complex visuals. "40 Mill" alone suggests hell, sinners, political uprising, and rebirth, illustrated with a fleet of red sports cars, a Gothic cathedral a gang of bodybuilders, flash mobs, pretty women in bikinis, and Tyga in a casket. Par for the course. 
The song itself is as dark and aggressive as the video. "I'm really into that though," he says. "A lot of these songs that I've been working on for The Gold Album aren't too commercial. They're not too dark, but I still wanted to make it dark because headphone music always lasts longer than straight party music."
The Gold Album is Tyga's own Chinese Democracy: Though long-touted, several release dates have already come and gone, with Tyga feuding with his label, Young Money, over Twitter. He still claims that he's working on it ("There's going to be some surprises in the next couple of months"), but his frustrations express weariness about a business that he's only been in for a few years. "I don't really want to do music for a job," he muses, "'cause it's not fun when you do it for a job, it's fun when you just do it when you feel like it. That's where we all started." With that in mind, his career goals are surprisingly simple. "I just want to be able to build a studio in my home, and whenever I feel like making music, I just make it and put it out," he says.
As of the time of writing, Tyga's name is in the headlines for his baby mama drama (his son's mother is Blac Chyna, an ex-stripper who now boasts nearly three million Instagram followers) and his relationship with the 17-year-old Jenner. He seems unfazed for the most part, but carefully changes the subject at the suggestion that dating the youngest daughter in the world's most famous reality-show family could be, who knows, distracting? "That's not really my focus," he says with a shrug. "My focus is making music and being happy with the people I surround myself with. The frustrating part of being an artist is that I can do a whole interview, and all most people are going to see is the headlines. As artists, we should be able to write our own headlines."
What would he want this one to be? He thinks for a minute, then says, "'Tyga talks about making music for the love and not the money.'" Fair enough.