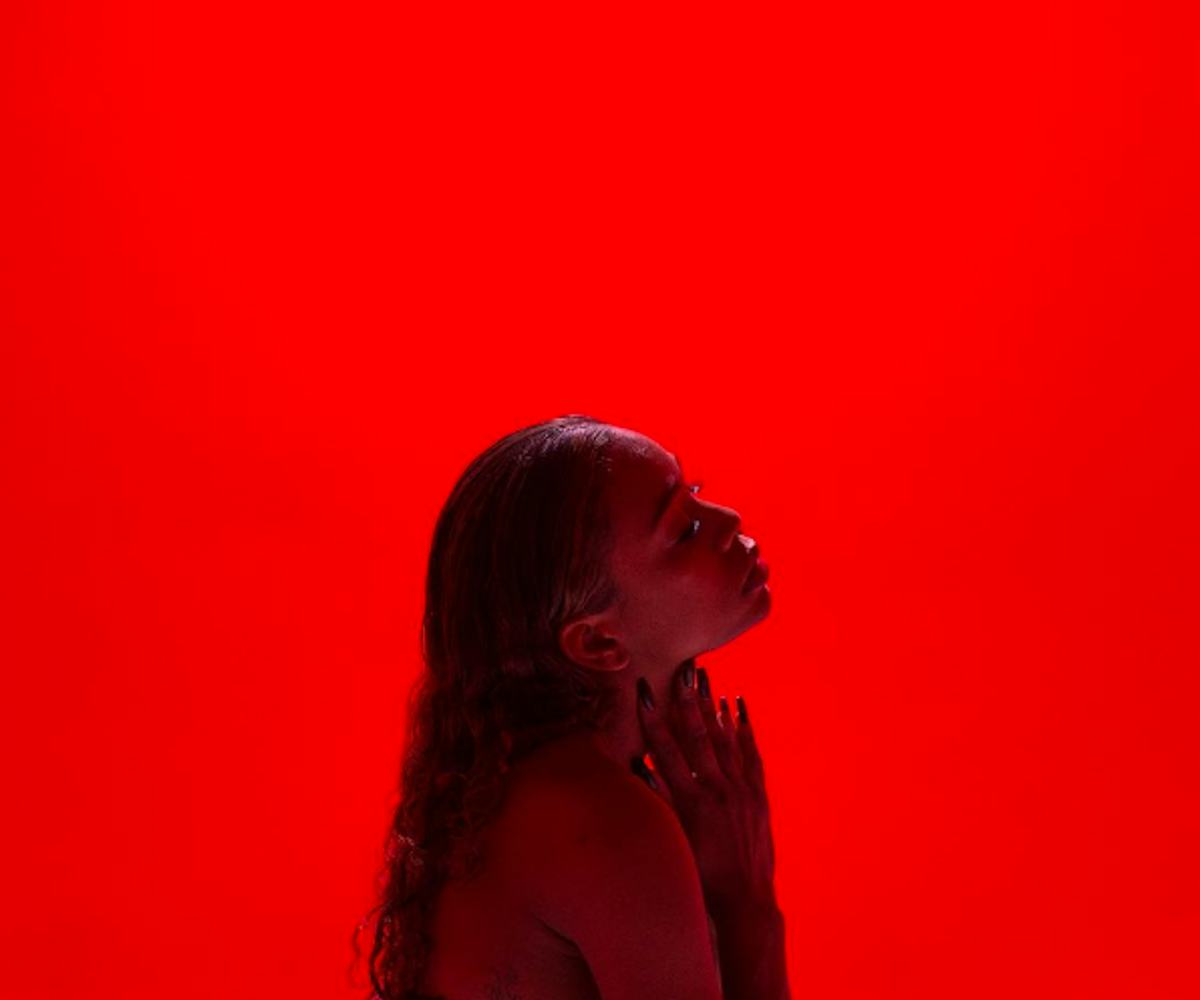 Photo via @tylersphotos/Instagram
Tyler Mitchell On Collaborating With Abra And Other Groundbreaking Artists
Behind the scenes of "Come 4 Me"
It's been a minute since we heard from Abra, also known as the Darkwave Duchess of Awful Records. When it comes to the lo-fi R&B singer's work, everything is very hush hush and quietly gets pushed out on the Internet when we least expect it. Earlier this week, she randomly dropped a music video for a new single titled "COME 4 ME."
Similar to some of her previous work, Abra is the main focus of the frame. She starts off farther away from the viewer, and then moves close to the camera to taunt us with the line, "Go tell the world they can't come for me." (In other words, don't you dare challenge her.) This time, there are no exterior distractions, though. Instead, we're alone in an empty space with Abra as she morphs from one look to the next while the background colors change rapidly. In a way, we're seeing Abra in all forms, and it's absolutely sensational to witness.
Rather than guess the meaning of the visual, we went straight to the man behind the lens: Tyler Mitchell. Minutes after the release, the director and producer tweeted that "Abra is the most important artist out of Atlanta right now for not wanting to fit into the mold of any trend." Not only did the 21-year-old artist bring this beautiful vision to life, but he also got his hands on Kevin Abstract's music video for "Echo" that we premiered way back in November. Mitchell wants to continue working with like-minded creatives who "refuse to compromise," so this is merely an early glimpse of him breaking ground. 
We caught up with Mitchell to pick his brain and get all the details about the video. He shared what it's like to work with Abra and what he has coming up in the not-so-distant future.
How did you link up with Abra? 
I honestly cold emailed her manager. It's wild. I was driving around Atlanta when I found her music. I couldn't think of anybody else in Atlanta—or the world for that matter—making a sound like that. I saw she had a really good video done for her song 
so I was afraid she might already have a video director, but her team responded quickly and liked my work, and we got along well. Now I see us doing a lot more together in the future.
What was your concept for the visual? How did you incorporate your vision with Abra's?
We wanted to do something short and tantalizing, and keep viewers wanting more from Abra. I focused on pushing Abra to show different sides of herself with each new color scheme.
What was the experience of working with Abra like?
Abra is creative and hands-on. At the same time, if she sees you know what you're doing, she will trust you—which is exactly what you want as a director. Some artists show up to a shoot not knowing or caring at all what they're doing for the day, and others will be too bossy, hands-on, and distrusting. If you have a good director, I would advise going somewhere between those extremes. Music video directors are about expanding an artist's universe and pushing 
their 
vision at the end of the day. We're the least selfish people.
[Laughs.]
You're mostly known for your photography work, but do you plan on doing more music videos in the future?
NO I'M RETIRING AFTER THIS ONE.
[Laughs.]
No seriously, I'm just young and focused on making great things. I look at music videos as experimental short films with a soundtrack already made. So whether it's shooting photos for a magazine or making an intense visual, I like to surround myself with creative people like Abra. It makes me a better person. It's so funny, people either know that I only do photos or only do films and then they discover the other side.
Do you have anything else exciting coming up that you want to share?
I think the people I'm now working with across the board are some of the most creative people on this planet. Things are definitely coming up.