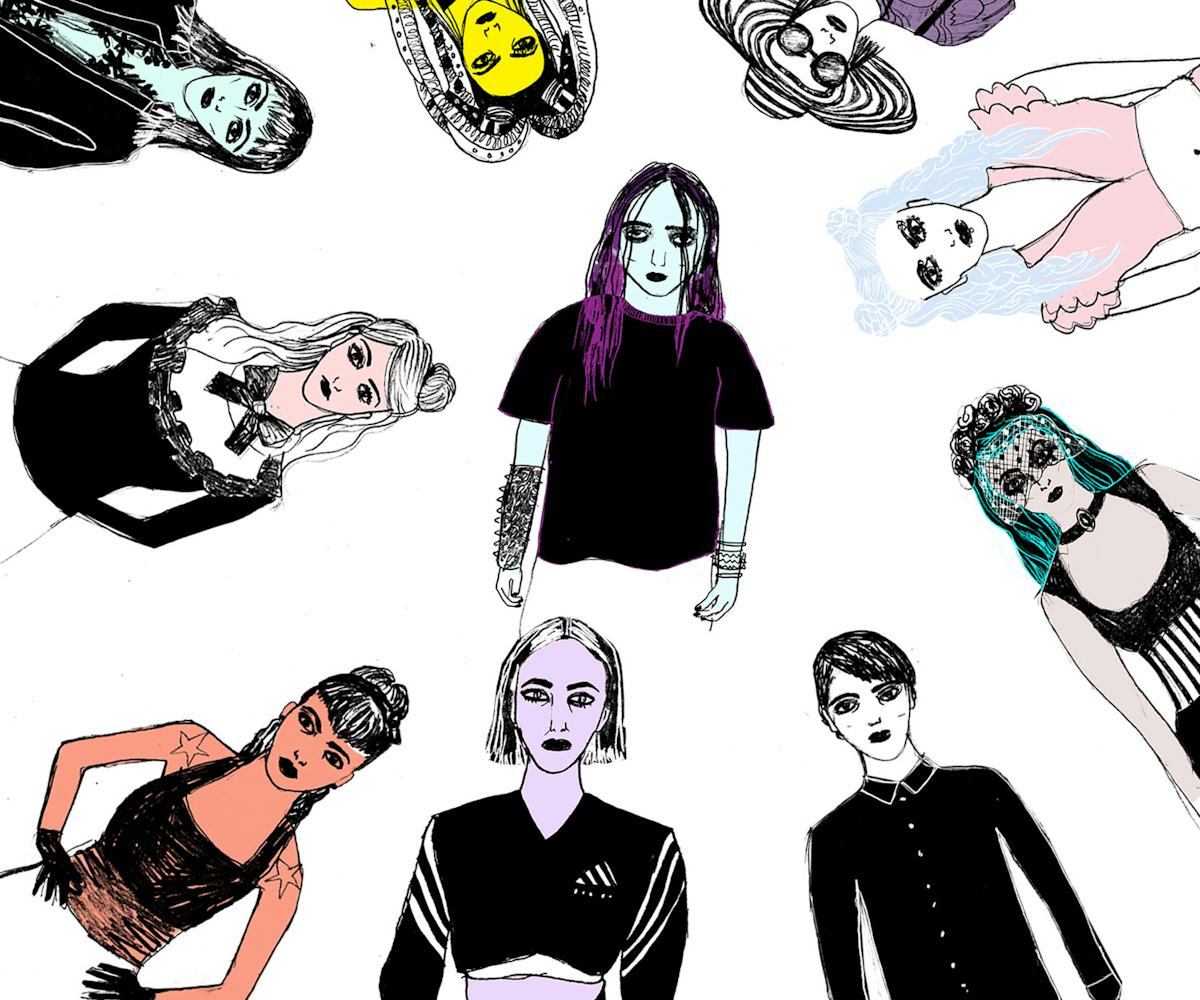 Illustrated by Liz Riccardi
What Kind Of Goth Are You?
Before "goth" even became a label, the idea of embracing death, mortality, sadness, and other "dark" realities in life was long reserved for creative, tortured geniuses. Artists like Edgar Allen Poe and Mary Shelley were revered for their work, but were ultimately misunderstood. However, along with the age of rock music, that all changed.
With Alice Cooper and Bauhaus at the forefront of the movement in the '70s, there became musical outlets for the later-described goths, and places for them to convene and share ideas at shows. In the next few decades, the idea of goth began to evolve and different subsets emerged. From the mainstream goths to the Hot Topic goth to the Marilyn Manson enthusiasts and Trent Reznor devotees, there's no clear meaning of what goth exactly means anymore.
Check the gallery below to see some of the goth subcultures of today, and find out exactly which one you belong to.
Health Goth
You'd be nowhere without your black lipstick and Equinox. Mortality is real and always at the forefront of your thoughts, and you have to treat your body like a goddamn temple to escape it another day. 
Real life idol: Rick Owens
Outfit staples: Nike sports bra, Adidas Supserstar kicks, Y-3 hoodie, leather joggers—all black and white, of course
Music taste: A good A-Trak playlist, Leikeli47, SOPHIE, Kill The Noise
Bubblegum Goth
Cute, but dark, the Bubblegum 
Goth
uses pastels and pale hues to contrast the inherent darkness they know to be true.
Real life idol:
Melanie Martinez—Marina and the Diamonds'
Electra Heart
alter ego
Outfit staples:
Platform sneakers, babydoll dress, a glow-up shoe lace tied around the neck, a bow
Music taste:
Björk, MIKA, Carly Rae Jepsen, Melanie Martinez
Tim Burton Goth
Life is nothing without its imaginative escapes, monsters, and symbolism. And while you spend a lot of your time doodling in your sketchbook and contemplating the purpose of it all underneath a bare, dilapidated tree, you make sure to spend at least 14 hours of the day running about pretending you're the protagonist in a highly marketable, but no less meaningless movie.
Real life idol: Winona Ryder
Outfit staples: Zana Bayne harnesses, Dr. Martens Persephone boots, a velvet choker, some sort of headpiece
Music taste: Danny Elfman, the Black Swan soundtrack
Bret Easton Ellis Goth
The Bret Easton Ellis 
Goth
grew up feeling more Hot Topic but dressed in Abercrombie & Fitch. Once they grew out of that, they gravitated towards art house films, deep thinking novels, and pursued philosophy and fashion. They are the dark, but witty people you meet at liberal arts college.
Real life idol: 
The Lisbon Sisters, The xx
Outfit staples:
Heeled Chelsea boots, black skinny jeans, longline button down with some sort of plaid 
Music taste:
AIR, The 1975, CHVRCHES, Lykke Li, Patrick Wolf
Beach Goth
Whoever said a 
goth
doesn't like the beach hasn't met a beach 
goth
. You can still be 
goth
and be at the beach. Sure, there's the whole black in the sun thing, but whatever. You make your lifestyle work. 
Real life idol:
Sweeney Todd on the beach, Julian Casablancas 
Outfit staples:
Ripped black shorts, a parasol, big black sunglasses, sunscreen
Music taste:
Julian Casablancas, Die Antwoord
Fashion Goth
"Black is modest and arrogant at the same time. Black is lazy and easy—but mysterious. But above all black says this: 'I don't bother you, don't bother me.'" — Yohji Yamamoto
Real life idol: 
Gareth Pugh, Rick Owens, Rei Kawakubo, any of The Antwerp Six
Outfit staples:
Shapeless, asymmetrical black designs, and fancy black leather shoes
Music taste:
Gossip, TRST, Jamie xx, Pictureplane
Victorian Goth
Goths have been around long before Hot Topic came along. Taking inspiration from the Salem witch hunts and Mary Shelley, the Victorian Goth would be nowhere without lace, Edgar Allen Poe, and a stiff upper lip.
Real life idol: Helena Bonham Carter
Outfit staples: Steel-boned corset, frilly blouses, long skirts, parasols
Music taste: Bernard Herrman, Anton Coppola
Cyber Goth
What do you get when you mix rave culture with comic book hero-meets-Tumblr aesthetics? A cyber 
goth
. 
Real Life Idol:
Charli XCX when she first started
Outfit Staples:
PVC, neon everything, platform boots, reflective things, goggles, beaded air purifying face mask, cyberlox
Music Taste: 
Grimes, NIN, Boys Noize, Kernkraft 400, Justice
The "This Isn't Just A Phase, Mom" Goth
Not a girl, not yet a woman, you're somewhere between the ages of 12 and 19. You don't know what you want out of life, and you don't know where you're going, but you do know one thing: This isn't just a phase. If only your parents would stop bugging you about it...
Real life idol: Wednesday Addams 
Outfit staples: Checkerboard slip-on Vans, Manic Panic, black lipstick, gauge and industrial piercings, Slipknot band T-shirt
Music taste: Evanescence, Danzig, Cold Cave, The Used, Crystal Castles
Gothabilly
A sub-genre of rockabilly, the gothabilly is all about asserting her sexuality, style, and affinity for darkness.
Real life idol: Dita Von Teese
Outfit staples: Sweetheart necklines, red flowers, dark red lipstick, pencil skirts, strappy heels
Music taste: The Cramps, Nekromantix, Guana Batz