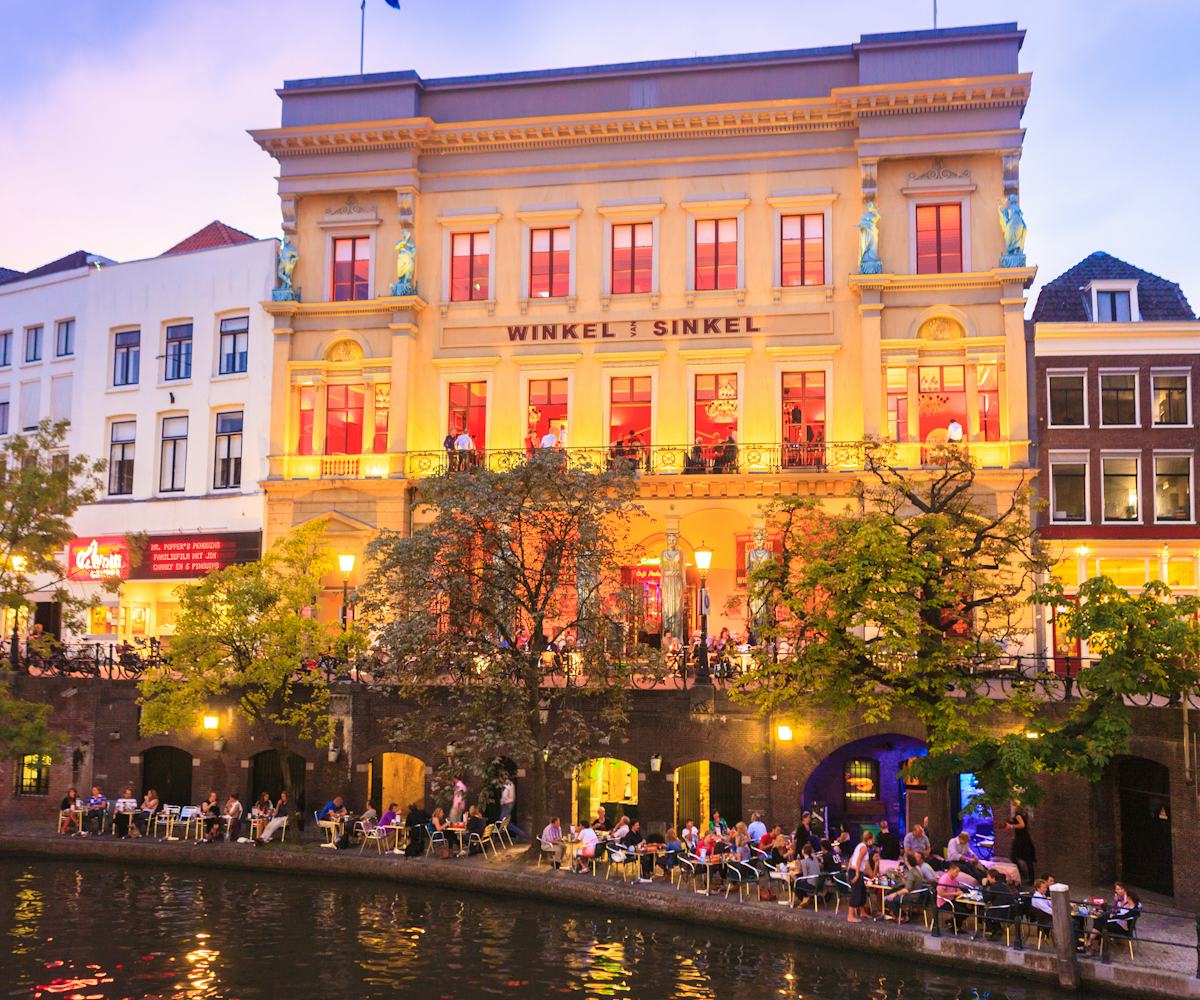 6 Under The Radar European Cities You Should Visit Immediately
Don't get us wrong: We're not against visiting the common tourist destinations in Europe. After all, there's a reason places like Paris, London, Rome, and even Iceland became popular. (Food! Fashion! History! And oh, the Instagram possibilities!) But with the proliferation of low-cost airlines and more employers offering remote working options, it's worth it to embrace flexibility and move beyond the normal tourist circuit on return visits. Who says you can only have one "trip of a lifetime" experience? Beat your own path across the continent and who knows—you might find a new future favorite. Here are a few of our favorite under the radar cities to help get you started.
Riga, LatviaTourists still haven't discovered Riga, which means regardless of the season you can wander crowd-free through the city's pastel-toned old town. Jewelry fans (which is a large chunk of us, right?), this is your chance to score some amber, one of the Baltics' major natural resources. It's sold nearly everywhere and in every configuration, but keep your eyes open for shops selling brightly colored, crack-free pieces. (As with diamonds, color and clarity are a way to determine quality.)
Like many Eastern European countries, Latvian food is a delicious swirl of meat and potatoes. Hit up the Central Market where you can buy all the ingredients of a traditional meal at ridiculously reasonable prices. (Plus, pickles—the country's out to prove anything can be improved with brine.) For a less gut-busting option, try dinner at Fat Pumpkin, a raw restaurant whose delicious use of seasonal ingredients proves that the spirit of vegetarianism is alive and well in the Baltics. Finish your evening out with a nightcap or two at Bar I Love You. The watering hole's coffee house vibe—complete with reading materials, comfy couches, and suitably obscure soundtrack—is perfect for canoodling couples, friends who want to talk, or anyone just not looking to deal with a typical bar scene. 
Bergen, NorwayPro-tip: Don't fly into Bergen. Yes, air travel from Oslo to Norway's second biggest city is short enough you won't even have time to take a nap. But you'll miss one of Europe's most scenic train rides. (Need proof? Part of The Empire Strikes back was filmed not far from the tracks.) The Instagram perfection only continues when you arrive. Set your phone's camera to panoramic mode and take the Fløibanen Funicular up to one of the many hills that surround the harbor town (just be sure to save it for a clear day—or else you won't get much of a view). Or rent a car and head out to the fjords to watch the tide dramatically crash against the cliffs—an outing that comes doubly recommended during the winter when you can also (hopefully) catch the Northern Lights. 
There's also plenty of action indoors. Music lovers take note: Sondre Lerche, AURORA, and Sigrid all call Bergen home, and sometimes it seems like half the population has a music project or 12 up their sleeves. To start untangling the twisted web, stop by Apollon, a local bar/record shop. There, over a local brew like Hansa, an employee can fill you in on who's playing in the area's numerous venues. You can also pick up releases from local heroes Chain Wallet, Alexander von Mehren, and Tellef Raabe.
Vilnius, LithuaniaVilnius is home to knit bombing (yarn-based street art), smiling angel statues scattered around the city, and two tributes to Frank Zappa. (No connection, they just really like him.) To get a true taste of Lithuania's emerging art scene, take a stroll through Užupis. In addition to hosting some truly impressive street art, the neighborhood declared itself to be an independent nation on April Fool's Day in 1997, with its own money, anthem, and 11-man army. (No joke—you can even get your passport stamped every year on April 1.) Important amendments in their Declaration of Independence include: "Everyone has the right to appreciate their unimportance," "Everyone has the right to celebrate or not celebrate their birthday," and, "No one has the right to make another person feel guilty."
For more traditional sightseeing, head to the TV Tower, the tallest structure in Lithuania, for a drink in the perfect retro lounge at the top. That's not your head spinning—the whole room slowly rotates for the best possible view of Vilnius. There's also Europos Park, located just outside the city, where you can get your Alice in Wonderland on by roaming through the forest and gaping at oversized art pieces from sculptor Gintaras Karosas. Cap off your adventures with a nice greasy meal from Drama Burger—because french fries taste good in any language. 
Budapest, HungaryBudapest's nickname is the Capital of Spas, a tradition they owe to the Roman era. There are 12 thermal springs in the city, but for a taste of the old-school opulence, visit Gellért Thermal Baths where you can sit in elaborately tiled warm water pools filled with calcium, magnesium, hydrocarbonate, alkalis, chloride, sulfate and fluoride, which devotees claim can cure pretty much all your physical ills or, at least, leave you in the perfect headspace for a night out. (Don't forget to book a massage—because exchange rates are good, and you've earned it.) 
Once you've dried off, start your evening at Kék Rózsa Restaurant, where you can tackle a traditional meal (potatoes, cream, and cabbage—oh my!) Then grab a glass of mulled wine (or two) at Szimpla Kert, and people watch in the old apartments-turned-bar/performance venue/open air cinema space. If you wake up the next morning to find you've overindulged (it's easy to do—the city has a thriving nightlife, particularly around the seventh district), grab a lángos at the Grand Market Hall. Lángos is greasy fried bread piled high with cabbage, tomato, onion, and mayo—literally the most perfect hangover food in existence. 
Tallinn, Estonia Wandering through Tallinn's untouched old town is a joy for history and architecture buffs alike, but, please keep in mind, while Eastern Europe can be used to describe countries in the geographical east of Europe, the idea of being an "Eastern European" country (read: behind the times) has been largely abolished. The former Soviet country has done a lot in recent years to raise its international profile, including establishing Tallinn Music Week (which has become an event that celebrates not only music, but food, art, fashion, and social justice) and allowing people to become e-citizens, thus increasing the number of startups in the country. Because of this, the city is a study in contrasts. Where else can you get a detailed look at communism through a KGB Museum and then discuss what you learned over drinks a Depeche Mode-themed bar? If you're looking for a souvenir, skip the tacky tourist shops and wander over to Telliskivi instead. The creative hub hosts concerts, bi-weekly flea markets, vintage boutiques, cafes, and fair trade shops. (Finland's not the only country with A+ design skills.) 
Utrecht, Netherlands Like a younger child stuck in the shadow of their older sibling, Utrecht is constantly being skipped over in favor of the more lascivious Dutch capital. But given that Amsterdam and Utrecht are a mere half hour train ride from each other, this is the ultimate "why not both?" scenario.  
Once you're there, grab a bike and enjoy the country's two-wheel-friendly environment as you explore the city's winding canal system sans the crowds of tourists. Or, get a better look at the mini metropolis by climbing the Dom Tower. (Fun fact alert: The old church tower paid tribute to David Bowie shortly after his death.) Work up an appetite?Grab some Oliebollen, carb-tastic fried doughnut holes covered in sugar and served in a paper sack, and indulge in some people watching in Neude Square. Caffeine lovers will dig The Village Coffee, a student-friendly, Wi-Fi-equipped watering hole that serves tall coffees in Illuminati cups. (Joke or a hint from the owner? You decide.) If you're looking for a coffee shop, in the traditional Dutch sense of the term, like most of the larger cities in the country, they've got those, too. Head over to Culture Boat for a waterside view while you're imbibing. Local smokers are in a minority, so it's a bit of a stretch to call it a truly local experience. But it will make hunting for Miffy more fun. Be sure to keep your eyes out for the city's de facto cartoon rabbit ambassador as you make your way back into the city center. She's everywhere, but for more inner-child antics, you can also visit her museum home.