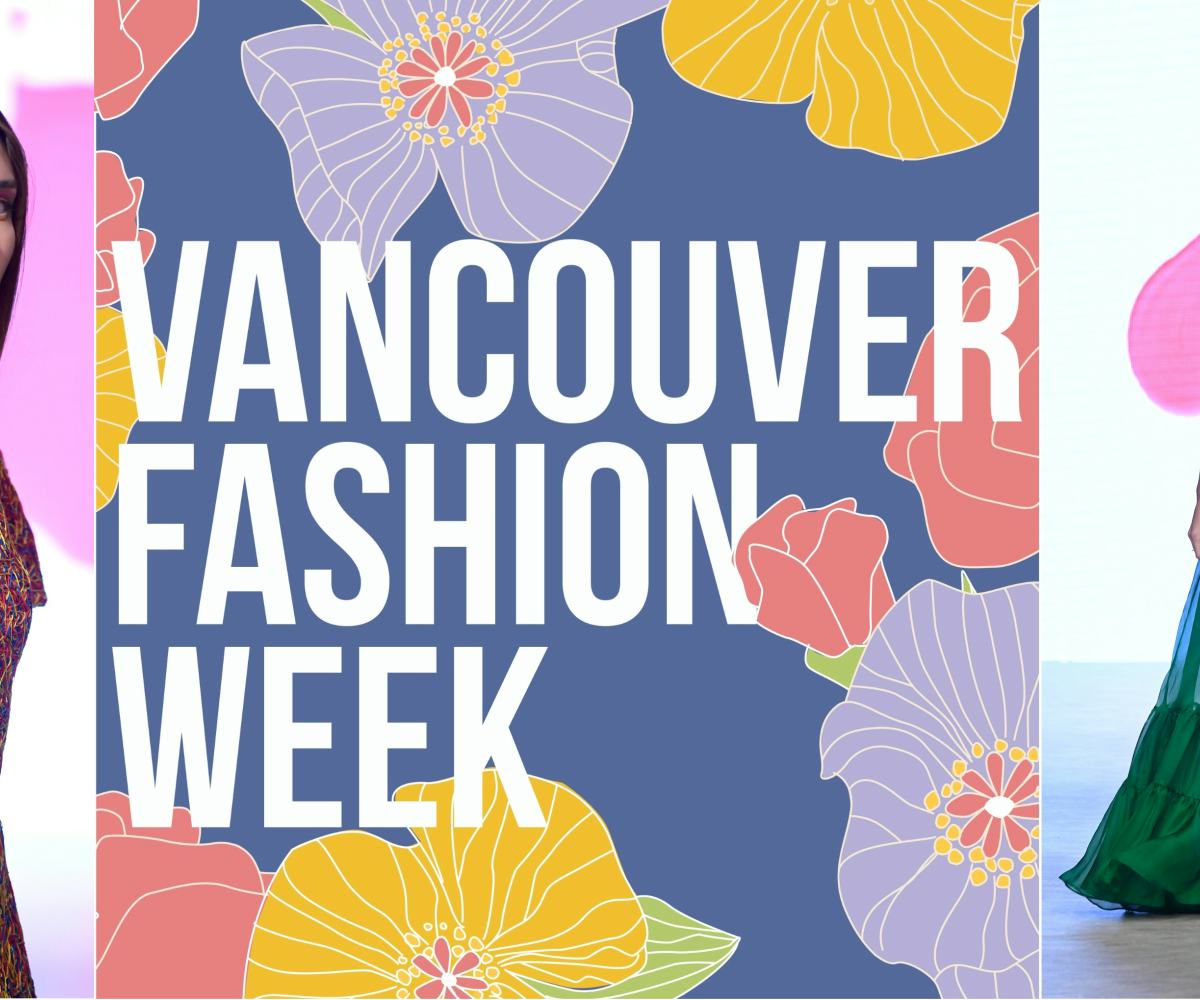 Photos by Arun Nevader/Getty Images, Image Courtesy of Vancouver Fashion Week
Our Favorite Designers From Vancouver Fashion Week
You'll be seeing a lot more of these names in the future
The rain and cold couldn't put a damper on all there was to see at Vancouver Fashion Week. Ready-to-wear collections were the true highlight of the week, featuring looks that we're ready to add to our wardrobes as soon as they hit the stores.
Some of the strongest collections came from the newest designers, many of whom were showing for the very first time at VFW. From neon knitwear to studded "anti-fashion," click through the gallery, below, to check out the best designers we saw at Vancouver Fashion Week.  
Annika Klaas
Knitwear designer Klaas said of her (literally) seamless collection: "The collage-like outfits of the collection are put together by a knitted-in beltingsystem, further closures include knitted-in magnets. Constructed in color-graded layers and see-through structures, the knitted fabrics have a painterly look." Klaas drew on furniture designers Ronan and Erwan Bouroullec's abstract felt-tip drawings for artistic inspiration. 
Hannah Eriksson
Eriksson's SS19 collection, titled Life Support for Lifeless Lots, started with "two images of unknown origins" fastened to the wall of her home. The first, a decrepit abandoned building; the other, a woman seated on a gurney, "her hospital gown split to expose all the cords running down her back."
"Rope, cords, wire and strips," the designer said, are what she likes to think her brain is composed of, "so naturally [I] couldn't escape these photos." The resulting collection of deconstructed business-wear is what Eriksson refers to as "clothing cohesive to the world we've negotiated."
MC.CHATARD
Charlotte Chatard, creative director of MC.CHATARD, left her fashion studies in Paris for Montreal, "disgusted with fashion for being one of the most polluting industries in the world, as well as for operating human beings with means of money."
MC.CHATARD was created with the idea of changing the fashion industry from within. This season's wears are genderless and a true one-size-fits-all. How each item in the collection is worn is up to you—with the fastening of a button or snap, shorts can become a skirt, a symmetrical dress can become asymmetrical, and apparel can be taken in, let out, made to fit you perfectly. 
Pilar Aguilar
Designer Pilar Beristain says "designing is within my veins," and when you see the intricate needlework and details on every square inch of her collection, it isn't hard to believe. "My nanny used to get me napkins you get at markets around town to embroider," she adds. "It made an impact on me... she was the one who gave me my first needle."
Her SS19 collection is inspired by abstract expressionism, with the main dress drawing inspiration from the work of Jackson Pollock. It turned into something a bit deeper along the way, though, as Pilar began to contemplate bigger questions about life. "The elements of our past, present, and future, such as family and dreams, were a big yes for this collection. Details such as my own childhood, my nieces and nephew, quotes that inspire me, the transparency of showing your true self and my Mexican roots created not only the silhouettes but all fabrics created by hand." Some of the most intricate pieces, Pilar noted, took "as long as two to four months of no sleep and five hands." 
EVAN CLAYTON
Arguably the biggest party of Vancouver Fashion Week was on Evan Clayton's runway. Drag queen trio Gia Metric, Jane Smoker, and Kendall Gender were among the models rocking Clayton's collection on the runway, and it's all I've been able to think about ever since.
Clayton tells us his collection, EGO, is "inspired by my massive ego!" While his work tends to be "very personal," Clayton toyed with the idea of alter egos that some of his favorite musicians have used to present out-of-the-norm creative works, such as Lady Gaga's Candy Warhol and David Bowie's Ziggy Stardust. "I wanted to create EGO, a character composed of all the things I love/hate most about myself, and design this collection from his perspective," Clayton explained. "My vanity, my pride, my ambition, they all contributed to this collection. In a way, I guess you could say that this is still a very personal collection, because there's some truth in every lie."
OUT OF COMFORT
Designer Shannon Thompson found inspiration for her new collection, LONG TIME COME, in Jamel Shabazz's photography of NYC in the early '80s. VFW was Thompson's first-ever fashion week, an opportunity she, naturally, couldn't pass up. "Being able to present my collection on an international stage was hugely rewarding for myself, my brand, and my growth," Thompson said.
imi
For her SS19 collection, Reconstruct My Flesh, designer Imogen Evans was "inspired by a dystopia where humans look completely different because we've artificially modified our bodies so dramatically," using deconstructed elements as a callout toward society's obsession with physical self-"improvement."
The hand-stitched and embroidered masks (which took roughly seven hours to make, each, with the assistance of Evans' little brother) covered the models' faces in order to symbolize "the irrelevance of who is behind the masks," regardless of gender or race.
Kate Fisher
Fisher's latest collection, Club Daydreamers, finds its inspiration in the new romantic movement. "The theme is this club/gang of daydreamers who are rebelling against conformity—and really pushing for a diverse and nonbinary society," Fisher explains. "The dream is actually becoming realized, and the collection is this rebellious fantasy that is interrupting reality."
The designer's modern punk-meets-ultra femme aesthetic was perfectly soundtracked, with the models walking down the runway to David Bowie's "Rebel Rebel." 
NOT DEAD YET
"I would rather tell a story," designer Adam-Lin Bungag explained, than "be thinking about business." NOT DEAD YET perfects the punk aesthetic, mixing alt-staples plaid and studs with street style-ready silhouettes perfect to layer in any edgy fall wardrobe.