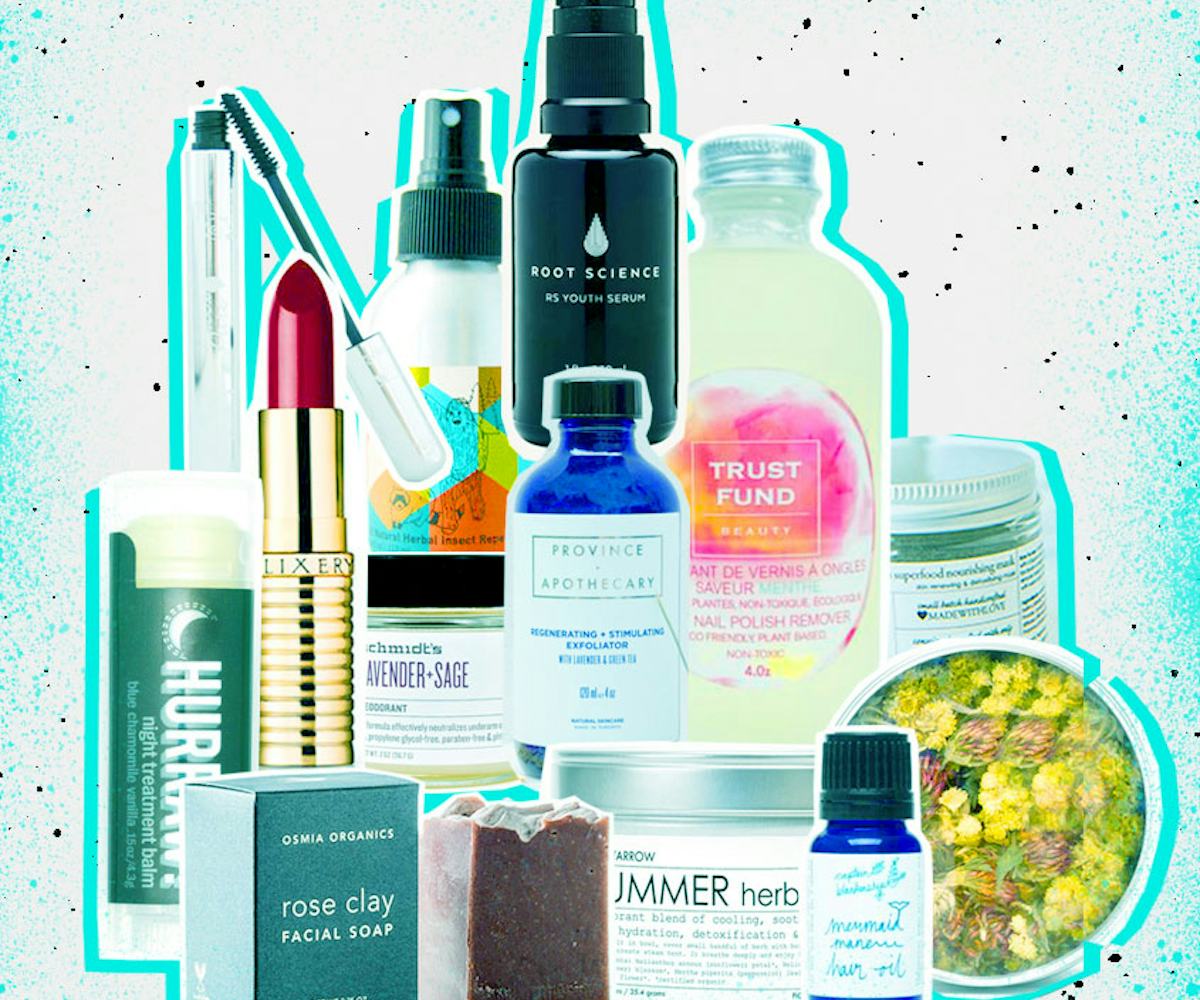 13 all-natural vegan beauty buys you can feel good about
The world of cosmetics can be incredibly tricky to navigate—especially for anyone who's sticking to a plant-based lifestyle. From mile-long ingredient lists to brands who aren't completely straightforward about their suppliers, it can be hard to figure out the ethical background your favorite lipstick or mascara du jour. Luckily, there are loads of wonderful small-batch beauty brands out there doing noble work to keep their products natural and cruelty-free. 
Whether you're a passionate, nutritional-yeast-loving vegan, or you just don't like the idea of supporting cosmetics companies that still test on animals (because yes, that's somehow actually still a thing), options grow by the day for beauty products that are all-natural, plant-based, and cruelty-free—and a lot of them are actually way more nourishing than your run-of-the-mill mainstream products. (Besides, who really wants bugs in their lipstick? Not on our watch.)
Click through for the thirteen great beauty products that you can spring for, while still being able to look your pet bunny in the eye.
Osmia Organics: Rose Clay Facial Soap
Clay is a miracle-worker: It soaks up impurities like a sponge and leaves skin feeling clean, even, and smooth. Osmia Organics, the Colorado-based natural skin-care line, doubles up on both Australian pink clay and kaolin for a facial cleanser that removes makeup, dirt, and oil, without leaving skin feeling tight or over-cleansed (that's thanks to the gentleness of coconut milk and hydrating mango butter). And coming from a company whose name is inspired by sense of smell, it's no surprise that the bar's rosy fragrance is just a little transportive. (A note for vegans: since Osmia uses organic buttermilk and beeswax in some of their products, not everything they sell is 100% vegan. But the company prides itself on sourcing responsibly, and this particular product meets all the checkmarks.)
Osmia Organics, rose clay facial soap, $24.00, available at Osmia Organics.
Fig + Yarrow: Summer Herbal Steam
Fig + Yarrow, a Colorado-based apothecary, knows how to find indulgence in the simple things. Take the summer steam bath: a gorgeous blend of dried botanicals that smells as nice as it looks. Use it to give yourself a mini spa treatment in your own home by adding it to boiled water, allowing it to steep for a few minutes, and resting your face above the concoction for a few minutes. For maximum chill, place a towel over your head to trap the steam. Now, take a deep breath and inhale that potpourri of sunflower, peppermint, hibiscus and other seasonal florals.
Fig + Yarrow, summer herbal stream, $22.00, available at Fig + Yarrow.
Trust Fund Beauty: Nail Polish Remover
Call us crazy, but anything capable of dissolving superglue is probably not so great to put anywhere near our skin, nails, and cuticles. Acetone may be valuable for its glitter-removing properties, but it's way too harsh for regular use (plus, it reeks). For a non-toxic, non-flammable, plant-based version that doesn't smell like a laboratory, check out Trust Fund Beauty's nail polish remover, complete with certified organic essential oils and a nice minty smell. Bonus points: All of the wares from this indie beauty company are non-toxic and cruelty-free.
Trust Fund Beauty, nail polish remover, $22.00, available at Trust Fund Beauty.
Hurraw! Moon Balm
With beeswax practically omnipresent in lip products, most mainstream-brand balms are off-limits to vegans. But thanks to this essential-oil-packed version, we can kiss chapped lips goodbye. Hurraw!, a cult fave among natural beauty lovers, eschews beeswax in favor of plant-derived candella wax, and packs a slew of moisturizing superpowers like argan oil, avocado oil, and rosehip seed oil. Slather it on at night and let the blue chamomile lull you into serious beauty sleep. PS: In addition to the beloved Moon Balm, the brand has a roster of flavors that'd put Lipsmackers to shame. Root beer or chai spice, anyone?
Hurraw!, moon balm, $4.29, available at Hurraw Balm.
White & Elm Spirulina Mask
Antioxidant-packed spirulina is typically something we'd put in a green smoothie when we're in the height of a health kick. Leave it to the natural beauty experts at White & Elm to put it in our beauty cabinets, too. Their mask is stuffed to the brim with superfoods for the skin: vitamin-packed alfalfa, anti-inflammatory comfrey root, soothing echinacea, and more, all mixed up with French green clay to draw the bad stuff out.
White & Elm, spirulina mask, $32.00, available at White & Elm.
Schmidt's Lavender & Sage Deodorant
Okay, so some people might still be a little leery of "natural deodorant," but this stuff? Ask its legions of fans: It works. Plus, with the unsavory allegations about potential health risks derived from aluminum-based antiperspirants, it can't hurt to switch it up. This botanical-scented stick combines lavender and sage, but their other formulas are equally pleasant (cedar and juniper, yes please)—and way better than those drugstore options that reek of baby powder or "shower fresh" (whatever that means).
Schmidt's, lavender & sage deodorant, $9.00, available at Schmidt's.
Root Science Youth Serum
We'll admit that "youth serum" sounds a little like something one might find in a sci-fi flick or a fantasy novel. But, while this stuff might not make you go full Benjamin Button, it does do a powerhouse job at nourishing your skin, thanks to workhorse ingredients like sea buckthorn extract (for acne) and prickly pear seed oil (for hydration and skin tone). Better yet, Root Science's products are all preservative-free and packaged in dark glass for a longer shelf life.
Root Science, youth serum, $80.00, available Root Science.
Captain Blankenship Mermaid Hair Oil
Know who probably didn't have access to keratin treatments? Ariel, that's who. And yet, that babe had one hell of a majestic mane. Achieve mermaid hair (minus the animal products that commonly appear in hair products) with Captain Blankenship's Mermaid Hair Oil, a rich combo of organic argan oil, kukui nut oil, and essential oils that smell heavenly (think rosemary, cedar wood, and lemongrass). Use it to whip frizzy hair into shape and give locks a little added luster.
Captain Blankenship, mermaid hair oil, $24.00, available at Captain Blankenship.
Province Apothecary Regenerating + Stimulating Exfoliator
We've been taught from the get-go that everyone has a skin "type," and that's kind of what we're stuck with 'til the end of time. But thanks to seasonal changes, aging, hormones, environmental factors, and tons of other variables, our skin's always changing. That's why we love the idea of Province Apothecary's exfoliator: the dry formula can be mixed with the medium of your choice, based on what your skin needs at that moment. (Plus, the all-natural, biodegradable blend of oat flour, flax seed, green tea leaves, and violet flowers is way more soothing than harsh scrubs, and way more Earth-friendly than plastic micro-beads.) Feeling flaky? Combine the formula with oil or cream. Summer got you looking like an oil slick? Blend it with yogurt instead. Even honey makes an excellent carrier for this stuff, especially if you're riding out an acne breakout. Just try not to lick it off your face as you're scrubbing.
Province Apothecary, regenerating + stimulating exfoliator, $38.00, available at Province Apothecary.
100% Pure Maracuja Mascara
This all-natural brand's fruit-pigmented mascara is already a cult fave—so when they launched a beeswax-free version this month, vegan beauty buffs were pretty much instantly over the moon. 100% Pure's Maracuja Mascara volumizes lashes while conditioning them with maracuja oil (also known as passion fruit oil), plus other nourishing goodies like green tea extract, Vitamin E, aloe juice, and herbs. With color derived from berry extracts, cocoa, and black tea in place of artificial dyes, it's about as natural as mascara can get. This California-based brand extends that all-natural promise to their operations, too, running their offices on solar energy, ensuring all packaging is made from recycled materials, and even maintaining philanthropic efforts with several animal charities. That kind of beauty is definitely more than skin-deep.
100% Pure, maracuja mascara, $25.00, available at 100% Pure.
Elixery Lipsticks
Elixery prides itself on compounding all of their lipstick formulas from scratch, by hand in their apothecary-style lab, where no animal-derived materials (or ingredients from suppliers who test on animals) are allowed to cross the threshold. The result: vegan-friendly lipstick in covetable hues that rival the likes of NARS, in our humble opinion. (Just check out shades "Lakshmi" or "Love Potion" to see what we mean.)
Elixery, lipstick, $22.00, available at Elixery.
Meow Meow Tweet Herbal Insect Repellent
Is bugspray a beauty product? Maybe not, but it is summer, and even the most animal-loving vegan would agree that mosquitos can be kind of a buzzkill. (Plus, those bites are pretty unsightly, especially during short-shorts season.) But dousing ourselves in DEET-based bugspray sometimes seems almost as bad for us as it is for the bugs, and can even cause allergic reactions when used in high concentration. Meow Meow Tweet's all-natural organic version skips the toxic chemicals in favor of natural herbal repellents, like citronella, rosemary, lavender, and cedar essential oils. Mist generously on your skin and clothing without fear of inhaling nasty fumes.
Meow Meow Tweet, herbal insect repellant, $18.00, available at Meow Meow Tweet.
Little Barn Apothecary: Charcoal + Aloe Face CleanserThis Southern small-batch skin-care line hasn't been around for very long, but thanks to a minimalist approach and a focus on wholesome, from-scratch goodness, Little Barn Apothecary already has quite a loyal fan base. Founders Joshua and Brad source their ingredients from area farmers' markets and, in some cases, their own backyard. This cleanser is one of their stars. Powered by breakout-battling charcoal and healing aloe, the formula is as close to a one-stop shop as you can get: It smooths skin, wipes away oily residue, helps to prevent acne flare-ups, and hydrates.
Little Barn Apothecary, charcoal + aloe face cleanser, $22, available at Little Barn Apothecary