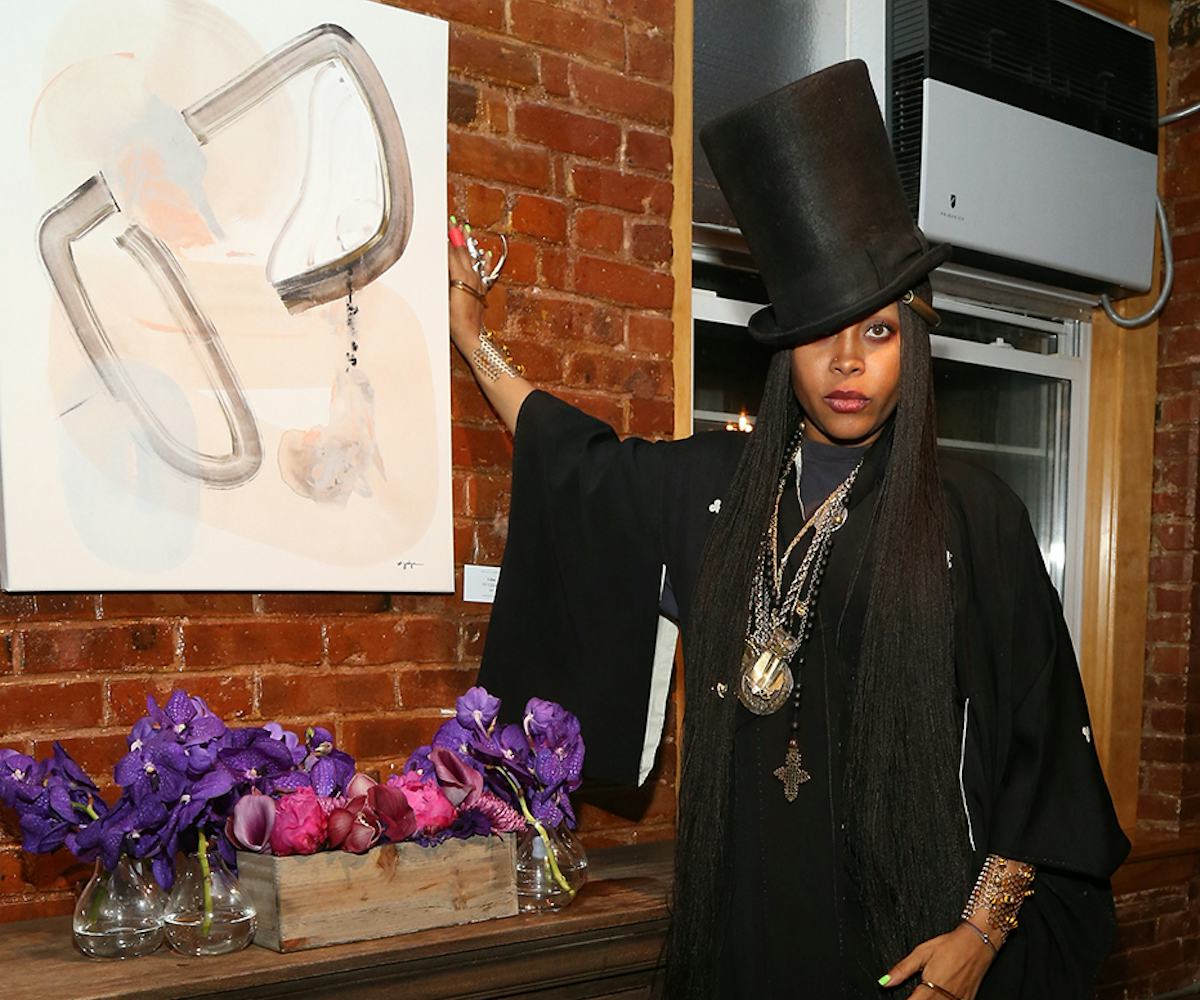 Photo via Getty Images for BET
Celebrating Soul with Erykah Badu
Afro-vegan soul food dinner with the queen herself
What do you do when you receive an invitation to an intimate dinner with Erykah Badu? If you're me you make a sound that you didn't know you could, something between a shriek and a squeal, and consider yourself blessed beyond belief. Then, confirm your attendance, immediately.
The invitation described the event as an Afro-Vegan Soul Food Dinner, celebrating Erykah's role as host and executive producer of BET's 2016 Soul Train Awards, and promised an intimate dinner of only 25. It also noted that all attending were asked to do so in kimono attire, and should be prepared to take our shoes off. As the shock of realizing that "oh my goddess I'm going to have dinner with Erykah Badu" started to settle a little, it was immediately replaced with panic over what to wear. Not only did I not own a kimono, if I did own one I doubted it would be fit to meet soul royalty in. Thankfully the beautiful team at Studio 189 came to my rescue, and dressed me impeccably.
Every day leading up to the event was a mixture of excitement and panic. On one hand I was being provided a pretty epic opportunity to meet one of my heroes. I remember the day that MTV debuted "On & On," and being introduced to Erykah Badu at that wicked intersection of youth and adolescence, when I was already being bullied for being "brown and weird," and needed a different version of black womanhood to look up to. I will never forget what that voice, those head wraps, and that style meant to me then, yes, but also in the years to come as I followed her evolution as an artist and public figure. She was unlike anyone I'd seen at that time, and projected a defiant wisdom about the world and its views of blackness and black women, especially. Her persistence and devotion to remaining uniquely herself as time went on gave me permission to be unlike anyone else too. Suffice to say, I was just a little nervous to meet Badu, mostly because I was afraid I was going to do something ridiculous, like extend my hand to introduce myself to her, and throw up on her shoes instead.
I showed up to The Kitchen Table with an open heart and mind, unsure of what to expect from this non-traditional press experience but excited for good food and even better company. As a long-time vegan, the proposal of a soul food dinner that I could actually participate in, created by afro-vegan chef Bryant Terry, was profoundly exciting. As I rode the elevator up to the event space, my social anxiety reached a fever pitch, but it vanished immediately when the door opened and I was greeted with joy, excitement, and an actual hug. I've grown accustomed to events that are more party than anything else, where loud music and drinks take precedence over experiencing any connection of actual depth with one's peers, and where I am one of few, if any, people of color present. Walking into a space that was warm (and I don't just mean the temperature), diverse, and filled with jazz and soul music at a volume whereby genuine inside-voice conversations could still occur was delightful, and seemingly exactly what Badu wanted the night to be about.
I settled down onto a stool and started introducing myself and inhaling appetizers, prepared by members of the Ghetto Gastro squad, all of which seemed to indicate that dinner was going to be out of this world. Half an hour later found me full of food and laughter, when someone from our newfound circle of friendship came over and whispered, "She's here." We all discreetly peeled ourselves from the couch and moved closer to the center of the room, just in time to witness Badu waft past in the illest hat, jewelry, and boots, while burning incense and making eye contact with each person she passed, offering the words, "Peace, peace, peace." She settled onto the couch and talked with people who sat around, while curating a playlist on an iPad, as though she was just chillin' in her living room at a house party for her friends.
Eventually we were asked to take our seats at the table and Terrece Walker, of BET, welcomed us and shared that this was the third year (second in a row) that Badu would be hosting the Soul Train Awards, and that when asked how she wanted to celebrate that and her role as Executive Producer, this dinner was her response. Badu then stood and greeted us as "brothers and sisters." She noted what a special time this was for us as human beings on the planet, and said, "We're witnessing an evolution, right before us, where our skin is making a comeback. With a vengeance. Our hearts are making a comeback. Our spirits are making a comeback. And I see people in the streets, picketing and talking and making movements and… mattering because they're awake. They're now awake. And whatever happens next, we do it together. That's what's most important." She then thanked us all for coming and asked that we eat, drink, and talk with her, before giving the floor to her partner for the evening, our chef, Bryant Terry, who introduced himself and the members of the culinary team, before urging anyone with reservations around vegan cuisine to please stay open. He described his work with food as "a reclamation and celebration of the way Africans, Afro-Caribbeans, African-Americans have always eaten, before our food system had been industrialized," and reminded us that we, and our grandmothers, Big Mamas, and Mee Maws have "always eaten close to the land, made food from scratch, pickled,and preserved; these are our legacies."
What followed was a blur of gastrointestinal bliss and connection. Every item on the menu had an elevated name, like "Blessed" for the hors d'ouevres, "Sack Full of Dreams," for the purple potato soup, and "Come Into Knowledge" for the green tea tonic, a beverage that was met with exclamation from every one at the table, as the best tea drink any of us had experienced. Each dish was as vibrant as the one before, and suddenly we were at dessert and told it was time for games. Badu stood again, told us she wanted to have a kimono party because she thinks they're sexy, and she wanted us barefoot because it's also sexy… but it was too cold, and then introduced the games. The first was a remix of "I'm Grateful For" and involved drawing public figures names from her hat and expressing what we thought they were grateful for. Badu was cracking jokes the whole time and had us all laughing. I was the last to draw and felt the pressure, until I saw I'd drawn "Blac Chyna," and can say I still feel pretty proud of my response. The final game was a reinterpretation of "Fuck, Marry, Kill", called "Love, Peace, Soul", which asked us to share what our happiness was (love), something or someone that we could do without (peace), and what we thought the greatest thing about our self was (soul). Badu said that her happiness is "being able to perform, that it's her love and her therapy," that she could do without mosquitos, and that the best thing about her was that she is "a giver, of myself… and I give to others."
The dinner ended with an Oprah moment where we were told we all had a gift bag beneath our tables featuring, amongst other beautiful things, a copy of Terry's coveted book. We were given an opportunity to sit with Erykah for a quick photo and convo, (all I could get out was "may I hug you?" and "thank you" on repeat, oops!) before bundling up and out into the night. I stayed around and talked to a few of the new friends made, before making my own way. As I stood on the sidewalk outside waiting for my ride to arrive I reflected on the night. 15 minutes letter I decided my driver must be lost and prepared to cancel the ride when I heard the elevator to the street ding open. I turned around and who but the queen should glide out, with only a few members of her team. As they went across the street to determine which car was hers we stood alone, side by side. I turned and looked at her, smiled, and said "have a good night." She smiled back, nodded, and then blew me a little kiss before stepping down into the street and off into the night, leaving me behind, feeling, well, blessed beyond belief.
Catch Erykah Badu as she hosts the BET 2016 Soul Train Awards, airing tonight, Sunday, November 27, at 8pm EST/7pm CST
Congratulations, and thank you for sharing a little slice of soul, Erykah Badu style, with us.
Gia Peppers shows off her kimono attire.
The evening's wine was provided by Andre Mack, owner of Mouton Noir Wines, and was much appreciated!
Dana Oliver, beauty director of Yahoo Beauty, and Dee, photographer for Ebony Magazine, enjoying Bryant Terry's book Afro-Vegan.
Kéla Walker, of Kela's Kloset.
Oh don't mind me! I'm just inhaling the most mind-blowing vegan chili EVER, and making new friends.
Tina Vaden (right) with Sydney Scott, culture and entertainment writer for Essence.
The stage for the rest of the evening.
The Ghetto Gastro team working with Bryant Terry on one of many phenomenal dishes.
The dream team.
In awe over the carrots I just ingested (seriously how did they melt like that?), and excited for what's next.
BET's Terrece Walker, introducing the evening's games to the table.
Jaynelle St. Jean, founder of Pietisserie, flew all the way from Oakland to create these pies and we were all grateful she did.
My moment with Erykah Badu (where I cheesed like it was school picture day).
Latham Thomas with our chef. Compliments to both!
Blogstar Rae Holliday, enjoying the after dinner glow.
Reserv Concierge and Robert Avery, BET public relations.