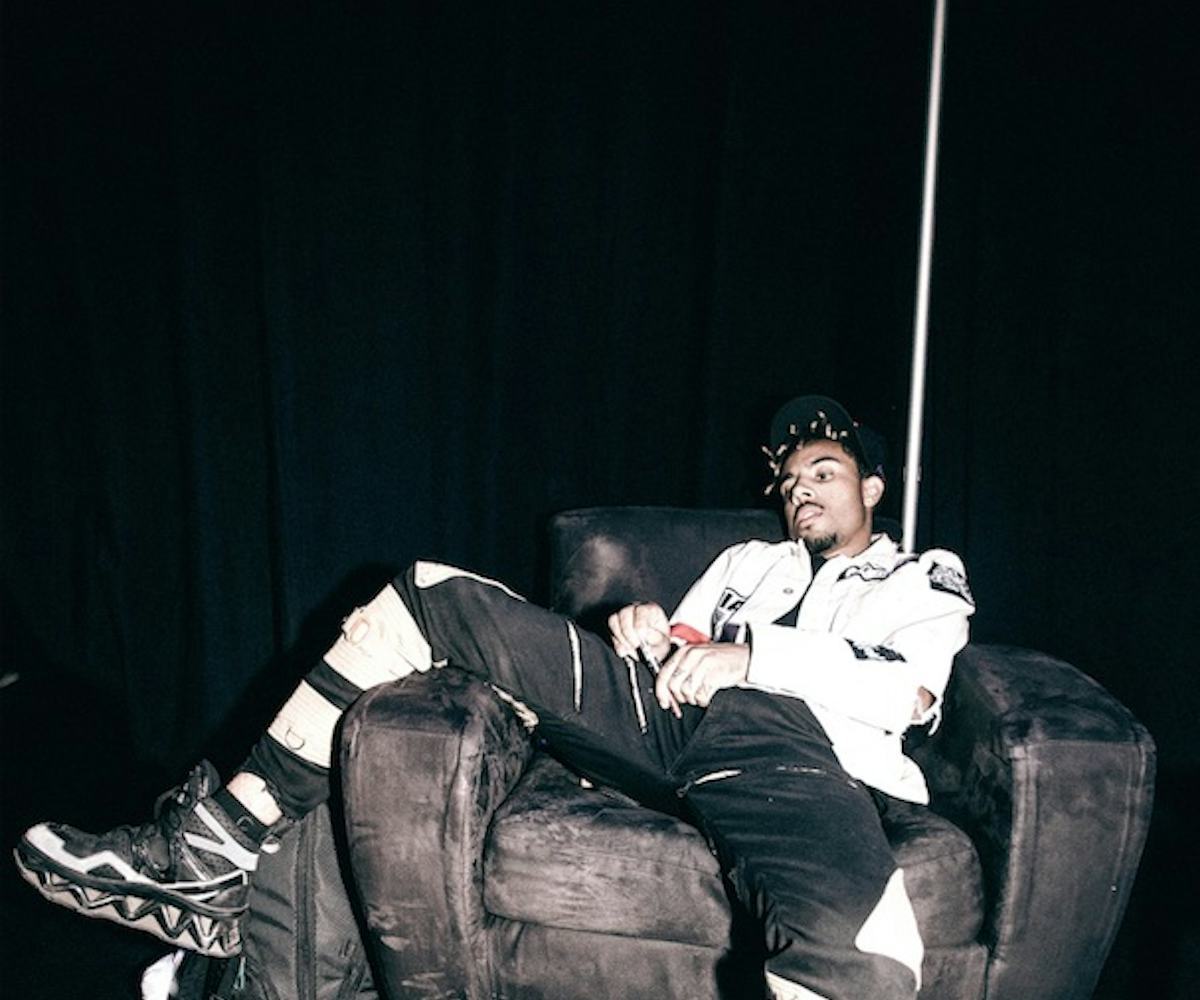 All photos taken by Jake Osmun at Made in America
Vic Mensa On Music Critics, Kanye West, And Near-Death Experiences
and an exclusive gallery from Made in America
Vic Mensa is blowing up. Since announcing his solo hip-hop career in 2013—after the breakup of his band Kids These Days—the Chicago native has been on a whirlwind rise, collaborating with some of the biggest names in music while refining a signature punkish R&B style. Part old soul and part restless antagonist, Mensa was a prominent staple of Chance the Rapper's critically acclaimed mixtape Acid Rap, but it wasn't until he joined Kanye West and Sia on the SNL stage to perform West's single "Wolves" that Mensa's profile began to skyrocket. He followed that up with the unstoppable single, "U Mad," which also featured West, an unbelievable cosign for an artist as relatively new as Mensa. Currently signed to Jay Z's Roc Nation, we called up Chicago's newest breakout star to discuss God, his near death experiences, and valuable lessons from Kanye West. 
How was Made in America? It looked like you were having a blast. 
Really dope. There was a huge crowd and I was on the main stage. The festival was well curated and really well put together. You can stream it online and check out my set. I think it went over really well. 
What goes through your head when performing?
I try to really harness the moment and that opportunity, and try to make people feel something.
You've been a Nirvana fan for a long time and you played "Smells Like a Teen Spirit" during the show. What are some of the secrets that go into performing a successful cover?
I just have fun with it. It's important to be honest and inject yourself, even if it's someone else's music. People can feel that. 
What have been some concepts and themes you personally have been grappling with that have started to emerge in your music?
There's so much stuff in all the music that I've made from my actual album, Traffic. One of the existing themes and concepts would be that I'm a black man in America witnessing brutality, system lies, and oppression. But I'm also a young man and traveling and being in the limelight and this affects my relationships, negatively and positively. It's about living a wild life and experiencing the ups and downs of drugs and women. Other concepts involve questioning the existence of God, the reality of religion, and also living in the jungle that is Chicago.
Do you believe in God?
I think, subconsciously, I do. I've had some crazy near death experiences. I'm not a religious person, but that kind of shit will make you believe in something, you know?
Elaborate. 
I fell off of a bridge [after being electrocuted] by fifteen thousand volts of electricity. I've talked about that one a lot of times. But, I got in a car crash one time where I totaled my mom's car going back from the studio at 7am. I fell asleep at the wheel and hit a light pole and the car spun out and went backwards across the road and crashed into a tree. When I got out, I caved in and I got on my hands and knees and started praying. I'm not very religious, but like I said, this kind of shit will make a man believe. 
What goes through your head during something as intense as that?
During both of those experiences, I had no clue what was physically happening. I just wondered if I was about to die, you know? I was thinking about how this split second could change my life forever. 
How do you define the concept of God through that spiritual understanding?
To me, the concept of God is acceptance and understanding that there is something bigger and more powerful than ourselves in this universe, however it manifests itself. But I don't tie myself to it. I'm pretty distant, you know? Any God that rebukes people that believe in another God can't be real to me. 
You've been working with Kanye, recently. How has that experience been going?
I've loved working with Kanye. I've always looked up to him, so you know being in a place where I can get his real opinion about the work that I do is amazing. 
What's a life lesson he's taught you? 
Kanye made sure that I recognize that people don't want to see me win. I'm always going to have opposition and people that want to hold me back and who want to watch me fail. I got to move forward with the strength to not be knocked off of my pivot. 
Who would be some examples of people that would try to do that? 
Oh, you know, just people who are trying to shoot me down: articles, journalists, a lot of people without a fix, a lot of Internet people who are always going to have some negative things to say about anything I do. Also, a lot of smiling people in real life who secretly wish they were in my place; or wish I was in their place. 
You recently tweeted "Lord, please guard me from hating ass journalists." Were you referring to anyone specifically?
I had just stumbled upon an album review for one of Cudi's albums, and I'm not Kid Cudi, but I was just reading his shit. I'm just reading the article on Cudi and how it compares him to Kanye; saying that this album isn't up to par, and I'm just like, "Fuck whoever sat down to write that." Taking their time to just shit on somebody's talent, when they themselves don't even have any talent. 
Why do you think there is so much animosity towards artists in the world?  
Criticism is part of the game. And it's something you got to live with. But when you're in a certain position all anybody can do in most people's situations is form an opinion. They can. They eat you. I trust myself and I'm not here to be pushed around at the mercy of other people's opinions. 
What do you want as your legacy? 
I want to stay true to Vic Mensa, you know? I want to disrupt the flow of things. I want to question and challenge authority and tradition and always bring a new perspective.