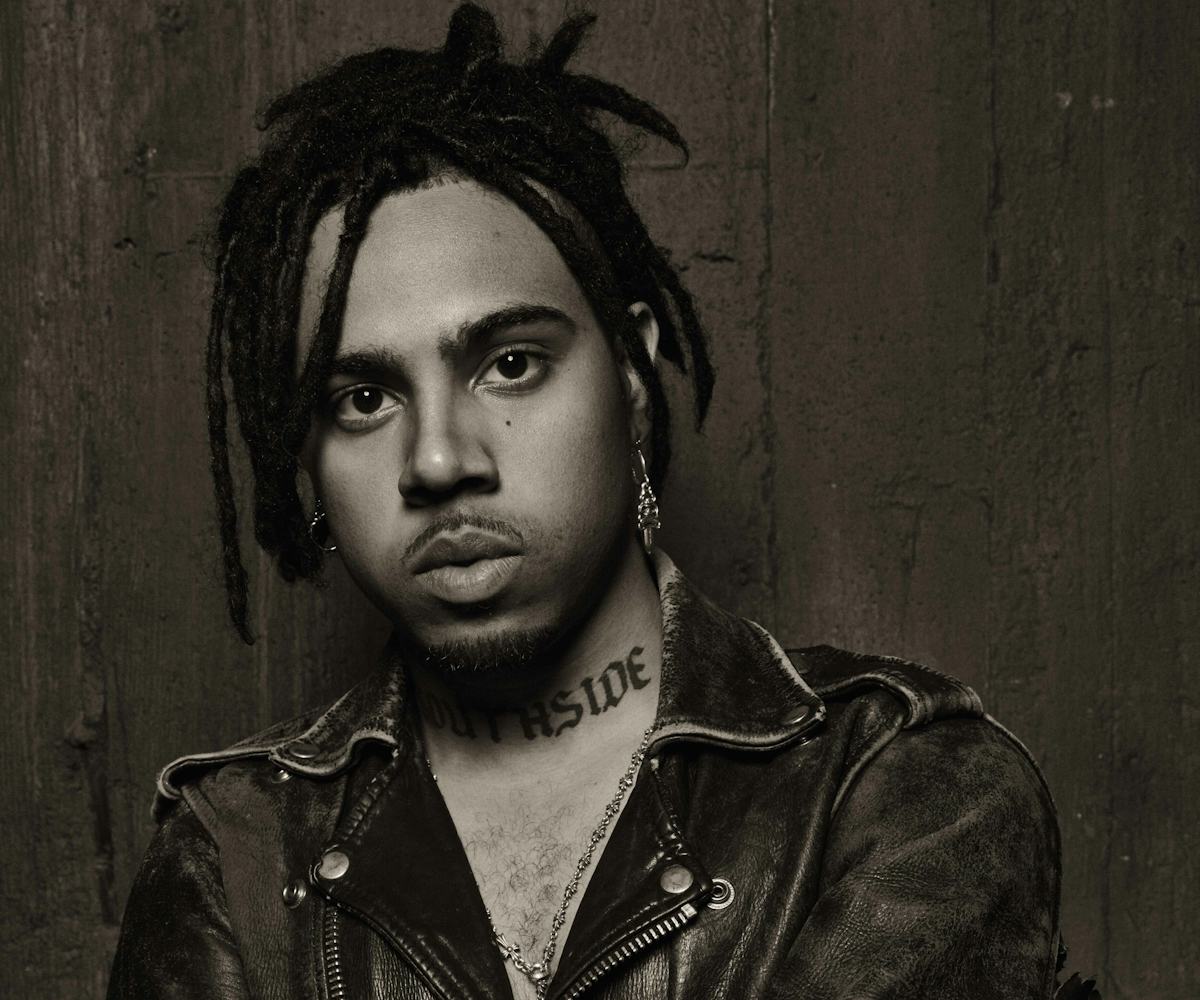 Photo by Frank Ockenfels III
Vic Mensa Represents Rap At A Crossroads
He can go any way he wants
Being the opener at a stadium is hard. People are still streaming in, and the empty space is much less conspicuous when it's the back of a small venue versus the seemingly endless empty seats of an arena. Still, that's Vic Mensa's task, priming a crowd of eager Brooklynites for their borough's favorite son, Jay Z, to take them on a 32-track trip down memory lane.
Vic is by far the most logical choice to be the opener for the 4:44 tour. He's signed to Jay's Roc Nation and put out his debut album, The Autobiography, through a joint venture with Capitol Records. Though he and Jay have never collaborated on a track together, they've appeared together publicly and often compliment each other.
Jay has praised Vic heavily in the past, calling him a "very special talent" and a "once in a lifetime artist." The young rapper describes himself as a "superfan of Hov's," and once said, "That's one of those relationships where I felt like I knew him before I met him, because I was so in depth with the music."
But beyond that, Vic is part of what seems like an increasingly small pool of rappers who care about artists like Jay Z with the same passion as the most die-hard fans in attendance at Barclays. As rap has moved into this new frontier of rapid rises to fame, unpublicized label deals, and emo-inspired intonation, it can feel like the remaining legacy acts are more or less making music in a completely different genre than the fresh crop of rhymers.
Like so much of our society, it seems like rap has bifurcated, and that the divide is harder to bridge than ever. Despite being just 24 years old and from one of the most exciting cities in hip-hop, Vic falls firmly into the establishment camp—or so it seems at a quick glance. After all, his career path has been as traditional as any young rapper; he released a couple mixtapes, then signed a major deal and worked for years on his debut, dropping a handful of warm-up projects to prime fans before then. He sought out veteran mentors in Kanye West and Jay Z and had his LP produced largely by No I.D., who was also the sonic architect behind 4:44. Compared to his friend and fellow Chicago star Chance the Rapper, not to mention the slew of teenage MCs who've taken rap by storm, Vic's approach paints him as an anomaly.
And yet sonically, Vic has planted his flag firmly in the new wave. He sings as much as he raps, channeling punk and emo in ways that aren't entirely different than a Lil Uzi Vert or a Travis Scott but is more embellished and conventionally structured. He takes the stage in a bright red leather outfit that looks like he could've done a late-night set at CBGB if it was still around and carries himself differently than a traditional rapper would on such a massive stage. Instead of constantly turning up and bouncing around, he sits cross-legged on the floor while singing the harrowing "Homewrecker," and grips the mic tenderly for the range-stretching, uniting "We Could Be Free" and the autobiographical "Wings," in which he delves deep into the cycle of addiction and depression he's been battling.
Speaking of that, the rapper has been incredibly candid about his mental health over the past few years. He's talked about addiction and even suicidal thoughts that's he's faced. And beyond his own personal struggle, he's also discussed the lack of options beyond medicating that exist in our society, going so far as to call drugs like Xanax and Percocet "murder weapon[s]" in an interview with Billboard.
At a time when rap's youth movement is looking critically at its drug use after a stretch of heavy prescription abuse that culminated in the tragic passing of Lil Peep in November, it's more important than ever for artists to be articulating the link between using these dangerous substances and the underlying, often undiagnosed issues of anxiety and depression that are often the catalyst for self-medication.
Vic is a deep thinker and an outspoken activist whose actions more than corroborate what he says on record and through social media. At times, Vic's incredibly considered approach can make his tracks feel labored, like "Down for Some Ignorance," one of the cuts from The Autobiography that he includes in his set. It samples a Saul Williams song of the same name and is meant to be both a turn-up anthem and commentary on the lack of opportunities for black youth from his part of Chicago. Played live, it loses some of that subtext and becomes a solid but unremarkable party cut. "Rollin' Like a Stoner" is in the same boat, bogged down by a clumsy hook, though he goes for broke performing both.
Vic punctuates the middle of his set with "U Mad," the West-featuring in-your-face anthem that first brought him into the consciousness of many casual fans. The thunderous synth horns make it one of his ideal records for a venue of this size, and he rips through it with a searing, snarling bravado. But one subtle revision illustrates how Vic's mentality has changed since the song dropped back in April 2015. The line "All praise to Allah, not Ramadan but these bitches fast" is now performed as "I need that bag fast," a decidedly less punchy punch line but one that shows his evolution into a more considerate writer.
Vic isn't ready to be the mouthpiece of his generation, he's still honing his identity as a solo artist while straddling a tricky line between the superstars he reveres and the emotive, gritty scene his recent music embodies. But by taking on the unique challenge of opening for a hip-hop legend and not being subsumed by the moment, he is showing that he has a shot to be an essential bridge between two radically different branches of rap and that he's unafraid to leverage that platform to broach weighty, deeply personal topics. Chance has been candid about his own battles with drugs, but he's gained his massive young audience through his embrace of radical positivity and has proudly bucked the label system. Vic's earnestness about his personal demons, as well as his decision to approach his career from a more traditional standpoint, present him with a unique opportunity to try and broaden the reach of major label rap at a time when many young artists are doing everything they can to seem untethered to the system.
During Jay Z's set, the MC shares some wisdom he gained from through his well-publicized personal struggles. "If you find yourself in an uncomfortable place don't run from the pain, run towards it," he says.
Vic may never have the plethora of hits that earns him a stadium headliner slot, but in his best moments as Jay's opener, he shows flashes of being able to speak to a crowd in this unique environment as candidly as Jay would, but in a style that could appeal to young impressionable fans who've long since written off Jay Z as a dinosaur.