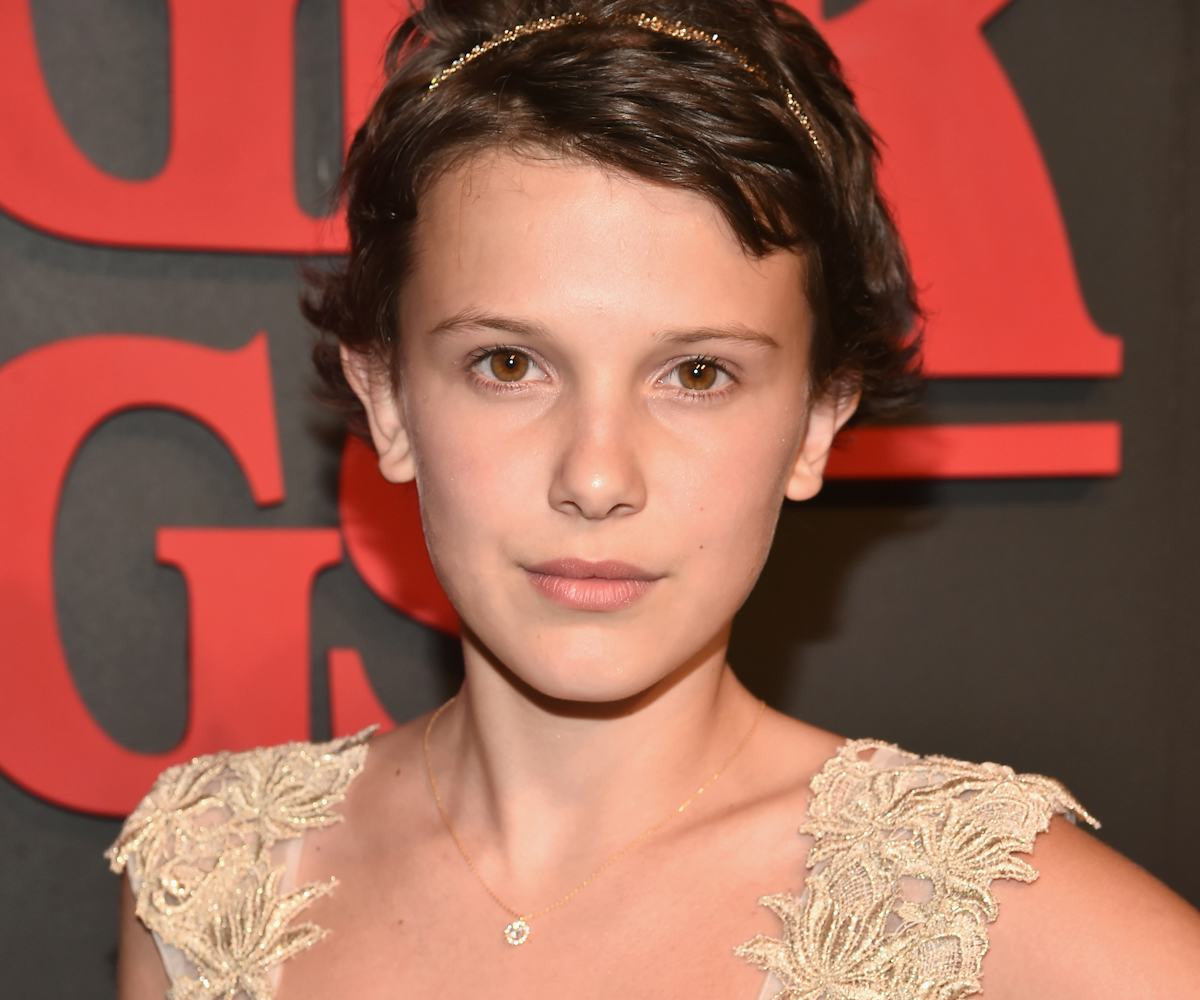 Photo by Alberto E. Rodriguez / Getty Images
Watch Millie Bobby Brown Get Her Head Shaved, Transform Into Eleven
The 'Stranger Things' Star Is Born
Milly Bobby Brown did us all a solid over the weekend by sharing a video of her getting her head shaved for her breakout role as Eleven on Stranger Things. "Here it is!!" she tweeted. "The video of me getting my head shaved for #StrangerThings. Enjoy!" The time-lapsed clip is set to Beyoncé's self-esteem anthem, "Pretty Hurts," lending a thick layer of drama to the proceedings. 
Brown seems pretty chill (or is in straight-up shock) throughout most of the process, except for when the last of her long locks is chopped off, at which point, she plunges her head into her hands in in disbelief. According to Entertainment Weekly, both Brown and her parents were nervous about the buzz cut, thinking it might cost the fledgling actress other roles. It was only when Stranger Things creators, Matt and Ross Duffer, showed them a photo of Charlize Theron as Furiosa in Mad Max: Fury Road, that their fears were assuaged. "We asked, 'Charlize looks totally badass, right?' Millie agreed; Charlize looked badass. And that was it: She agreed to buzz it all off." 
At the end of the clip, once her hair is all buzzed, you can tell Brown was feeling it as she looks into the camera and gives her best Eleven death stare. "When the day of the haircut finally arrived, Millie's mom brought out a camcorder, while her dad ran away with tears in his eyes, unable to watch," the Duffers said. "It was a pretty dramatic scene. But also very quick," they explained. "Within 10 minutes we had shaved it all off and slapped a fake '11' tattoo on Millie's wrist. Millie looked at herself in the mirror, gave her best Furiosa scream—and Eleven was born." 
Watch the clip below.