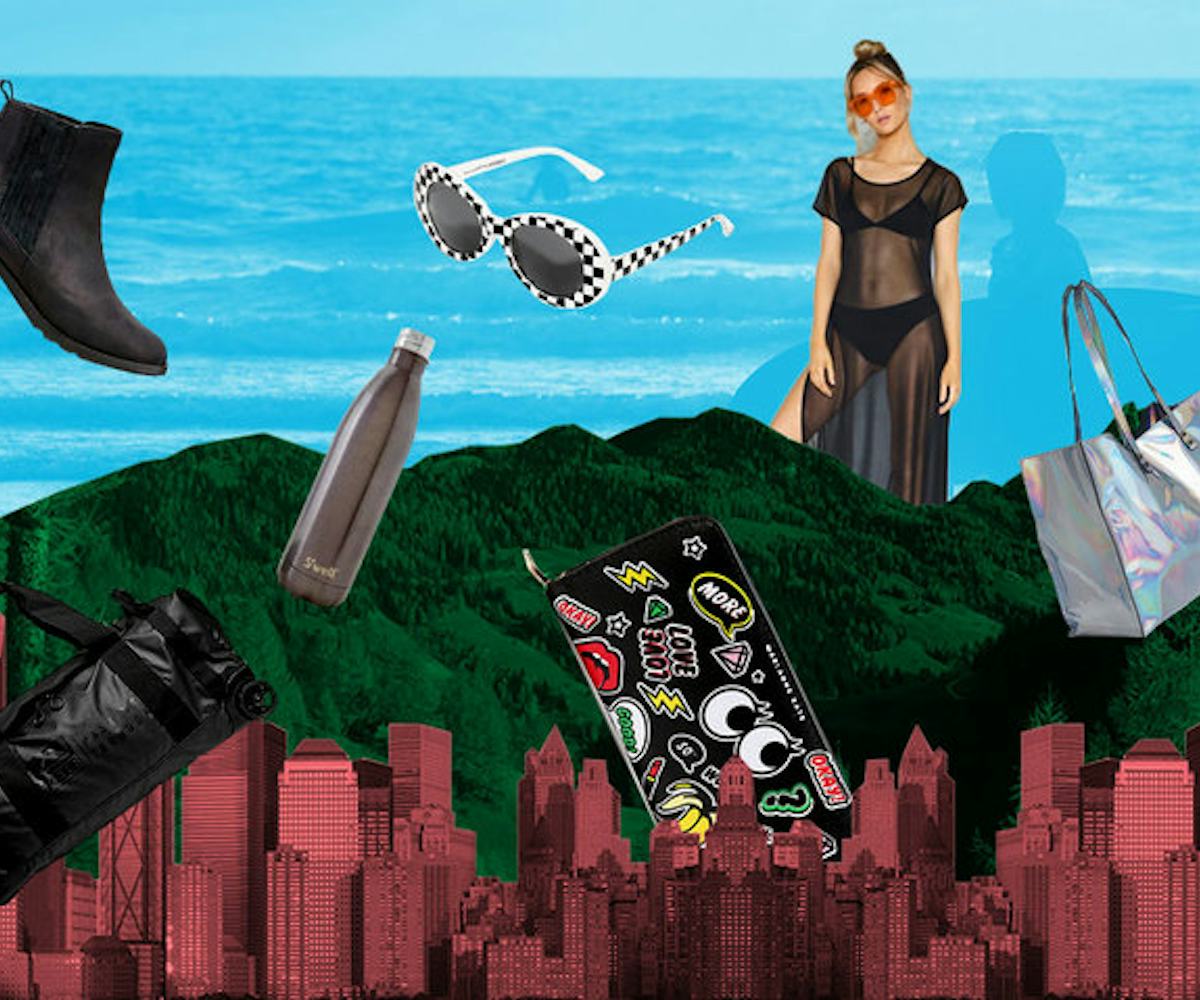 Collage photos via Getty Images; Illustrated by Liz Riccardi
Why You Should Take A Weekend Away For Yourself
And a few ideas of what to pack
There's a difference between staying in one weekend and doing nothing, versus taking time for yourself. (I've done enough of the former to know better.) Recently, though, an opportunity to get out of my apartment for a weekend presented itself, and I took it.
A handful of days spent in upstate New York, among the trees, mountains, and distressingly fresh air should do me good, I thought. 
TL;DR, it did, and it also made me realize a few things: The first being how lazy I truly am because planning for something like this did not take long, packing was a breeze, and all-in-all, the time spent getting to and from my destination (Scribner's Catskill Lodge, if you're wondering) wasn't that bad. The thought of me doing this more often crossed my mind multiple times. It felt damn relaxing to be outside my comfort zone, even if I had no idea where I truly was on a map and cell service was spotty. 
"The practice of taking a break from technology has begun picking up speed in 2010 after Dr. Todd Braver, a neuroscientist and neuropsychologist at Washington University, went into nature with four other colleagues to understand how the brain is overtaxed by heavy use of technology," Dr. Elizabeth Trattner, A.P. tells me. "Not so shocking, these scientists found that spending time outside in nature, without cell phones and laptop computers, can refresh the brain and also increase attention and focus." 
Sarah Madras, a mental health therapist and member of My Esteem Team, says that, for her, weekends away have "drastically improved [her] own connections and fulfillment with [herself] and others." Reconnecting with yourself affects how you feel at work, at home, and out and about with friends—and it can even help them. "Modeling the importance of self-care lets others know it is okay for them to take a long weekend away, too," she adds. 
But where does one begin? And how can you do it on the cheap? Taking time away for yourself understandably comes with a price tag, but in keeping a budget, and sticking to it, you can find something. Jacob Marek, founder and chief explorer at IntroverTravels, suggests finding destinations that are a few hours by plane (or any means of transportation). From there, he says not to plan too much. (The best-laid plans, right?) "I like to suggest a destination- or activity-specific location," Marek adds. "The more hotels, cities, and 'moving' one does, the more time spent transferring and less time actually doing anything." 
So, set some goals for yourself. What do you want to get out of this trip? Why are you going? From there, seek out activities that encourage unplugging, like hiking or a guided tour. (The app, Detour, is also a great way to explore a new city without paying for a human guide; it works right off your phone's GPS.) Bring a notebook, camera, and whatever it is you think you may need. (Chargers are, of course, necessary in case of emergency.) Then, get to exploring. The benefits are worth the expenditure. And, if you need help packing for said destination, say no more and look no further than below. Happy recharging.
Beach VibesGET. THAT. VITAMIN. D. Seriously, go find a beach, pack some books (and/or tabloids!), get yourself a special swimsuit, pack sunscreen, and relax. Like, really relax. Beyoncé says the ocean makes her feel "really small," in a good way. Now you know the answer to the What Would Beyoncé Do? movement when it comes to recharging.
Nasty Gal, Dark Hour Mesh Cover-Up, $40, available at Nasty Gal; Mishka, New Panic Reversible Bucket Hat, $36, available at Mishka NYC; Nasty Gal, Beach Tote in 'Ice Blue/Gunmetal,' $98, available at Bloomingdale's; Petals and Peacocks, Nevermind Sunglasses in 'Race Flag,' $20, available at NYLON Shop; Reef, Reef Voyage Slide in 'Black,' $70, available at Reef.
New City VibesCities may not be inherently relaxing, but exploring a new one on your own is mentally refreshing. (I did it this past May in San Francisco and have never felt more empowered.) Get yourself a little guide book, camera, make a Google Maps map of destinations, and find a balance between being touristy and living like a local. Oh, and don't be afraid to eat alone. It's actually one of the best ways to eat.
Make Me Chic, Cute Eye Print Zipper Wallet in 'Black,' $16, available at Make Me Chic; Unique Vintage, Black & White Bow Ankle Sock, $8, available at Unique Vintage; mophie, powerstation plus, $79.95, available at mophie; Kill Star, Polly Woven Shirt-Dress, $90, available at Doll's Kill; Kenzo, Mini Tiger Backpack, $185, available at MyTheresa; Reef, Walled Low in 'Black/Black,' $52, available at Reef.
Mountain Escape VibesAfter a day's worth of hiking, cozy up in a lodge (or campsite!) in warm knits and durable boots that definitely function on and off the road. A solid water bottle is as essential as the bag you bring, too; so make sure both are big and can take a beating. No cell service suddenly sounds so... comforting.
BDG, Chunky Turtleneck Sweater in 'Black Multi,' $69, available at Urban Outfitters; Barbour, Ursula Cable-Knit Socks, $17.78, available at Harrod's; S'well, 25oz Water Bottle in 'Smokey Eye,' $45, available at S'Well Bottle; ASOS, City Maxi Column Dress with Extreme Racer Front, $35, available at ASOS; Reef, Voyage Boot LE in 'Black/Black,' $145, available at Reef; Reef, Adventure Duffle in 'Black,' $140, available at Reef.