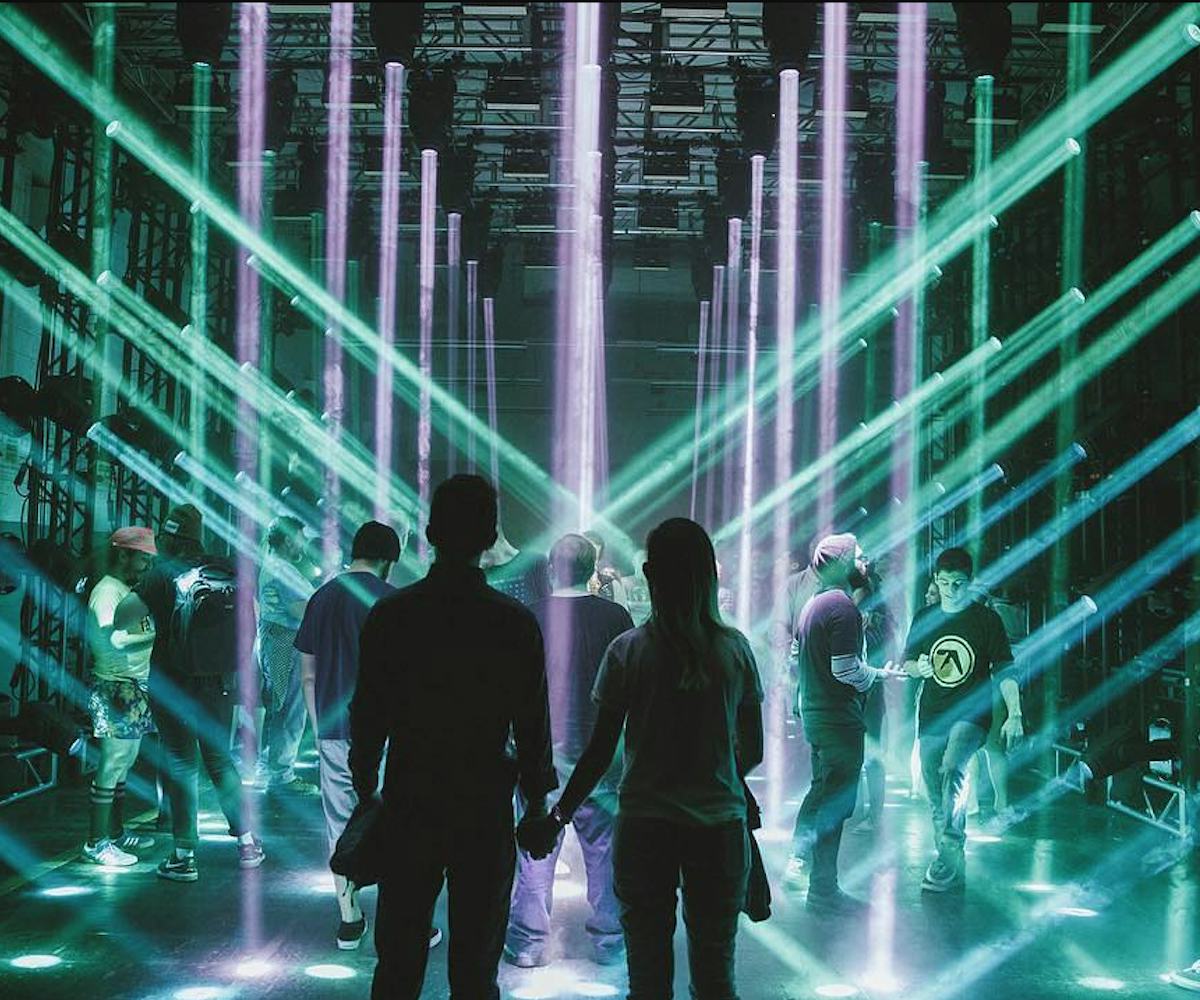 Photo by Pooneh Ghana/via @dayfornightfest
What To Expect At Houston's Day For Night Fest, After Hurricane Harvey
"I deeply believe that meaningful artwork that is not made for an art crowd is possible"
"One of the main things [Hurricane] Harvey, beyond destruction, [has done] is being people together," Alex Czetwertynski, the co-founder and curator of Houston's Day For Night festival, tells us. "The idea that even if Houston is vulnerable on the physical side, it is extremely strong on the human side, and this human connection is what the festival is all about."
Beginning tomorrow, the immersive art and music festival takes over Houston's PostHTX for the third year in a row. It's a festival one really has to see and be in to understand. Where other festivals say they feature art, Day For Night is made of it. Between dizzying light installations and extraordinary life-size sculptures, Day For Night puts the art and artists on the same level as its music performers. This year's lineup boasts Solange, Cardi B, St. Vincent, Nine Inch Nails, Cashmere Cat, and Tyler, The Creator—a who's who of the coolest people working in the field now.
"There is purposefully no theme," Czetwertynski tells me. This is due in part because the "new media" landscape is all over the place. "Few people understand that it encompasses a variety of practices and approaches, and often relegate it to some kind of low-level experimentation with the latest technology." That is, of course, not the case. It's an ever-evolving beast of a field, forced to adapt with the swiftly changing technology industry. Czetwertynski's goal is to highlight everyone, from young artists and specialists to established icons. LGBTQIA advocate Chelsea Manning is slated to appear, too.
Czetwertynski deliberately chooses to hold Day For Night outside of the usual festival circuit scene because the goal is to be "a completely different animal." Festivals, as he sees it, are mostly "a somewhat antiquated concept, because they have failed to renew themselves." Day For Night exists as a foil, a haven where music, art, and technology truly meet. And as such, it becomes a place to get lost in for a minute. "You don't need to be ironic, referential, or conceptual to create work that is both relevant and universal."