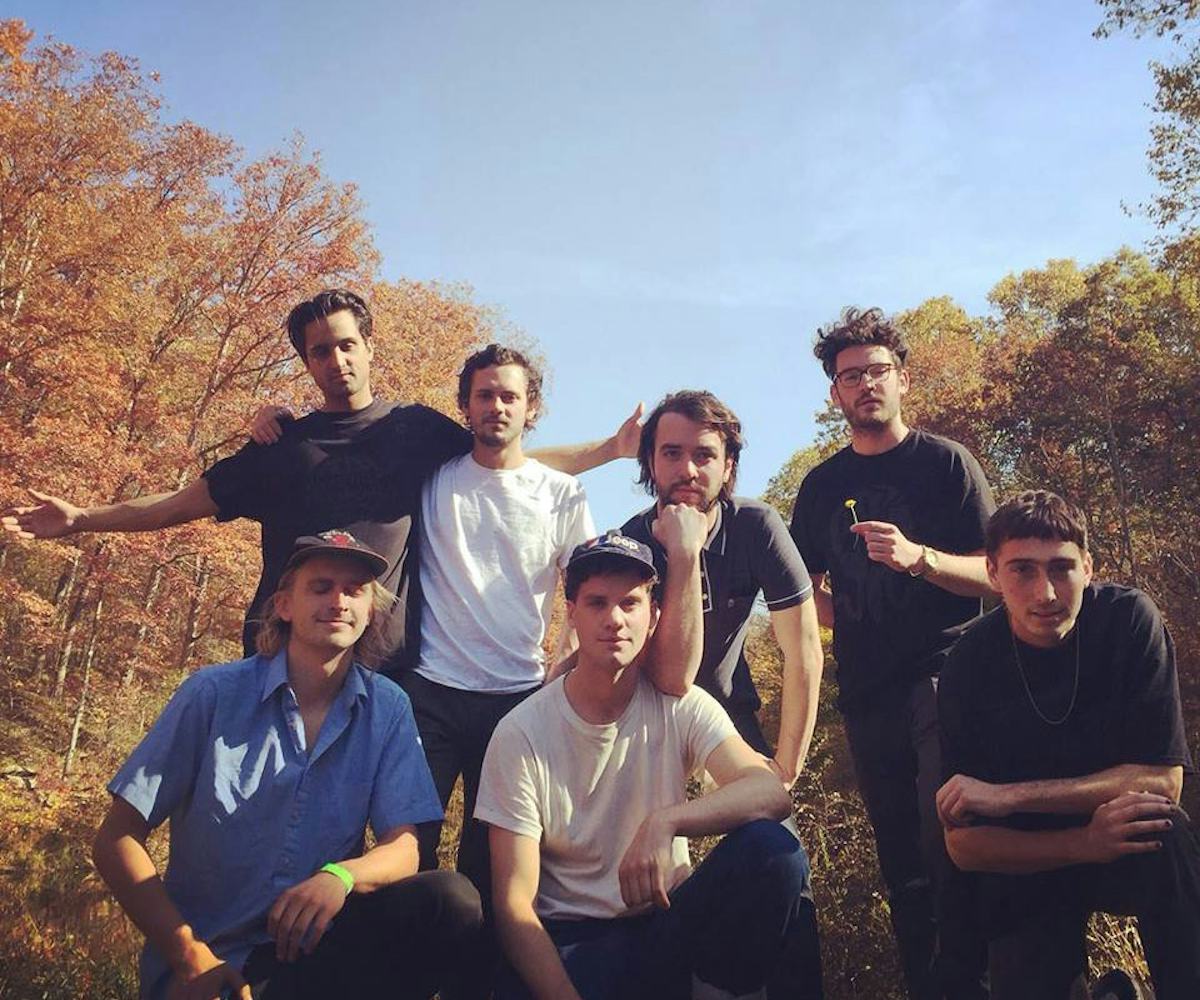 Photo courtesy of Whitney
Band Crush: Whitney Is Bringing Country Soul To The Windy City
music to breakup and make up to
You probably haven't heard of Whitney yet, but chances are you're familiar with Smith Westerns and Unknown Mortal Orchestra. In the wake of one of the indie-rock bands parting ways, a few of the former members went ahead and created a brand-new band. As Whitney, they're all starting from scratch with a fresh sound that is best described as country soul. The seven-piece Chicago-based band consists of Julien Ehrlich (lead vocals/drums), Will Miller (horns), Malcolm Brown (keys), Max Kakacek (lead guitar), Ziyad Asrar (rhythm guitar), Josiah Marshall (bass), and Charles Glanders (sound). 
Back in May, Whitney quietly released a charming single called "No Matter Where We Go" on YouTube via Lead Riders. It's a groovy tune that immediately puts a smile on your face and kick-starts your feet to tap uncontrollably. Nothing else has yet to be revealed by Whitney, but we're expecting promising things in the new year. We recently chatted with Ehrlich via email before the band's upcoming show at Baby's All Right in Brooklyn, NY to learn more about what Whitney has in store for 2016. 
How did the band come together?
The band basically just started by Max and I living in an apartment together. Smith Westerns had broken up and we were working on separate projects that weren't working very well. Then Max bought a tape machine and for two straight mornings, we woke up and wrote songs to try and figure out how to use it. Those were the first two Whit songs. 
How is it working with such a large portion of your friends?  What's the best part?
It feels really really good at the moment. We're all each other's best friends and even when we're not on tour, we're hanging out almost every night in Chicago. It's shaping up to be a busy 2016, so we'll probably have the ups and downs that come along with lots of consecutive touring, but we all have so much love and respect for each other. We're all family.
What sparked your interest in country music?
Let me preface this answer by saying the only country music we've ever really fallen in love with is '60s and '70s singer-songwriter country. Guys like Jim Ford, Townes Van Zandt, or 
Nashville Skyline
era Bob Dylan. Modern country music is pretty awesome in the right setting, but that's not what we're going for with Whitney. With that being said, the thing we love about that genre of music is that country artists are honest in their songs and they know how to express loneliness in a very endearing way. Kind of cliché, but we were both going through breakups while we were writing the album, so it wasn't very hard to tap into some of those lonely feelings that we love in old country and folk music.
What's the story behind choosing the name "Whitney" for the band? 
Max and I were writing the record from the perspective of a sad, lonely songwriter named Whitney. Whitney lives alone, records a lot, drinks a lot, and lives in a world without Internet. He's really good at writing soulful country records, though, haha. 
What is "No Matter Where We Go" about?
When we realized that we had a lot of sad songs already written for the record, we took a focus on writing upbeat, sunnier songs. "No Matter Where We Go" was one of those. That song was initially influenced by Shania Twain also, haha... Shout out to Shania.
Can you share any details on your upcoming album that's planned for release in 2016?
We just signed our record deal yesterday, so I don't think they'd really like it if I announced the record today... But I just played it for a group of old friends that I hadn't seen in ages, and they wouldn't stop saying that it "made them feel some type of way."
This is a random one, but what is your opinion on fuccbois?
Hard for me to answer that as a guy in his early 20s on tour. I feel like my opinion is probably biased. All of our opinions are probably biased on this. However, I just came back from Thanksgiving with my family and was having these weird daydreams by their fireplace about settling down. It'll probably happen soon. <3
What do you enjoy doing most when you're alone?
When I'm alone I like singing and exercising.
What's your favorite thing on social media or about the Internet right now?
The Internet is cool for looking up facts that your friends don't believe you about, but social media is
sooo
addicting.