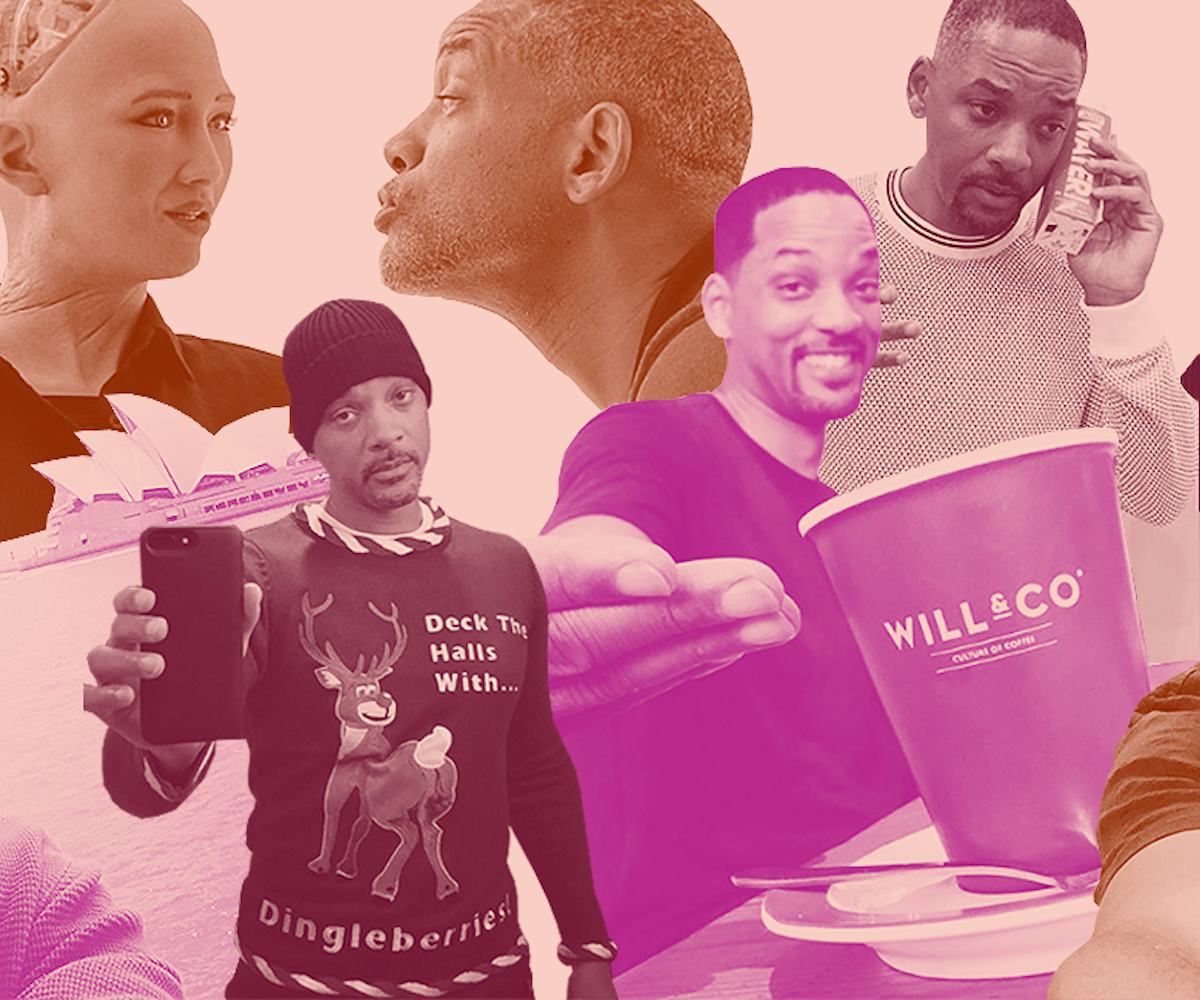 Why Will Smith Is Our Favorite Instagram Dad
Well, have you been following him recently?
Over the past few years, Instagram has turned into an amalgamation of sponsored posts, memes, ads, and people desperate for the chance to make money off sponsored posts. It's a symptom of late capitalism is what we're saying, and more of a place you need a break from versus a place you actually want to regularly visit. That is, until Will Smith joined and things became fun again.
He arrived on the platform with a duck-face selfie in December 2017 at the suggestion of Ellen DeGeneres. On the same day he joined, he posted seven different pictures in a row (something virtually unheard of). One included a vintage-looking photo of him as a baby with the cheeky caption: "Y'all ain't got no filters like this." It was clear from the beginning that Smith wasn't going to be a regular Instagram dad, he was going to be a cool one.
When the actor-slash-rapper first started out, his posts mostly consisted of selfies and throwback pictures—amateur time, if still endearing. It's when he discovered the beauty of videos that we all started paying attention. The secret, we've noticed, is that he doesn't stick to one lane. He has the DJ Khaled, inspirational life advice ones. The pranks and "let me embarrass and expose my family" ones (our personal favorite is when he remade Jaden's "Icon" video). Lately, his thing has been videos of him dancing across Colombia, but he's also discovered how to elevate his content with memes and editing. Today, he's evolved to the promotional phase of social media, shouting-out everything from his and Jaden's eco-friendly water company to DJ Questlove's new book. Within six short months, he managed to crack the Instagram code and charm his way into the feeds of 16 million users.
Perhaps the biggest draw to Smith's account is that his antics line up with how most of us always imagined him to be IRL. Smith said, in an Instagram video celebrating his 10 millionth follower, that he avoided social media "because in the past to be a movie star, you needed mystery and separation" from the audience in order to be successful. But times, they have a-changed, and it's often the celebrities who are their most unfiltered selves (see: Chrissy Teigen) who garner the most fans. When it comes to Smith, we grew up watching a teenage boy from West Philadelphia crack jokes, embarrass his family, and be endlessly charming on the small screen, and that's what we're getting now, decades later.
When asked what she thought about her husband's sudden Instagram fame, Jada Pinkett Smith said in an interview with Hip Hollywood that his hijinks are exactly what she's been dealing with for the last 23 years. "People wonder what he's like at home, I go, there you go," she said. "I call him the sacred clown. Because he has a way to make people laugh, but in a way, also open up to make people think as well." He's the same behind the camera as he is in front; wise, loving, and goofy to no end. He's the Fresh Prince of Instagram now, but he'll always hail from Bel-Air in our hearts.