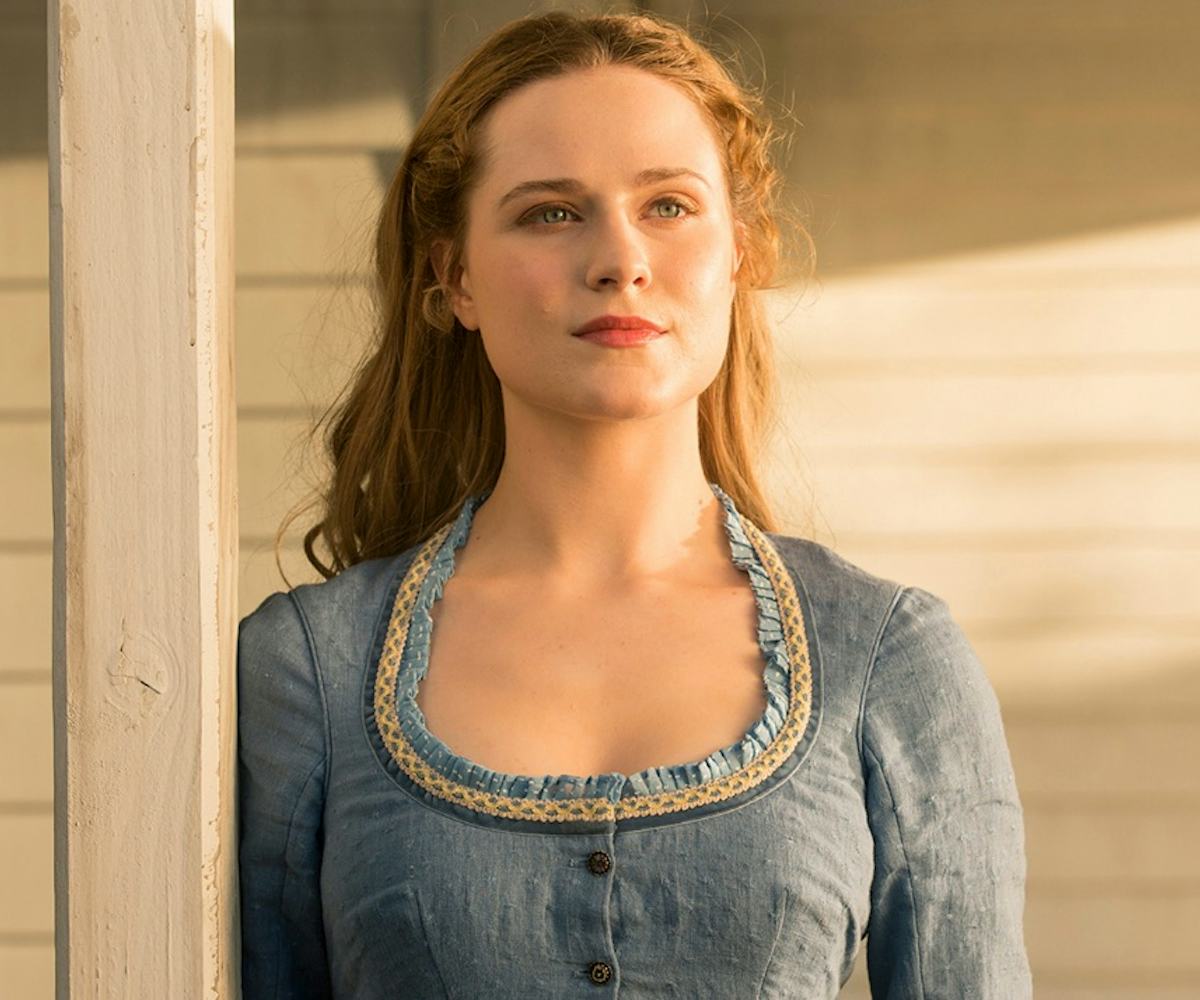 Photo courtesy of HBO
Can 'Westworld' Become The 'Game Of Thrones'-Style Hit HBO Needs It To Be?
The cowboys and robots saga premieres tonight
It's hard to believe, but at this very moment, HBO, the grandaddy of prestige television, only has one hour-long drama on the air. You might have heard of it—it's the one with the dragons. That show, Game of Thrones, also happens to be the most popular series in the network's history. But Game of Thrones has aired since 2011, and if the network is to believed, we only have two shortened seasons in Westeros left. That puts HBO, whose show The Sopranos basically pioneered the flagship hour-long drama, in the awkward position of not having one.
To make sure that doesn't happen, tonight HBO will premiere what it hopes will be its next runaway hit, the ultra ambitious and extremely high concept cowboys-and-robots epic, Westworld. The 10-episode first season is based on the 1973 Michael Crichton movie about a theme park where wealthy tourists go to live out their fantasies in an immersive old Western town populated by lifelike robots known as "hosts." They can befriend them, order a drink from them, sleep with them, and even brutally murder them—anything their heart desires. And as you find out early on, those desires range from the innocent to the monstrous.
J.J. Abrams, who serves as executive producer on the show, was looking to adapt Crichton's film for nearly two decades. Once he and HBO decided to reimagine it as a television series, Abrams persuaded Jonah Nolan and his wife Lisa Joy to serve as creators and showrunners of Westworld. (If the show becomes a Game of Thrones-esque sensation, their last names will become as synonymous as Benioff and Weiss.) Nolan has written movies like The Dark Knight and Interstellar (both directed by his brother Christopher), and is the creator and showrunner of the CBS techno-thriller Person of Interest, while Joy has been a writer on shows like Pushing Daisies and Burn Notice. Reluctant at first to commit to the marathon project, which they've admitted has been a titanic endeavor, the duo were enticed after Abrams tasked them with updating the campy source material for the modern age.
In your typical man-versus-machine sci-fi saga, it's often the humans who are in peril, hunted down by their own creations who've risen up against them, Terminator-style. But this new, 21st century edition Westworld, which HBO hopes will air for at least five seasons, demanded more nuance and depth. So Nolan and Joy had the brilliant idea of flipping the script and making the robots sympathetic, and their human creators the sinister antagonists. As the hosts begin to have mysterious flashbacks and the sparks of consciousness flicker inside of them, their creators begin to look more like captors.
When Game of Thrones premiered in 2011, its sprawling cast was made up of mostly unknown British actors. Kit Harrington and Maisie Williams were not yet household names. Westworld's cast however, comes built-in with stars, headlined by Anthony Hopkins as Dr. Robert Ford, the theme park's brilliant creator, Evan Rachel Wood, as Dolores Abernathy, the starry-eyed daughter of a rancher, and Ed Harris, as the malevolent and mysterious Man in Black. Other recognizable names like Thandie Newton and James Marsden fill out the rest of the roster, and help bolster HBO's chances of drawing in a large audience for the show's Sunday night premiere. Which, by the way, couldn't come at a better time.
In the last two years, a once promising drama slate at the network has evaporated. The seemingly teflon True Detective franchise imploded after the show's derided second season, and the expensive rock 'n' roll fantasy Vinyl crashed and burned after just one season. Even The Night Of, which ran over the summer and was successful, was only an eight-episode limited series. All the while, HBO's competitors, like Netflix, FX, and Amazon have been burnishing their prestige credentials by introducing acclaimed new shows like Fargo, Stranger Things, and Transparent.
But the chances of Westworld becoming a hit bode well for the network. Early reviews have been positive, with critics praising the show's intricate and detailed world building and its heady existentialist themes. Like Game of Thrones, the show takes big ideas on morality, agency, life, and death, and wraps them up in genre storytelling, in this case a fascinating Western and sci-fi mashup. And like Thrones, Westworld is not lacking in moments of brutal violence and questionable nudity. (Whether it faces the same Thrones-style backlash remains to be seen.) Speaking to the New York Times, HBO's president of programming was hesitant to place such weighty expecations on his network's considerable gamble. "Is it the next big HBO thing? I don't think it benefits any show to work under those expectations," he said. "It's getting into really interesting themes that are relevant today, so hopefully it catches on." 
We think it will.