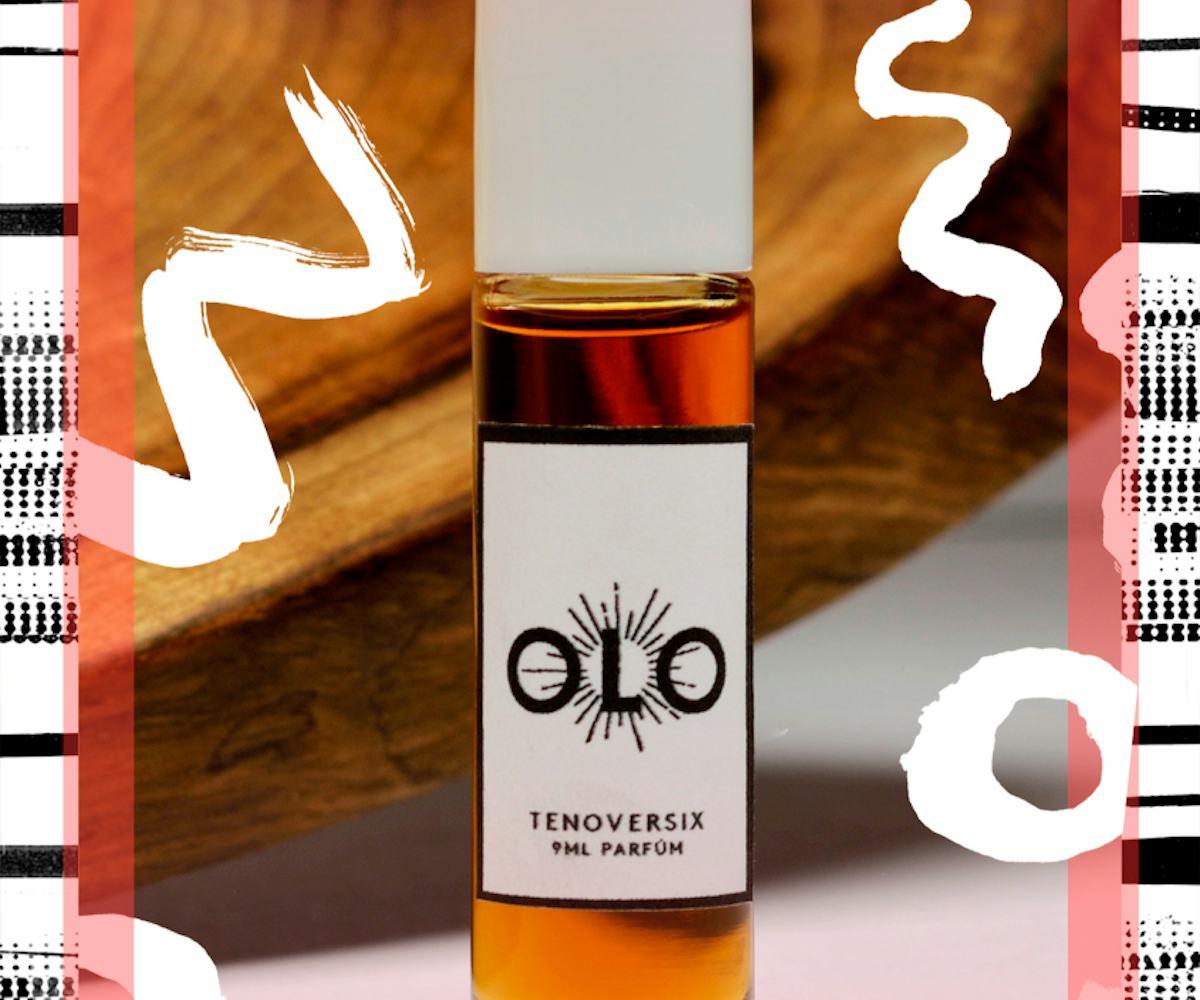 freebie friday: win a hand-blended fragrance
this is the ultimate winter scent.
When it comes to finding the perfect winter perfume, hunting down something that both warms the soul and smells like you can be quite the task. Our favorite thing to do is to hit up local perfumeries and get our own scents hand-blended just for us. But since you can't always get that luxury every season, we called upon our friend Heather Sielaff, the chief scent creator at OLO Fragrance in Portland, Oregon, to give us her official beauty tips for hunting down the perfect winter fragrance.
Find Heather's awesome tips below, see inside her Portland boutique-slash-studio in our gallery, and enter for your chance to win Olo x TenOverSix, the perfume created by Heather specifically for awesome LA shop TenOverSix! It smells both nature-inspired and warm, featuring scents of sage, incense, and amber, pairing perfectly with your heavy coats and fuzzy flannel.
Tip #1
Choose a fragrance that resonates with you. Wear something that not only smells good to you but makes you feel good as well. Winter months can be dreary so it's nice to wear something warm and uplifting.
Tip #2

Choose a scent that's heavier on the base notes. Lighter scents do not wear off of the skin as readily during winter months so select a fragrance that is a bit more dynamic. You want to emanate warmth during the cold months so go with heavier wood or rich spice notes.
Tip #3

Find your scent inspiration from multiple sources. What are your favorite artists and designers doing this season and how can you interpret that with fragrance?
Tip #4
Always try a perfume on before you buy it. Don't get too caught up in the holiday frenzy when buying a scent. Take your time. Fragrance blends evolve on the skin so it's a good idea to purchase samples and wear them for a day before you commit.
Tip #5
Choose unscented or complementary toiletries so that your perfume remains unadulterated. Wearing too many varied scented products can clash with your perfume and alter the intended fragrance notes.
Tip #6
Apply perfume after you shower and put on lotion. Cold weather can dry out your skin and perfume definitely lasts longer when your skin is well hydrated.
Tip #7
It's a good idea to have more than one fragrance in your collection to choose from. Our moods and situations change daily so it's nice to have options for accessorizing with perfume. You may want a lighter scent during the day and something more sensuous and alluring for a night out.
Tip #8

Wearing perfume on pulse points like the neck and wrists are always a good idea but there are other options! To increase longevity, applying fragrance along your hairline or even a small amount in your hair can make the scent linger a bit longer. Apply perfume to your torso if you want the scent to be more subtle, only those closest to you will be able to tell what you are wearing.
Enter below for your chance to win a 9ML Roller Ball Bottle of Olo's TenOverSix collab, or scoop up your own bottle right now!