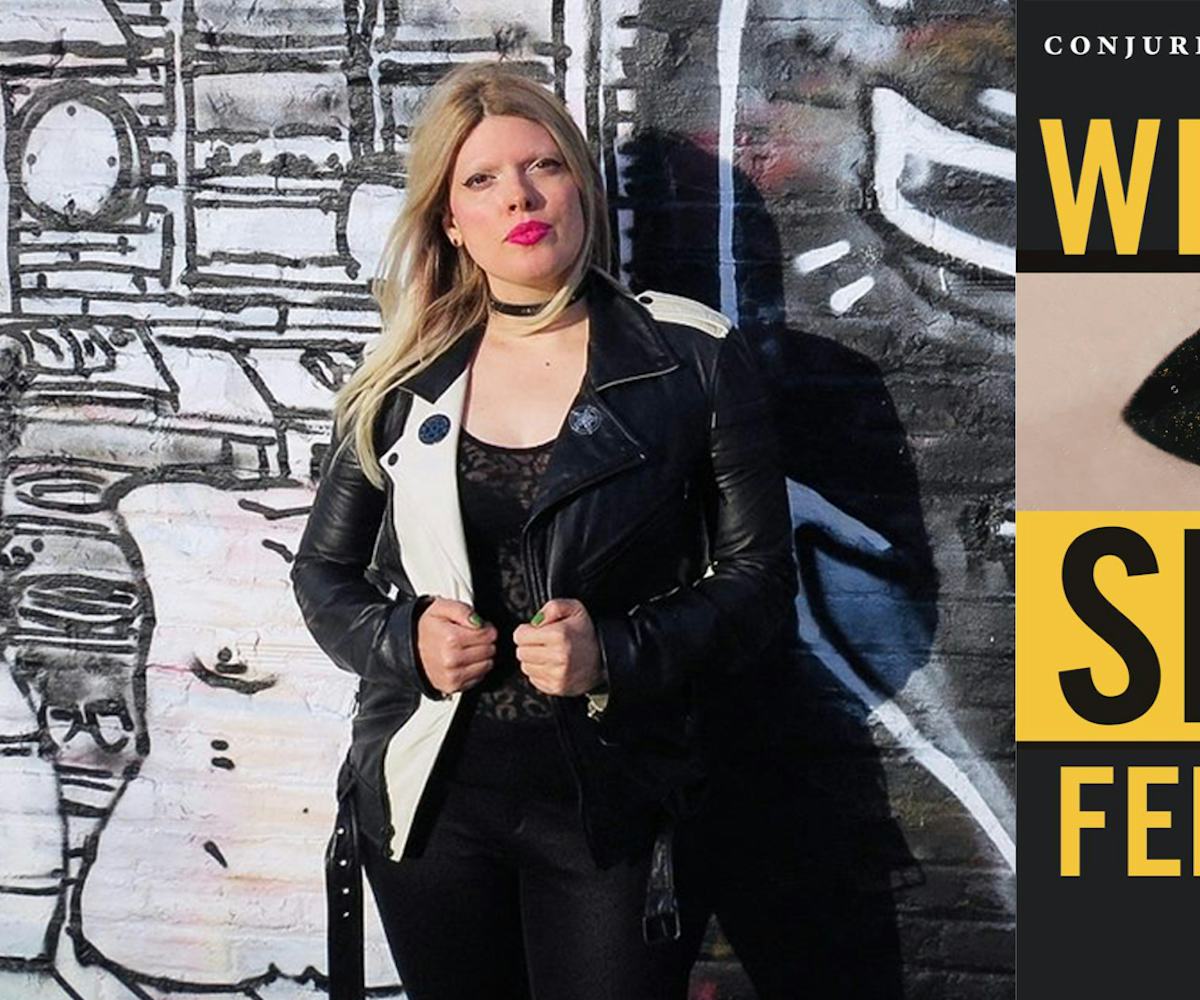 'Witches, Sluts, Feminists': Why Women Should Embrace These Words
How Kristen Sollee found power by celebrating her inner witch
While most little girls were idolizing Disney princesses like Ariel and Cinderella, Kristen Sollee was channeling her inner Maleficent. Enamored by the green-skinned villainess of Sleeping Beauty, Sollee's infatuation—which she considers her first childhood crush—quickly inspired her to imitate her witchy idol by donning a makeshift cape made of bedsheets and reciting Maleficent's iconic curse. "I was always drawn to the villain, the wicked queen, the crone," she explains. "I admired their raw emotion, their power and gravitas." From that point forward, Sollee's passion for witches only continued to grow.
By the time Sollee was a teenager, her icons became sex-positive and outspoken rockers like Lydia Lunch, Stevie Nicks, Jennifer Herrema, and Siouxsie Sioux. It wasn't merely their aesthetic or their music that caught her attention; it was their unapologetic rejection and disruption of patriarchal normativity. In one way or another, they identified as witches, sluts, or feminists, sometimes even as all three. They found agency and modes of resistance by embracing what mainstream culture demonized: the archetype of the witch. It wasn't long before Sollee, who comes from a matriarchal line of intuitives, began to embrace her own powers through sex magick, spellwork, and research.
"I consider myself more of a hedge witch," she explains, "I sort of fell into magic naturally." Although Sollee experimented on her own, it wasn't until her early 20s that she embraced ritual in a traditional way. After a friend, who was also a voodoo practitioner, took her to Enchantments in the East Village, her relationship to witchcraft quickly evolved. "It really opened my eyes to practicing witchcraft in a codified way outside of the rituals that I had created on my own," she recalls. One thing led to another, and by 2013, Sollee's exploration of witchcraft intersected with her reclamation of the word "slut," which eventually led to research that connected the two. "I wasn't consciously pursuing these connections, it all just sort of happened," she says. This illumination also coincided with a prolonged bout of chronic illness, which forced Sollee to fully embrace her spirituality and connect with a number of witch practitioners like Pam Grossman, the author of What Is A Witch and creator of WitchEmoji, who helped Sollee become the witch she is today. 
Soon after, Sollee founded Slutist, a sex-positive collective that examines how the misogynistic vilification of the slut and the witch has been weaponized throughout history in order to police and punish women and femmes, while also celebrating the way that reclaiming those identities can lead to empowerment and political progress. Through subversion, Slutist became a thriving community of creatives and activists who wholeheartedly embraced their feminine power.
In 2015, Slutist celebrated the inaugural Legacy of the Witch Festival, a day-long exaltation of the sex-positive witch featuring rituals, burlesque, palm readings, and musical performances by women and femmes who found solace and strength by embracing their inner witch. This year, Sollee and the Slutist collective celebrate the third annual Legacy of the Witch, which coincides with the release of Witches, Sluts, Feminists: Conjuring the Sex Positive. 
Part history, part compendium, part feminist grimoire, Sollee's book exalts the historical, spiritual, and political implications of its namesake while celebrating the power of language, spells, and creativity as viable methods for dismantling the patriarchy. From ancient Mesopotamia and Babylonia to colonial Salem and modern-day Bushwick, Witches, Sluts, Feminists pays homage to mystics who've unabashedly bucked tradition. While researching this continuum of women and femmes, Sollee discovered just how witchy feminists really are. "I knew about  W.I.T.C.H. from the 1960s and the occult revival around the same time, but I wasn't aware of how witchy the suffragettes were," Sollee says. "For example, Elizabeth Candy Stanton's Declaration of Sentiments was written on a table used for seances. It's fascinating." 
That fascination led to further research on the link between the history of feminism and witchcraft, which gave Sollee a sense of solace in the wake of the last presidential election. Through research and her own rituals, she was able to cope with Hillary Clinton's loss. Despite the grim horizon, Sollee kept writing, finding strength from the support of her fellow witches and an orb of fluorite. "Like many, I was not expecting that outcome," she explains. "I thought about giving up on this project, but I realized that it was so much bigger than me. It's about all the women and femmes around the world who've lived this history. It's about the human family, the collective. It's beyond the individual." 
For many, Witches, Sluts, Feminists is a call to arms or, better yet, a balm to ease the pain of our political distress that motivates us to forge ahead, resist, rebel, and reclaim. In an era where women and femmes still have to fight for body autonomy and equal rights, it isn't hard to see why the story of the witch is pertinent. "It's about rising above the odds and conquering or, at least, pushing back against patriarchal authority," says Sollee. "We're still demonizing women and femmes in so many facets, whether it be politically or sexually, so it's necessary and unifying."
In the final chapter of her book, Sollee meditates on the impact of this unity, giving readers an unshakable sense of possibility for the future, by reminding them of their inner strength and their capacity to cultivate change by bearing witness to their personal truths. "In the face of oppression, the witch reminds us what we can and have overcome, and illuminates the path to power beyond patriarchy," she writes. "As we undress the legacy of the witch to reveal her potent history, we may in the process uncover something marrow deep within ourselves." By delving into the complexities of the mother, the maiden, and the crone, we ourselves become the triple-faced goddess. We learn how to save ourselves.