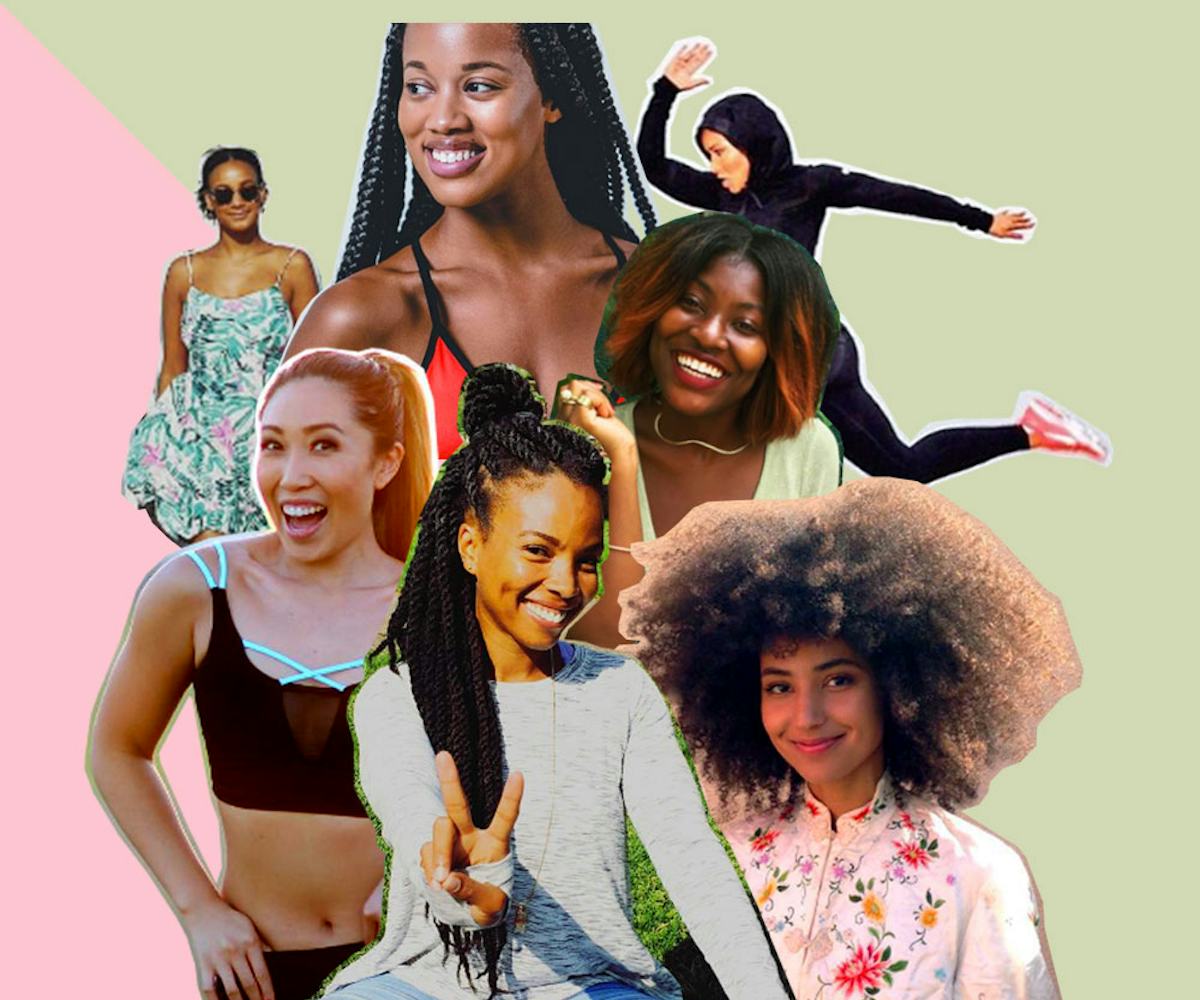 Photos via Instagram @sademims @rawcells @hellolaurenash @msjeanettejenkins @chelsealovesyoga @blogilates @ochristine @msjeanettejenkins/Instagram
15 Women Changing The Wellness Space
And making it a more diverse industry
Within the wonderful world of wellness, there is one glaring detail that can't be ignored: how lacking it is in color. But while the wellness industry often seems like one of the most white-washed spaces around, this isn't the entire reality of the situation.
Rather, there are actually a lot of women of color making wellness a better place, but they don't always get put in the forefront of the self-care narrative that currently exists online. This is part of the reason we wanted to give some of them a shout-out for all of their hard work; mostly, though, it's because they're just doing flat-out amazing things.
Here, then, are 15 women on our radar who are making wellness a new, improved, and more inclusive space for all. Let each of them inspire you to be the best version of yourself.
Sade & Samantha Mims, @sademims & @samsaa
These Brooklyn-based twin sisters are the co-founders of Edas Jewels and run the dope blog Brown Fox. With a focus on health, food, fashion, beauty, and lifestyle, you can have the best of all worlds thanks to these two. 
Natasha James, @rawcells
Natasha is the owner of an organic vegan treats company called Rawcells located in California. (We are already a huge fan of her brand.) She'll instantly make you want to be a healthier snacker. And we love to snack.
Lauren Ash, @hellolaurenash
As the founder and creative director of Black Girl In Om, this visionary is dedicated to the wellness and self-care for women of color. (No doubt that her audio meditations probably take your mind to the next level.) She is also the co-founder of the black joy-themed event company Party Noire in Chicago.
Jeanette Jenkins, @msjeanettejenkins
When she's not busy being a celebrity trainer, Jenkins runs her own fitness website. Kelly Rowland, Tracee Ellis Ross, and Tia Mowry are some of her clients, so you should consider following suit ASAP.
Dr. Chelsea Jackson Roberts, @chelsealovesyoga
This Atlanta-based yoga educator got started when she was a student at Spelman College. Roberts went on to earn her Ph.D. from the Division of Educational Studies at Emory University after receiving an MA in International Educational Development at Teacher's College of Columbia University. Now, this certified E-RYT and RCYT has come full circle with a Yoga, Literature & Art camp for teen girls at Spelman. She is currently in the process of developing a yoga and literacy curriculum for Atlanta area youth organizations.
Cassey Ho
You've definitely seen this award-winning fitness instructor and entrepreneur on her YouTube channel "Blogilates." If you're into learning choreography, her POP pilates program will provide the much-needed motivation to get fit. Her snack game is also super on point, so definitely don't sleep on this one.
Photo courtesy of http://www.blackvegansrock.com/
JoVanna Johnson-Cooke, @maitufoods
This Atlanta-based vegan is a chef and food justice activist. As the co-founder and owner of MaituFoods, Johnson-Cook also provides a vegan meal delivery service, as well as vegan nutrition education through the Awali Veganic Homestead Education Center. Additionally, she and her husband co-founded Grow Where You Are, "a grower-led collective committed to increasing local food sovereignty by assisting individuals and communities in creating sustainable, plant-based local food systems." 
Hannah Bronfman, @hannahbronfman
This digital influencer is the definition of fitspiration. Not only does she make us feel guilty when we're not working up a sweat in the gym, but she's also living her best nightlife as a DJ. We don't know how she manages to do it all.
Olivia Christine, @ochristine
This wellness and travel enthusiast keeps track of her routines on her blog. She'll make you want to set forth on your own adventures whether they be spiritual or physical in nature.
Wendy Lopez & Jessica Jones, @foodheavenshow
Through their web series Food Heaven Made Easy, these registered dietitians bring healthy cooking to your kitchen. In case you were worried, they both have Master's degrees in Nutrition Science. Not only are their plant-based recipes nutritious, but they are affordable, making them all the more delicious.
Lauren Nixon, @laurennnixon
This food and wellness educator likes to share juicy tips about the foods you're putting into your body. If her posts on Instagram are any indication, she's really into fruits and vegetables.  
Melody Jones, @melodyorganics
This blogger is essentially your virtual guide to juice, health, and motherhood. She believes that a balanced lifestyle should be accessible to all. If this busy bee can manage to do it all, so can you.
Francheska Medina, @heyfranhey
This social media personality is using her various platforms to encourage people to lead healthier lives. She inspires us to live a wholesome natural life on the regular with tips on everything from hair and beauty to nutrition and fitness. There's a reason we've been following her for such a long time.