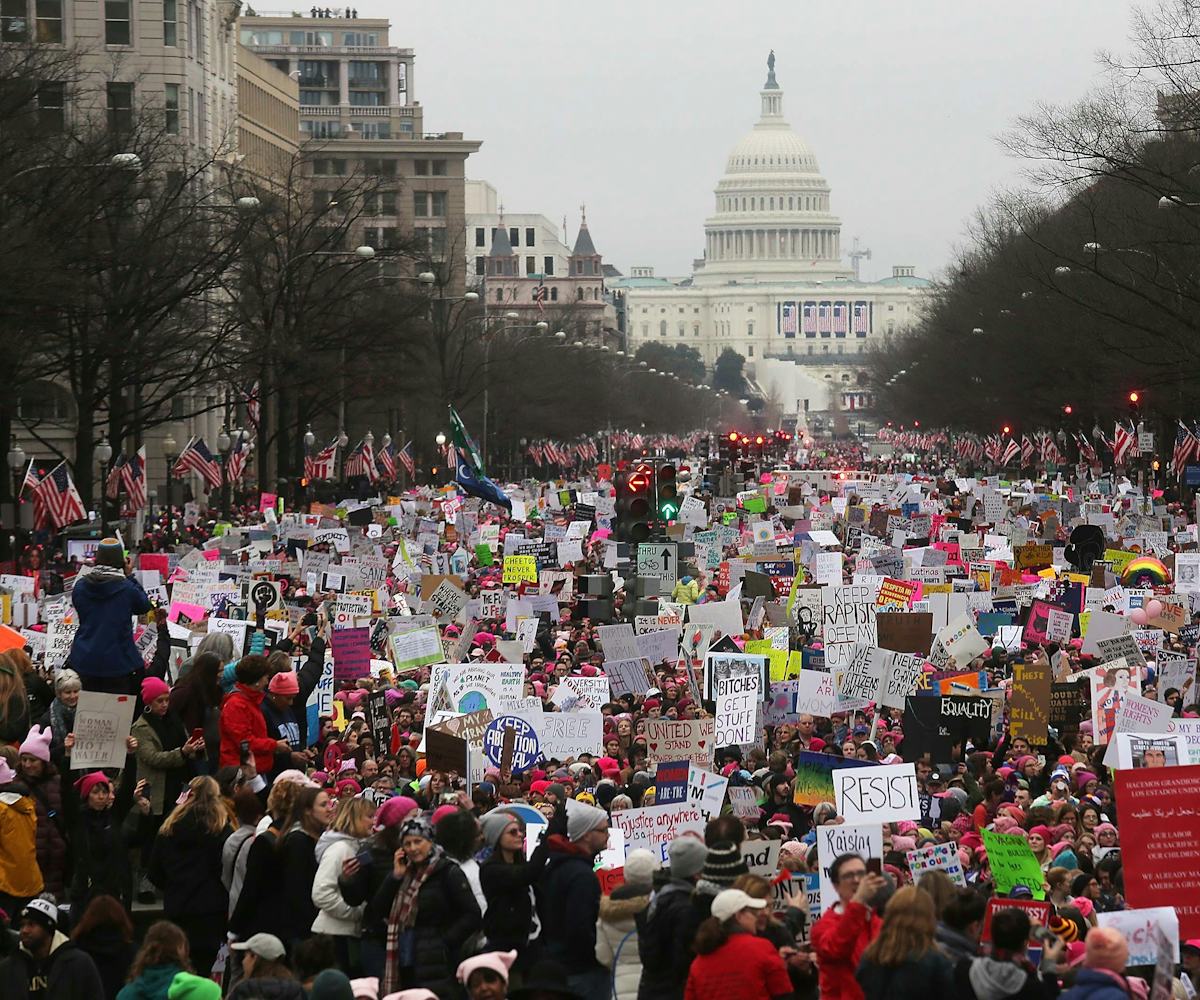 Photo by Mario Tama/Getty Images
Yesterday's Women's March Was The Largest Inaugural Protest In American History
Far exceeding expectations, the Women's March showed solidarity against Donald Trump
While there's no way to gather an official or exact number, estimates about the total amount of protestors demonstrating for women's rights yesterday shattered expectations and records. Unified against Donald Trump following his inauguration, upwards of 2.5 million dissenters gathered at various cities around the world to speak up for women and social progress. Many are calling this the largest inaugural protest in American history.
The march was, in some locations, a march in name alone—massive crowds created immense human traffic so dense that movement was hardly possible at all. USA Today gives a city-by-city estimate of attendance: 150,000 people in Chicago, 400,000 in New York City, 100,000 in Boston, 60,000 in Oakland, 100,00 in San Francisco, and somewhere around 500,000 in Washington D.C. (which more than doubled the estimated 200,000). Smaller gatherings around the world were also formed, with protests held in London (100,000 people estimated in attendance there), Sydney, Berlin, Paris, Nairobi, Tokyo, Mexico City, Athens, Tel Aviv, Pristina, Moscow, and Cape Town. There was even a small movement in Antarctica:
"This is an outpouring of energy and true democracy like I have never seen in my very long life," said feminist icon Gloria Steinem, who spoke amongst other celebrities in D.C.
One of the most staggering statistics from the marches is related to arrests made during the rallies: only four people across 21 cities in the United States were apprehended by law enforcement, according to CNN. No incidences of violence were reported at all.
By comparison to the inauguration (and because it will surely anger Donald and his grumpy press secretary Sean Spicer), D.C.'s metro counted only 193,000 rides on Friday. On Saturday it counted 275,000 trips before 11am, according to Newsweek.
Good job, everyone! Now let's keep this momentum going for the next four years. We ain't done yet.