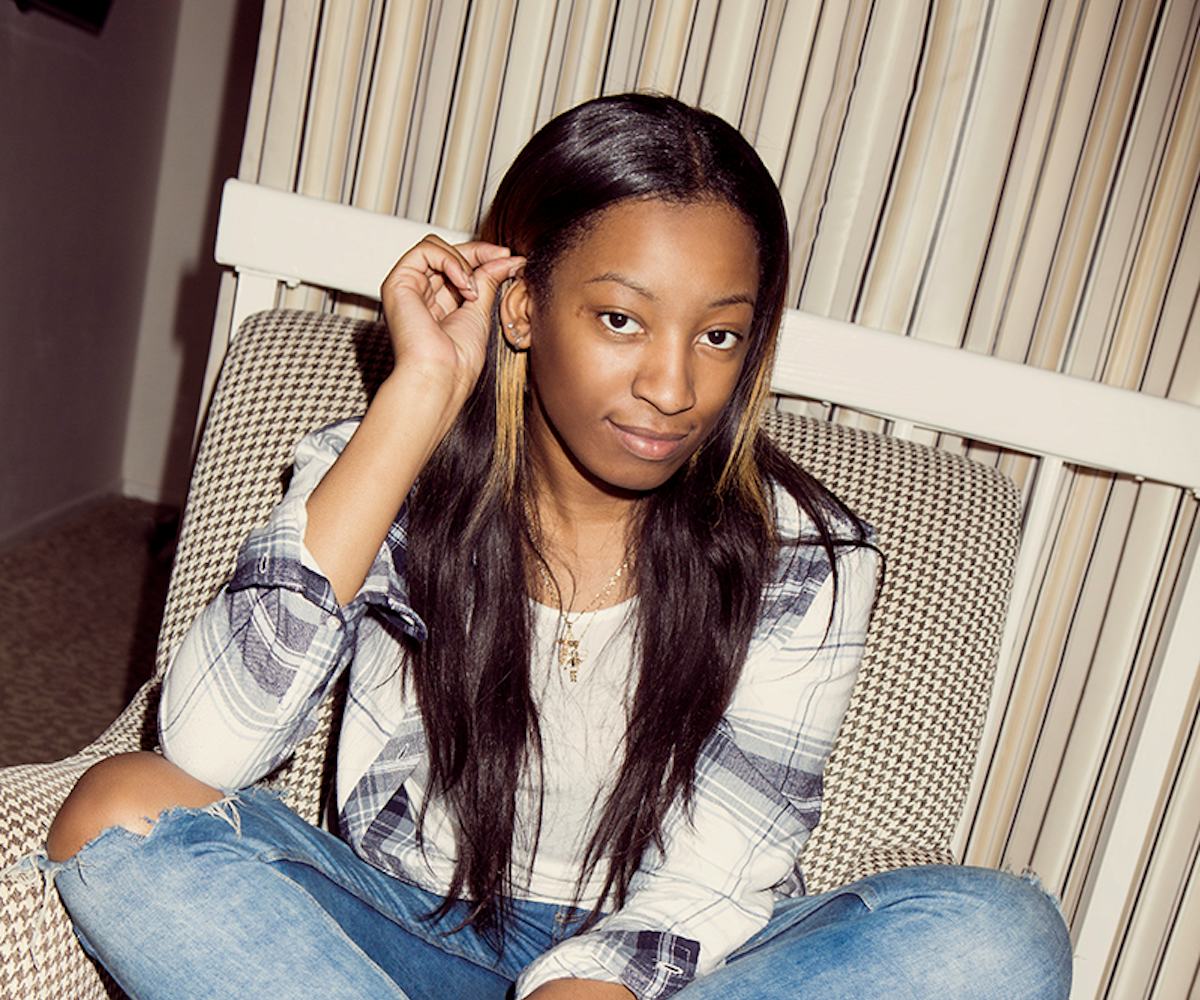 Photographed by Sami Drasin.
Meet The Teenage Producer Who's Worked With Jay Z And Rihanna
They say not all heroes wear capes. Case in point: 19-year-old producer WondaGurl, whose impressive impact on the male-dominated hip-hop scene just might qualify as superhuman.
Born Ebony Oshunrinde, WondaGurl spent her preteen years in Toronto channeling many creative passions through different media. "I was doing a whole bunch of things: making video games and music videos, learning how to engineer," she says. Influenced by hitmakers Timbaland and Boi-1da (who inspired her moniker), she got her start by following YouTube videos and tinkering on her Casio keyboard. 
Toronto's 2012 Battle of the Beatmakers marked her public debut. Not only did her talent become known when she took home the competition's title at the ripe age of 15, but her stoic response to the victory also made apparent her inherent shyness, a quality that's quite rare in an industry full of loud personalities. "In the second round, before I went on [stage] again, I was way too scared to even go," the producer recalls, laughing. "It was one of the worst experiences, but the best at the same time." 
WondaGurl's beats surely compensate for whatever rambunctiousness she lacks. Each track enchants with a creeping darkness, balanced out by drums that can likely overpower any unworthy sound system. This is evident on Travis Scott's "Uptown," one of her favorite singles on which to have worked. "He is a very hype person, so working with him is very turnt up all the time," WondaGurl says of Scott, her longtime friend and collaborator, who coordinated her first major project—it was he who sent Jay Z the reggae-infused beat that became "Crown" on 2013's Magna Carta Holy Grail. After Hov tweeted that working with WondaGurl was, "at the risk of sounding redundant, wondarful," nary a music site overlooked that a 16-year-old girl was involved with the hip-hop icon's album. 
The media's insistence on pegging her as a "young female producer" struck a bittersweet chord, however. "I don't feel like anybody should be talking about gender when it comes to music because it has nothing to do with it," she says, with a firmness that belies her soft-spoken demeanor. "A lot of people ask me, 'How does it feel to be a female music producer?' It feels exactly how it would feel to be a male producer." While she hopes that she inspires young women to make beats, she stresses that they shouldn't focus on competing with the guys. "Just make music—because that's all it's about," she says. 
After "Crown," WondaGurl made headlines again when her name appeared in the credits for two songs on Drake's 2015 mixtape If You're Reading This It's Too Late: "Used To," which she sent to the rapper via Instagram direct message, and "Company," a co-production with Scott. "I've always been a pretty big Drake fan," she says of receiving the coveted 6 God co-sign. "What he's done for Toronto, I really appreciate him for it."
As far as what to expect from her next, WondaGurl eschews specifics, except to mention that she recently signed producer Eestbound, who helped her with Rihanna's banger "Bitch Better Have My Money," and that she has her sights set on working outside of hip-hop (she's still deciding on which beat to send to Taylor Swift). She's also planning on pursuing a culinary career later in life. But whatever her forthcoming projects may be, she's sure to work wonders.