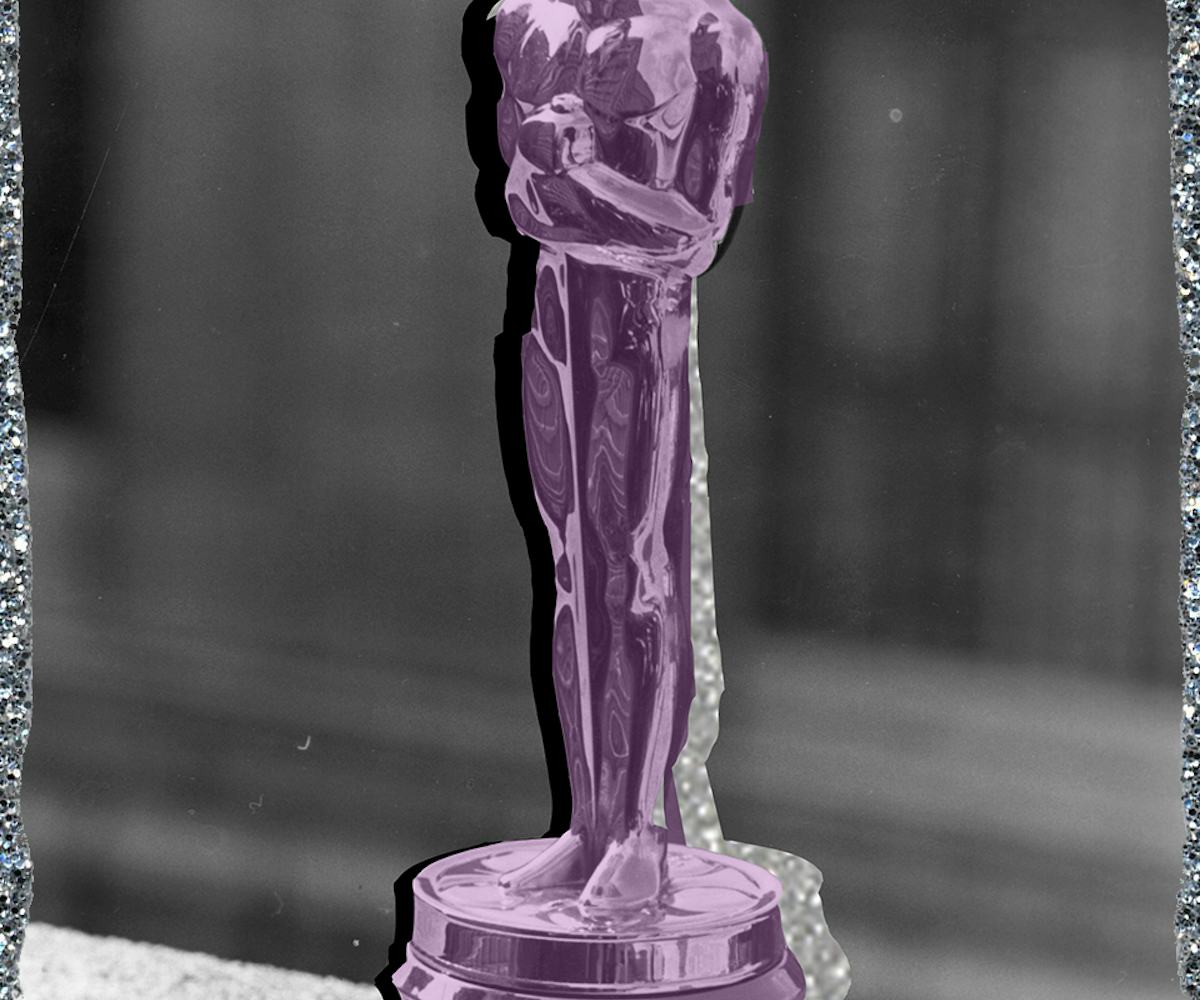 Photo by Jack Kay/Getty Images
WTF Moments From Oscars History
the most scandalous moments from the academy awards
As far as awards shows go, the Academy Awards is a forum for playing it safe. Attendees show up in their best black-tie attire, on their best behavior, with their best poker faces, and flashy smiles. Still, as one would expect from one of the film industry's longest-standing institutions, the Oscars have faced their fair share of controversies. 
From the lack of diversity and representation of people of color to the sort of fumbles that come with live presentations, there have been more than enough times to make you stop and quite simply think 
what the fuck?
Ahead, relive the most perplexing and memorable moments from Oscars history. 
Pizza, Selfies + Liza Minnelli, 2014
Years ago, the idea of Angelina Jolie, Brad Pitt, and more of the greatest actors passing pizza around during the ceremony would have made most people snicker. But in the Internet age, anything goes and pizza reigns. Ellen DeGeneres, who was hosting, also launched a massive product placement move to "break the Internet" by taking a selfie with Hollywood's elite. Poor Liza Minnelli didn't make the cut, though.
The Wickedly Talented Adele Dazeem, 2014
Teleprompters aren't always the most reliable, but there's no passing blame on inanimate objects when you can't pronounce someone's name. And so goes the story of when John Travolta introduced the world to a wickedly talented performer named Adele Dazeem instead of the world-renowned Broadway star Idina Menzel.
Quentin Tarantino's Saliva Debut, 1997
On the '97 Oscars red carpet, Tarantino exploded at MTV reporter Chris Connelly, who supposedly wrote an unfavorable story about the director, and spit in his face. To this day, the Internet has yet to uncover the exact details of what set Tarantino off.
A Streak To Remember, 1974
Of course, a streaker ran across the Academy Awards stage in the '70s. Of course.
Sacha Baron Cohen Dumped An Urn On Ryan Seacrest, 2012
Sacha Baron Cohen, who falls somewhere between a method actor and a performance artist, showed up to the 2012 Oscars dressed as his abrasive character from The Dictator and claimed to be carrying the ashes of late North Korean oppressor Kim Jong-il. Naturally, he fumbled and spilled the powder all over Ryan Seacrest's black tuxedo multiple times before being dragged away by E!'s security detail.
Adrien Brody + Halle Berry Made Out, 2003
Sometimes, when you win one of the most prestigious awards in the world, you're so overcome with emotion that you just want to grab someone and start making out with them. At least, that's exactly what happened when Adrien Brody won Best Actor for his performance in The Pianist. Before thanking the Academy for his win, he grabbed presenter Halle Berry and started kissing her.
Angelina Jolie, Billy Bob Thornton + Blood, 2000
Sure, the couple had been wearing vials of each other's blood for quite a while, but it was certainly the first time anyone had openly brought blood samples to the Oscars.
Sally Field: "You Really Like Me," 1985
There have been a lot of great Oscar acceptance speeches throughout the years, but perhaps the most unique was Sally Field's from 1985. The joy, the disbelief, the simultaneous ousting of the Academy, and appreciation for newfound acceptance—it's all just fantastic.
Marlon Brando Tried to Bring Justice to the Oscars, 1973
Marlon Brando asked Native American activist, Sacheen Littlefeather, to accept his win for Best Actor and read a speech that outlined how Hollywood and society, in general, have directly damaged Native American culture with false, cliche portrayals, and lack of representation. Unfortunately, the attendees were not open to hearing her points and booed her. 
Angelina Jolie Kissed Her Brother, 2000
Paparazzi footage of the two giving each other an innocent kiss sparked many, many headlines, rumors, and criticisms about the Jolie sibling relationship.
Three 6 Mafia + Martin Scorsese, 2006
Three 6 Mafia won an Oscar for their song "It's Hard Out Here for a Pimp" before Martin Scorsese won an Oscar, which host Jon Stewart was quick to point out. The award shows how influential hip-hop truly is to the cinema.