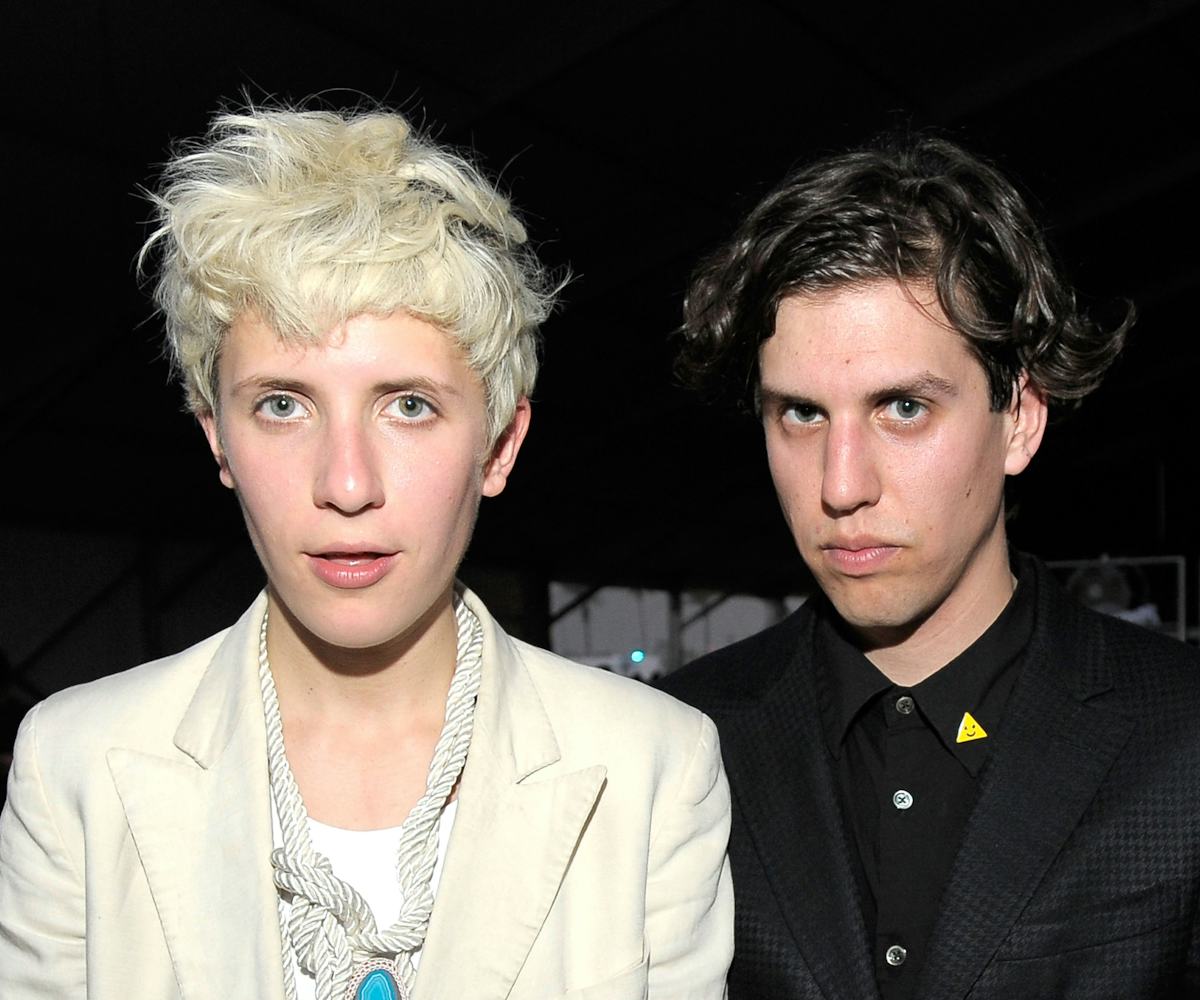 Photo by Charley Gallay / Getty images
YACHT's Decision To Sell Their Leaked Sex Tape Is A Power Move
L.A. indie pop duo YACHT were the latest public figures to have their privacy violated , when a sex tape they made together was leaked and circulated online Monday. Jona Bechtolt and Claire Evans, who are partners as well as collaborators, took to Facebook to address the incident. 
"Due to a series of technological missteps and one morally abject person, a video that we made privately has been released to the public," the statement read. "We have commenced legal proceedings against the aforementioned person, but now that it could potentially circulate, we feel like it's important for you to know what happened and why."
The band went on to explain that the video was made in an attempt to relieve some of the outside pressures they've been facing as a middle class band, and that while their "tastes in the bedroom might seem uncommon to some," this is their private life, and "no one should have governance over what people do consensually in their private lives." They concluded that message by pleading with their fans not to watch the tape.
What a difference a few hours make. 
Instead of playing the victims, Bechtolt and Evans have decided to reclaim their agency by selling the tape themselves. Fans can purchase it for $5 at fuck.teamyacht.com. The demand must be high because at the time of writing the site is down. Read YACHT's amazing, updated statement below:
"Hi everyone. We're deeply touched by the overwhelming support you've shown us. This is an uncomfortable and pretty bizarre situation for us to be in, but it's made better by the evidence that we have fans like you. Since this happened we've been researching sex tapes. It shouldn't have come as any surprise that Pamela Anderson never saw a dime from the tape she filmed with Tommy Lee, and Paris Hilton lost a court battle with the man who leaked their private video. We're not as savvy as the Kardashians, but something occurred to us this morning: we could try and distribute the video directly to you ourselves. Lemonade?
This video is out there now. We can't change that. But we can try to be "as YACHT as possible" about it and take some kind of ownership over what has happened. So we're asking you one thing: if you feel like you 100% have to see this tape, don't stream it on some tube site, or download a torrent. Instead, we beg of you to download the video, Louis C.K.-style, directly from us.
Huge thanks to our friend Daniel Bogan for cobbling this site together last night, and to the people that make free tools and easily accessible platforms like Let's Encrypt, Bootstrap, and Stripe that made it much less painful. At the very least we can laugh about this URL:
Way to go, guys.